History Book Pages/ Rotary International Group Study Exchange Team to visit New Zealand in February/March 2010.
Information about the exchange between New Zealand and West of Scotland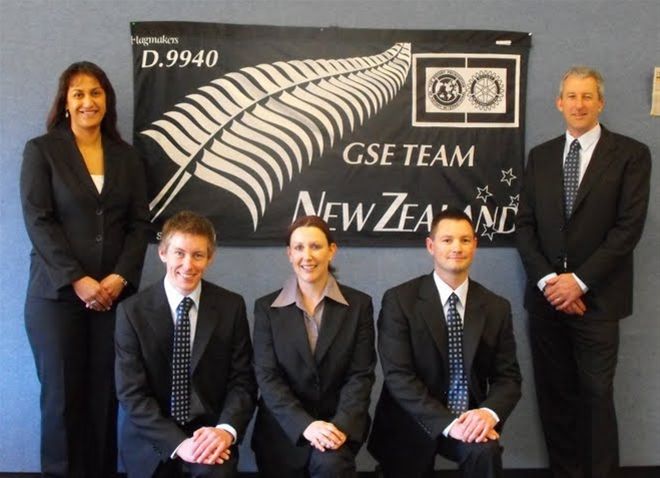 Show related pages
Group Study Exchange teams are made up of four non-Rotarians, plus a Rotarian as Team Leader. This is an educational tour funded by The Rotary Foundation with the team members having the opportunity to study how their line of work is conducted in New Zealand through vocational placement days. It is also a cultural experience, living with local Rotarian families and acting as an ambassador for the West of Scotland. It is character building, extremely busy and a tremendous experience.
The District is now looking for a team leader and participants for the return visit in February 2010 with interviews expected in early September. If you are interested please contact our Foundation Chairman, Bryce Weir immediately.
Rotary District 1230 will be welcoming a Group Study Exchange team from New Zealand (District 9940) on 6th September. They are led by Marty O'Fee (46) who has been a Rotarian for the past six years and is from Wanganui on the west coast of the North Island. Marty is a dealer principal for the local Toyota franchise. His outside interests are following his three children's sporting activities and playing golf. He is sponsored by the Rotary Club of Wanganui (www.wanganuirotary.org.nz).
There are four non-Rotarian team members - Ariana Hemara-Wahanui, Glenn Carson, Kelly Anne Ryan and Russell Allen.
Ariana is a Policy Analyst with Meat and Wool New Zealand. She deals with technical issues and advocates to improve overseas market access. Her areas of expertise include biosecurity, animal health and animal welfare. Outside of work she is kept very busy pursuing her childhood dream to speak fluently in Te Reo Maori (the Maori language). She is also into netball, tennis and soccer. Her sponsor club is the Rotary Club of Karori (www.karorirotary.org.nz ).
Glenn is 37 and from Palmerston North