Fireworks Display
Sat 5th November 2011
A Grand Bonfire & Firework Display - Organised by the Joint Fireworks Committee.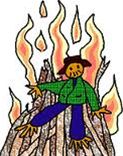 Report from The Joint Committee: - Bodmin:- Rotary Club, Lions Club, Football Club, Rugby Club, and Chamber of Commerce.
"Fantastic, Awesome, Mind Blowing, Best Ever", some of the comments following the display on Saturday 5th Nov. The weather was kind the crowds were huge - probably the largest crowd and the best display ever.
Many thanks to the all those who supported the event.
----<>----
On Wed. 6th Feb. 2012 at the presentation of cheques ceremony - Joint Fireworks Committee Chairman - Rtn. Peter Old said :
The 2011 display was the best ever and was the largest attendance - Profit from entry fees in excess of