2011Sept - OPT - Kosova
Aid trip to Kosovo - Rotary support vehicle + Fire Engine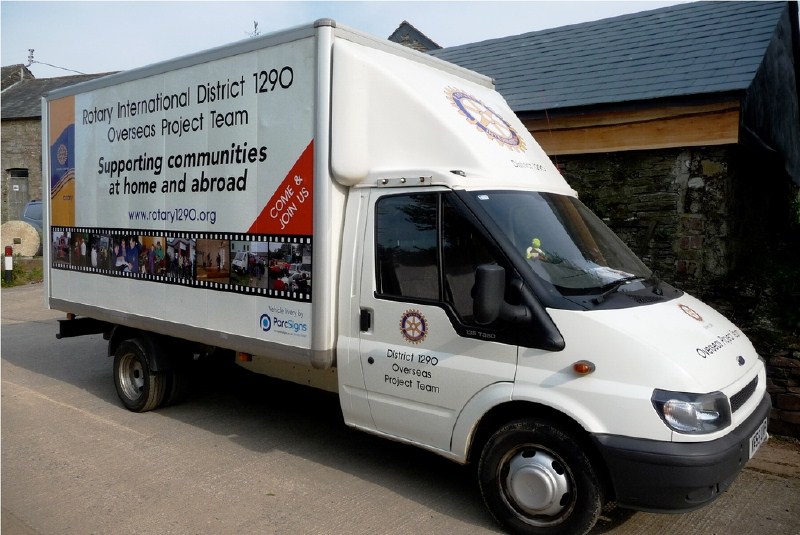 10am - Sunday Sept 18th 2011
Aid convoy to Kosovo departed on a 1900 mile journey - drivers consisted of volunteers from local Rotary Clubs and the Fire Service.
The Rotary support van & trailer, driven by Rtns. Mark Jewell & Jeremy Edwards, headed the convoy.
.
.
The journey Costs - Through money raised by selling bottled water to motorists during August and with matched funding from Barclays Bank - Our sincere thanks to Barclays Bank
Journey Day-by-Day progress reports - SCROLL DOWN
.
Watch this space for progress reports on the journey.....
Sun 18th Sept. -1800hrs - In high spirits - Going through customs at Dover prior to boarding ferry for Dunkirk.
Tues 20th Sept. - 0900hrs - Last night was spent at ERLANGEN just north of Nuremberg and now a steady drive to Maribor on the Slovenian/Croatian border through the Austrian Alps-beautiful scenery. The first night they were in DUNKIRK all went well but before they boarded the ferry the company 'Norfolk Line' took many pictures and are using them on their Newsletter-Europe wide so we will see! All in good spirits Jeremy is enjoying himself.
Wed. 21st Sept. - 0900hrs - I have just received this photo from our very good and helpful lady at the ferry company who is keen to promote what we do and did mention the best words ever