Rotary Life Education Essex
Rotary Life Education Essex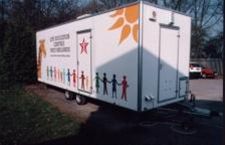 A Life Education Presentation took place at Ingatestone Hall
on Friday 3rd May 2013 with 2 Sessions: 3:00 - 5:00 pm. and 6:00 - 8:00 pm

People who are involved with Primary School Education and are not aware of the Life Education programme were invited to attend one of these presentations.

The event was organised by Terry Dean. If you need to ask any questions on Life Education, please contact Terry Dean by email - tandp.dean@gmail.com

The picture shows the Lifebus at Ingatestone Hall for the Presentation.


To find out more about Rotary Life Education Essex, please visit the website

Or check-out - All about Rotary Life Education Essex [ download PDF]

To see how a Life education classroom session works,
go to http://www.youtube.com/watch?v=8jMDoDPGBnk

Vacancy:- Freelance Educator Required for Rotary Life Education Essex [ download PDF]
------------------------------------------------------------------------------------------------------------------
------------------------------------------------------------------------------------------------



Rotary Club of Ingatestone working with Rotary Life Education Essex

The club introduced Peter Norburne, Chairman Rotary Life Education Essex, to several local schools. We are delighted that two schools have enrolled in the programme. These are:-
Margaretting C. of E. Primary School