This Committee's primary role is following the welfare of existing members and ensuring that prospective and new members are quickly integrated within the club. Other roles include ensuring that the Club has robust child and vulnerable persons protection policies; and risk assesment procedures in place.
---
2014 District Darts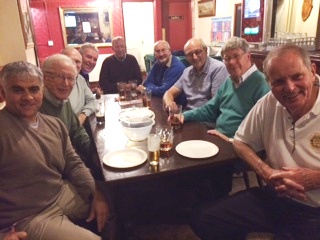 For once our Darts Team of Colin, Ernie, Malcom H. Michael R & Tom surprised everyone including themselves by beating the RC of Aldershot Team ( who said they hadn't played for two years) by two stright games. What was unusual neither side got down to Double One!!
Revenge was sweet however with Aldershot, quite deservadly picking up the Charity pot.
---
THREE NEW PAUL HARRIS FELLOWSHIP AWARDS PRESENTED FOR CLUB SERVICE BY PRESIDENT RAY SMITH TO JUDY WHEBLE, ERNIE STUBBS AND TERRY HILLIER - DECEMBER 2010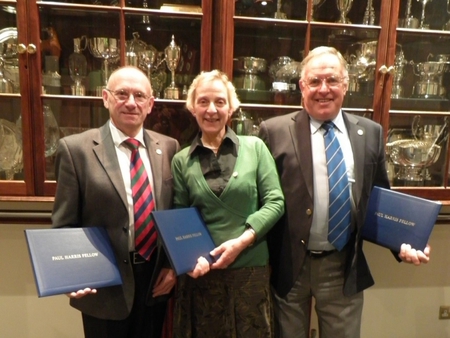 ---
OUR NEW SERGEANT AT ARMS - "LITTLE ERN" - ENJOYING HIS CHRISTMAS MEAL

_______________________________________________________________
HOT NEWS!!!
You can also save money on New Tyres, Car Service, Batteries and Ferries and help Rotary's fight against Polio by going to http://www.rotarytyres.co.uk
---