Serving the Community
Confidence? No Problem for this RDA rider!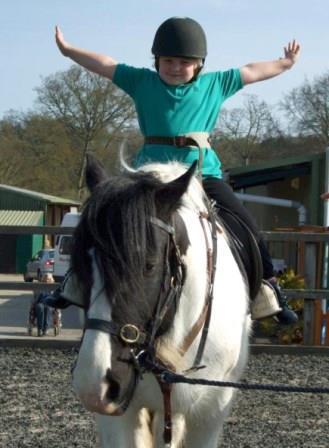 Rotarians are encouraged to support activities in the local Community and abroad, be it their own, or activities of other organisations and Change Lives.
To this end among its many activities Wilton Rotary supports Salisbury Hospital's Stars Appeal, sponsors ponies at Wilton Riding For The Disabled, helps marshal the Wilton Walk for Parkinson's UK and other charitable events, hosts a special performance for local pensioners of the Coombe Bissett winter pantomime, and provides mulled wine and support when the Wilton Christmas lights are switched on. Internationally Wilton Rotary supports charities all over the world through its contributions to The Rotary Foundation and direct donations to organisations such as Childrens Homes in India.
Funds are raised through a variety of events and passed on to local and national / overseas charities. The amount available to distribute varies from year to year. Requests for funds are considered by the Club's Community Service Committee.
Click here for more information on the charities that benefit from our support.
Twice Past-President Andy Rhind-Tutt, pictured right, is the Vice-President who chairs the Community Service Committee for 2019-20.