Internationally
Read here about some of the Club's International Activities



Visit of Rotarians to
Alencon Rotary Club
A small group of Rotarians and their wives visited our twin Club in France in September. As usual our French hosts were most welcoming and hospitable. The weekend coincided with Alencon's celebration of their liberation by General Leclerc towards the end of the Second World War and those visiting were privileged to share in that celebration. The other highlight of the weekend was a visit to the beautiful Chateau of Les Carrouges - a short distance from Alencon.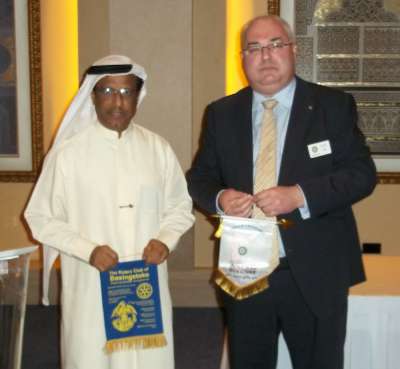 Visit to Dubai
Whilst on a business visit to Dubai, member Colin Craig took time out to visit the Rotary Club of Dubai and talked to them about Rotary in Basingstoke. Here seen exchanging banners with their President.
Shelterboxes
Following the hurricane damage this Autumn in the Caribbean we have funded two boxes to be shipped out to the affected area. These contain equipment, tents and utensils to assist those who lost everything in the devastation that was caused.
SHOEBOXES
We have been assisting the other Rotary Clubs in Basingstoke with checking and packing shoeboxes which have been donated by local school children and the public. These are destined for disadvantaged children in Romania, Albania and Tanzania.
PLANNED VISIT TO EUSKIRCHEN
Arrangements are in hand to visit our other twin Club in Germany - Euskirchen Burgfey - in June 2018. They are sure to be organising an interesting programme for our visit and we are looking forward to seeing them.