New project in Nepal providing classroms for early years learning in 2 schools
Shree Shewalaya and Shree Kalika
In November 2019 the party of Pershore Rotarians and Inner Wheelers visited the Pahar Trust in Pokhara after their adventures in Lelep with HTUK in the hope they could also support another worthy cause after the Lelep project was completed.
Shree Shewalaya and Shree Kalika are both secondary schools located around 2 hours east of Pokhara in Nepal.
We aim to raise funds to refurbish one room at each school and this will be the pre-primary room for children from 1-5 years old. Funds will be sent to The Pahar Trust 30 for 30 Project who will oversee the refurbishment. The Pahar Trust want to provide this facility in at least 30 classrooms in the Pokhara area.
The classrooms need refurbishing to provide a warm and comfortable learning environment. The estimated cost of the works is around £3,000 per classroom and these costs will cover the refurbishment of the room, new carpets, furniture and lots of new resources and books for the children.
"Research shows that children who receive safe, quality education at this age are significantly more likely to have more successful outcomes as adults. The campaign supports the UN's Sustainable Development Goal to ensure all children have access to quality early childhood development (ECD) so that they are ready for primary education. When children attend pre-primary education, they are more likely to stay in school and attain minimum reading and mathematics competencies. It also supports economic growth, as it enables mothers and other caregivers the opportunity to work and increase their earnings"
Lelep Girls Hostel completed Nov 2021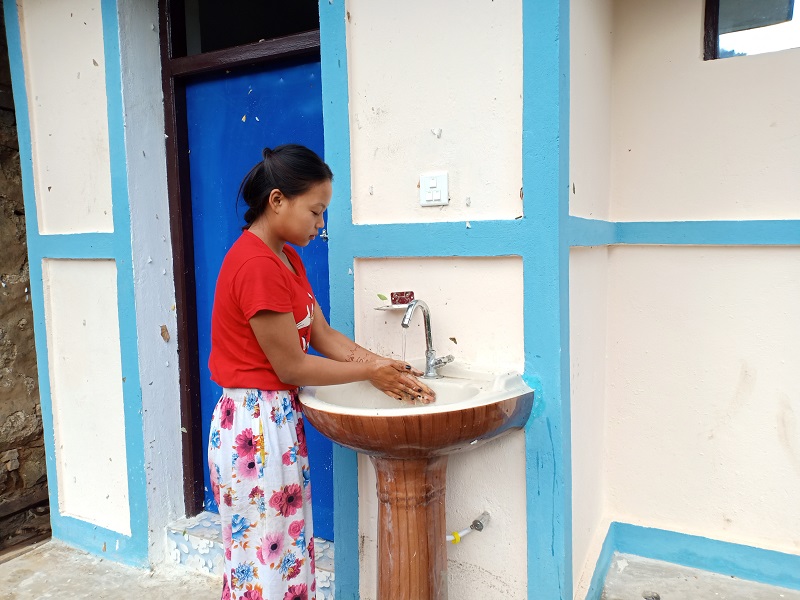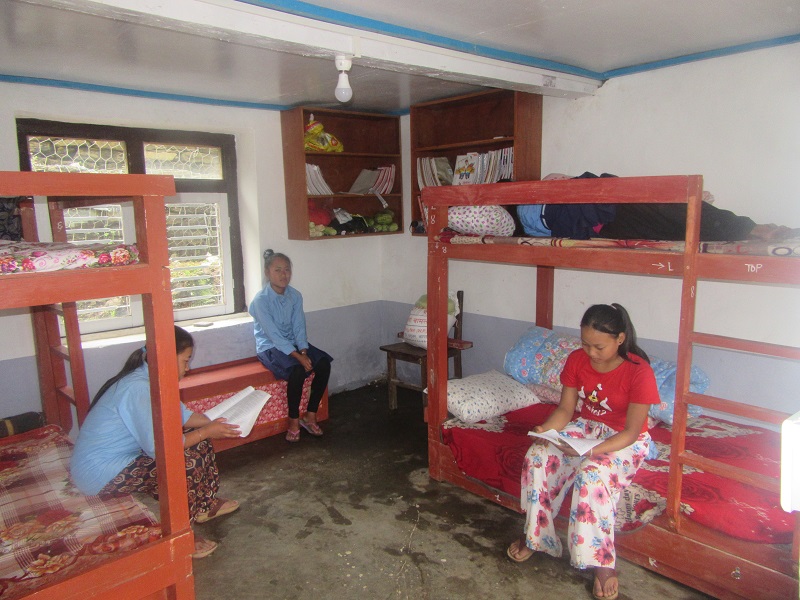 Funds £7785 raised by
Rotary Clubs Pershore, Evesham, Hereford, Worcester and Chipping Camden and Inner Wheel Club District 10. This figure also includes Rotary District Grants given to Pershore, Evesham and Hereford.
Funds were used by Himalayan Trust UK and REED to
Provide a fresh water supply to Lelep School and Girls Hostel.
Construct a modern shower block at the Girls Hostel in Lelep School, Taplejung, Nepal
Build clothes washing facilities
Construct a sanitary waste disposal
Provide bunk beds in the Girls Hostel
At the same time HTUK received funds from other sources for the renovation of the Girls Hostel
The actual construction has only taken two years despite delays due to Covid 19 affecting workers, volunteers and supply chains of materials.


Progress on Lelep Project as of mid January 2021
FUNDRAISING TARGET OF £7785 NOW ACHIEVED AND CONSTRUCTION HAS STARTED


Working together as a combined effort we thank the following for their contributions
Rotary District 1100 Clubs - Pershore, Evesham, Hereford, Chipping Campden, Worcester
Inner Wheel District 10 - Clubs Pershore, Hereford Wye Valley plus others.
Plus many generous private donations.
We have sent £1400 to construct the water pipeline to supply much needed fresh water to Lelep School and Girls Hostel to enable them to function normally. Pipeline is due for completion by end of January
We have also sent £5885 required to construct a much needed Sanitation Block for the Girls Hostel . Another £500 on its way.
This will have solar panels on the roof and will provide both shower and clothes washing facilities.
Toilets are being funded by the local municipality. The Girls Hostel is being upgraded by HTUK and REED

Rotary Club of Pershore trek to Lelep School with Pershore Inner Wheel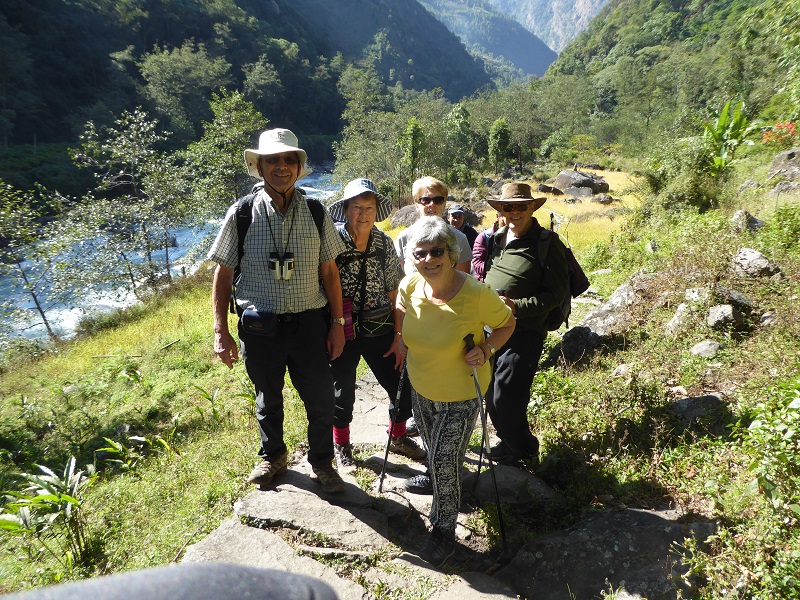 In November 2019, three Pershore Rotarians and two Pershore Inner Wheelers ventured into the remote Taplejung district of Nepal with HTUK - Himalayan Trust UK, to research ways of helping a school in need. With no road access, the trek uphill to the school takes several hours. We discovered the school had a broken water supply so decided to rebuild a pipeline.
By March 2020 working with other Rotary Clubs in District 1100 we managed to raise and send £1400 to HTUK so that the pipeline could be built. Currently, we await the end of the virus crisis for the construction to begin.
Thanks to the generosity of Inner Wheel Distriict 10, several other Rotary Clubs and individual donations we have collected funds for the second stage which is to construct a sanitary block at the Girl's Hostel in Lelep School. Plans have been drawn up and work has started. The students are desperate for clean toilets and washing facilities with running water. Can you imagine living without water or clean toilet facilities ?
Shower before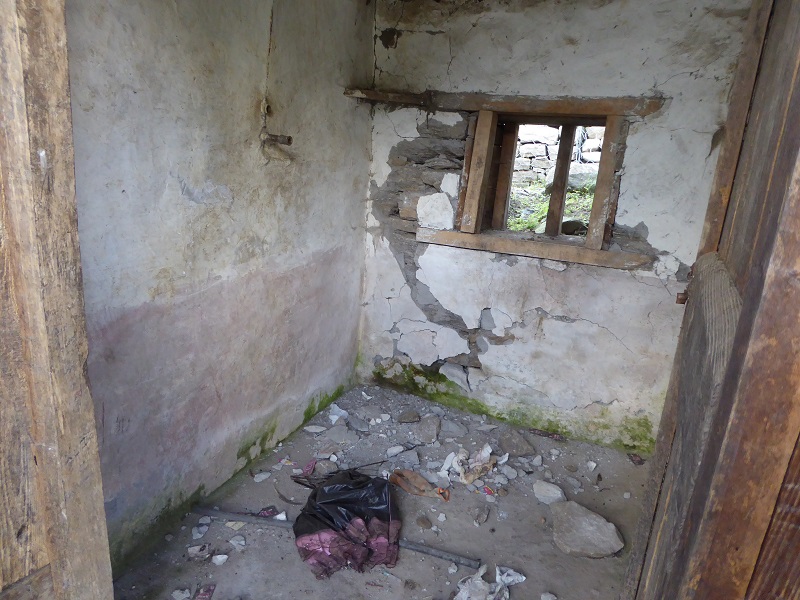 Shower after




Previous Project just completed in conjunction with Kandy Rotary and Trincomalee Rotary
Pershore Rotary worked with Evesham Rotary, Pershore inner Wheel and both Interact Clubs of Prince Henry's High School and De Montfort to build toilet blocks in 7 schools in the Trincomalee District of Sri Lanka.
Students and staff say thankyou for providing clean facilities in our schools.
School in a slum in Nairobi - all students and staff work and live in the slum and it records excellent exam results. Desai School improvements to clasrooms kitchen and facilities now completed.
Pershore Rotary Club raised £1950 for the improvement work on Desai School. N
We raised enough money for Swindon Old Town Rotary to reach their £9000 target. Thier application for a global grant from Rotary Foundation was successful so in total the Desai project received £31000. The project is being managed by Mike Welsh Swindon Old Town working closely with a Rotary Club in Nairobi.
2015-2016 Project - DESAI SCHOOL
This year we are aiming to raise £1400 for The Rotary Desai School Project in Nairobi, Kenya.
14 years ago Mike Welsh (Swindon Old Town Rotary) raised enough money to partner a Rotary Club in Nairobi and build a school in a slum.
This school only takes children from the slum and gives them some hope for a future. The staff are also recruited from the same slum and are trained to teach to a high standard. The examination results have proved to be excellent. Now they want to improve the accomodation to enable 150 more pupils to attend the school, install a kitchen so students can study without hunger and add safe secure water and electricity supplies.
Swindon is working closely with a Rotary Club in Nairobi and have applied for a global grant.
Effectively this means each £1 we contribute will eventually provide the project with £3.44
Antiques Evening and Other Sources raise £3500
2014-15 fundraising raised £3500 and this was transferred to  Kandy Rotary Club in January 2015.

Several eye camps were organised by Kandy Club and we are awaiting the final result.
£4539 transferred to Rotary Club of Kandy
Kandy Club organised three eye camps in different areas of Sri Lanka.
The first in the north east at Mullaittivu screening 500 people, the second in an impoversished area north of Kandy and the third in a suberb of Kandy. In total 1500 were screened by professional Sri Lankan opticians who gave up their time free of charge. Most people received prescription spectacles and a smaller percentage were given cataract operations.
John and Anne Angood from our club visited 2 of these eye camps with their Kandy Rotarian friends. Lots of photographs were taken.
John said " It was incredible to witness such an efficient organisation of a large team of volunteers with the result of a new life of sight for 1500 people at £3 per person "


International Kandy Eye Camp Vision Project
The ferret racing evening with food and bar in Defford village hall was great fun and a huge success. We made a net profit of 1184.22.
In addition one of our Rotarians donated 500 and we received a District Grant for 730.
Just before the ferret racing John and his wife Anne were walking on the island of La Gomera. They stopped in a small fish restaurant for lunch and chatted to the couple on the next table.
John said Pershore Rotary was organising a ferret racing evening on his return to UK and if the club raised 1000 then Rotary District would give 730 to match. Helen replied "I'll give you 1000 from my trust fund. A week later at a party John was relating this fascinating story to Cara. She immediately said "Could you use another 1000 from our charitable fund" He said yes !!!
So the sum total raised was 4539. Isn't Rotary amazing!!!
These funds will enable Kandy Rotary Club to run 2 eye camps. Spectacles will be fitted and cataract operations given to those in need. The first eye camp has now taken place in Mullaittivu (north east Sri Lanka) on the weekend 22nd March 2014. This was the area of the final stages of the war - so there is a real need for help. 625 people were screened and 596 people are receiving prescription spectacles. 12 will be taken to hospital for cataract operations.
The second eye camp will take place in April/May.
Committee members:
John Angood, (Chairman); John Barratt, Clive Crouch, David Finch, Chris Meredith; Jo Oxspring
Pershore Rotary Club Trust Fund, Charity number 1022572