What is a Club Service Committee?
The object of Rotary is to help others in need, but at the same time make it enjoyable to the members. The Club Service Committee endeavour to do this in various ways. Firstly ensure that there is an attractive venue in which to meet and that food either in the form of sandwiches, or a meal is provided. Secondly look for speakers who are both entertaining and informative. Provide a programme to the President to enable the meeting to proceed at a reasonable pace but finishes at a time which suits the members. Maintain the records of the club so that future members can review the past ventures etc.,
On occasions we have social meetings at various venues such as the Bowling Club in Straight Bit at Flackwell Heath, a Quiz against other Rotary Clubs for Charity, a Golf Putting Competition which despite handicaps tends to be won by the same person, we need new competition!!, and visiting various venues which offer a wide appeal to the members . As a Rotarian you are welcome to visit any of the hundreds of Rotary Clubs thoughout the world. Many of our members have travelled considerable distances to do just that, New Zealand and Nepal as two examples.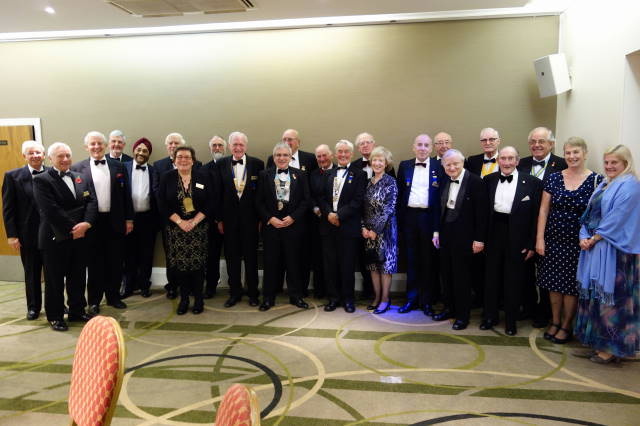 Members of the Club in Formal Attire