International
We shall concentrate our efforts by looking at raising funds for a Sand dam - see the dedicated page
In previous years, we have supported the ever successful Aqua Box Programme.
Ripponden Junior and Infants School assisted in filling a full Aqua Box. This gets sent out to disaster locations where water needs to be purified: https://www.aquabox.org/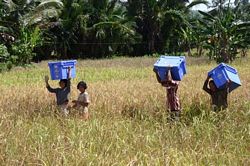 We shall also support Mirco Loans, a Yorkshire and Lincolnsire Rotary Programme for the provision of a small loan for those who are too poor to have access to conventional financial services and who reside in Sri Lanka, Kenya, Uganda, Nepal or Egypt. We are encourage to offer our continued support after learning that the default rate is a very commendable 0.5%
We are also looking into supporting a project to support Goats in Nepal.
One of the strong factor that halt the women empowerment is the economic empowerment of women. Normally, women depend upon male partner for financial support & this is the one of the prime reason of domestic violence and gender inequality . In rural areas of Nepal, women do most of the household and farm work such as keeping livestock, growing crops, and preparing or cooking food for family members. They are, however, economically less empowered and often do not have access to resources.To address this problem , Women Empowerment Through Goat project has been planned at Namobuddha area of Nepal.
When rural women are provided with locally adopted hybrid goat along with training in goat management and production, including housing, feeding, health care, and record keeping , it will enhance and increase the family income which will help to raise the family condition and better invest in children education and health.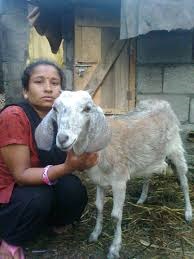 Goat farming is a profitable business with a low investment because of its multi functional utility like meat and milk that are very nutritious. Goats are the widely used and most important livestock in Nepal, most of the goat farms are to produce goat meat.Goat farming is the main source for generating income in rural areas of Nepal, peoples are use to maximize their benefits and survive their lives.Every year Nepal import more than 50,000 bucks for meat purpose so there is very good market for it.Important thing is women in rural area can easily farm the goat.
Peter Harrison
International committee