Polio Eradication
ROTARY'S DREAM OF A POLIO-FREE WORLD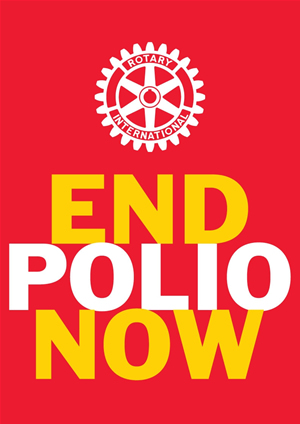 After twenty years of hard work, Rotary and its partners are on the brink of eradicating this tenacious disease. A strong push now will root it out once and for all. The funds that this Rotary club is raising will directly support immunisation campaigns in developing countries where polio continues to infect and paralyse children, robbing them of their futures, and compounding the hardships faced by their families.
Throughout the world the battle to eradicate polio continues.
In 1985 there were 350,000 cases in 125 countries.
For 2008 (as of 20 January 2009), there were 1,633 worldwide cases of polio. This includes 31 cases in Afghanistan, 552 in India, 790 in Nigeria, and 118 in Pakistan, according to the March 2009 issue of End Polio Now. During 2009 the total figure worldwide had dropped to 969 cases.
The Rotary Club of Pwllheli supports this worthwhile cause and the push to eradicate polio completely..
Rotary's efforts have had a huge boost from the the Bill & Melinda Gates Foundation which has awarded US$255 million to Rotary International in January 2009 in the global effort to eradicate polio, bringing the total committed by Rotary and the Gates Foundation to $555 million.
Shortly after meeting with incoming district governors from the four countries where the wild poliovirus is endemic -- Afghanistan, India, Nigeria, and Pakistan -- Bill Gates announced the new grant in January 2009 at the International Assembly in San Diego, California, USA.
Rotarians, government leaders, and health professionals have made a phenomenal commitment to get us to a point at which polio afflicts only a small number of the world's children, Gates said. However, complete elimination of the poliovirus is difficult and will continue to be difficult for a number of years. Rotary in particular has inspired my own personal commitment to get deeply involved in achieving eradication.
The target by Rotary International in response is to match the Gates grant to the tune of $200 Million by 30 June 2012. The participation of Rotary clubs and individual Rotarians in Rotary's US$200 Million Challenge remains crucial to its success and the Rotary Club of Pwllheli will do what it can to help reach the goal.
Gates praised Rotary for providing the volunteers, advocates, and donors who have helped bring about a 99 percent decline in the number of polio cases. "The world would not be where it is without Rotary, and it won't get where it needs to go without Rotary", he said.