Club Speakers 2013/14
Wed 15th August 2012
Club Speakers 2013/14. Visit this link to view the club speakers in this current rotary year. The picture shows guest speaker Rotarian Gillian Poole who gave a talk on her visits to Nepal. Gillian pictured with President Bill.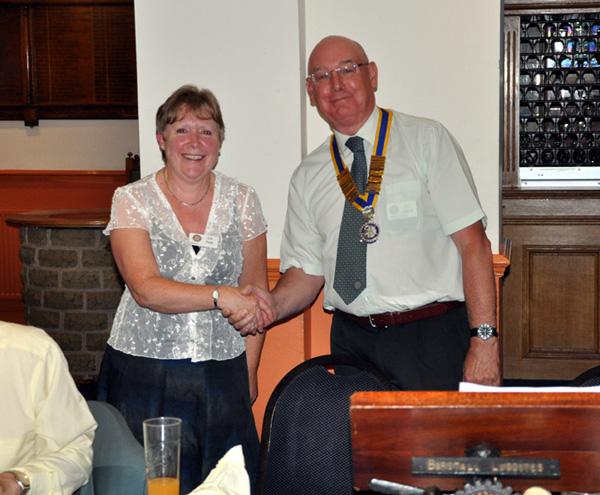 Club Speakers 2013/14

Rotarian Jerry Wright.
Jerry as part of the Administration committee is the club speaker finder for 2013/14.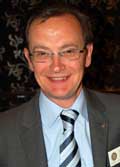 On Mon 29th July the first club speaker evening of President Bills year took place at Healds Hall Hotel.
Guest speaker was Rotarian Gillian Poole who gave a talk on her visits to Nepal.
Gillian pictured below with President Bill.

Gillian spoke of her two visits and coming third visit to Nepal where she worked as part of a team of Rotarians from the Rotary Club of Harrogate Brigantes. The projects aim is to:-

enable underprivileged children in Nepal to achieve a qualification in Information Technology (IT) thereby giving them a better chance to obtain gainful employment when they leave school.

Gillian spoke of getting to the Pokhara District in Nepal from Kathmando and the schools in Panchumal and Rithepant where the group had installed the IT networks. She spoke of the "low cast" children and school teachers who had never seen a computer before and their advances in schooling and standards they have gained from having computers.
From Gillians last slide "21st century technology in a 19th century village"

LINK to more project info from the Harrogate Brigantes web site

---
Rotary Club of Birstall Luddites
Speakers Evening
Mon 2nd Sept 13

Big thanks to Keith Womersley and Rob Greaves from Solar Opportunities

Ltd

who at short notice

stepped in to fill a speaker cancellation and gave a talk on solar panels.
Solar Opportunities Ltd are a renewable energy company that specializes in solar photovoltaic (PV) systems.

Keith, Rob and President Bill after the talk

They talked about the 2010 Government initiative of feed in tarrifs paid to households who have installed solar panels to generate electricity and reduce carbon footprint

.


Solar radiation converts to dc using photo voltaic effect - more panels more watts inverted to ac

power and fed either to the household for free electricity to reduce bills or fed back into the power system.

Link to Solar Opportunities Ltd


---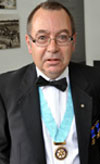 Mon 9th Sept ----------- Speaker Luddite John MacKail
John gave a moving talk to co-inside with the 12th anniversary of 9/11 disaster on 11th September 2001.
John outlined the Rockefeller / World Trade Twin towers.
Construction began in 1966 and cost an estimated $1.5 billion. One World Trade Center was ready for its first tenants in late 1970, though the upper stories were not completed until 1972; Two World Trade Center was finished in 1973. Excavation to bedrock 70 feet below. They became the tallest towers in New York at 1368 feet from the previous tallest Empire State building at 1250'.
John then gave chilling statistics of the the World Trade Center towers which were destroyed by terrorist attacks in 2001,
2749 workers died in the twin towers 77% male, 29 police and 340 firemen died, 246 on the 4 planes that crashed, 292 people were killed at street level by burning debris.

John then showed a Rotary International video featuring President Helen Reisler's the first lady president of the Rotary Club of New York
2001-2.
How "America's Host Club" Responded to 9-11
In the video below, members of the Rotary Club of New York recall how the club took action after the attacks on the World Trade Center twelve years ago.
Big thanks to John for showing this video to remind us of the 9/11 disaster and
the part Rotary played in the aftermath of the attacks.
Links - New York club honors heroes in 9/11 anniversary remembrance
- World Trade Centre
- Tallest buildings in New York
---
Speakers Evening Mon 23rd Sept
PC Trevor Brown "MOTORWAY POLICING"
Trevor gave a very interesting talk about his role of policing West Yorks West area.
A case study illustrated the personal and professional way he has to deal with tragic accidents and their
aftermath

with loved ones

.


Trevor explained the workings of the new M62 four lane traffic lane management and how it is helping to keep traffic flowing at peak times. Also don't drive through a red cross

gantry sign its equivalent to driving through a red light!




He explained they are now better equipped in their cars with new technology and the "no nos" drink driving and the use of mobile phones when driving.

The penalties now could be education - half day courses for speeding instead of points.


He stressed he was there to stop people putting other peoples lives at risk.
He finished with Q&As and was thanked for a well received talk.

President Bill thanking Trevor for his talk.




---

Speakers Evening Mon 3 Feb 2014
Speakers John Mackail -- Rotary Overview
Speaker President Bill Hilldred - Tanzania Visit
On Monay 3 Feb two speakers gave talks,
John started the evening with a talk giving an overview of Rotary.
Ideal for new members John gave an overview of the structure and explained Rotaries charity the Rotary Foundation.

President Bill then gave a talk on his working visit to Tanzania, working on the
"Child Mortality - Mwanza Project.
Bill departed 11 Nov and returned 3 Dec where he explained his hectic two weeks installing complete electrical intallation in their hospital ward 6.

Project Aim -
The aim is to undertake various projects to improve health care, education,water supply and sanitation.

Project Mwanza LINK



---

VALENTINES EVENING
Speaker the Rev John Trevenna - Batley Care Drop in Centre.
Valentine Evening Mon 10th Feb 2014
The club enjoyed a family evening at Healds Hall.
After the meal Rotarians listened to the speaker Rev John Trevenna who spoke about the
Batley Drop in Centre.
Also the club hosted Rotarians Shirley, Paul and Carol from Roundhay Rotary Club who were returning a visit that Luddite Helen and Colin Wall had made to their club.
Rotarian Carol Jordan is acting joint Headteacher of the Fairfied School White Lee Batley.


President Bill pictured with the Revd Trevenna and his wife

Eileen

.


(Drop In donations from Rotarians assembled behind)

"BATLEY CARE AND DROP IN"

Batley Care and Drop In

is an ecumenical venture that was opened for homeless and socially isolated people in November 2010. Socially isolated can mean someone affected by substance misuse or an elderly person who needs the company. Those who come vary in age from those in their teens, to quite elderly people.




They meet in the Brimer Hall, below Batley Central Methodist Church, on Batley Market Square, where there is a comfortable room and a very busy kitchen!


They are open 2 mornings per week

Monday

and

Thursday

, from

10am to 12.30pm

. Visitors receive a very warm welcome, hot food & drinks, a cooked lunch, and advice or support if needed. They have a great team of volunteers, many from the various Christian Churches in Batley. A number of those who come to the Drop In comment on the relaxed atmosphere amongst guests and volunteers alike.


They provide food and hygiene parcels, and, when available, warm clothes and bedding. They regularly offer haircuts and have a housing advisor who comes in.




They can also refer people to Batley Food Bank in crisis situations.




LINK Batley Food Bank




LINK Batley Central Methodist Church




For further information contact John or Eileen Trevenna on 07762 141 646

---
Mon 3rd March
DG Mark Stewart-Clarke Visits Birstall Luddites.
After the meal at Healds Hall Mark addressed the club. He talked about RIBI RI and Rotaract and the need
to start new clubs to involve a younger generation of Rotarians using new technologies.
He answered questions talking about Associate Membership with Skipton Building Soc as an example.

President Bill with DG Mark

3 District 1040 DGs
DG Keith right and Robert left with current District 1040 DG Mark Stewart-Clark



---


Club Speaker Mon 2 June.


Mark Arthur - Chief Executive of Yorkshire County Cricket Club.

Mark gave brief details of his career path, which ncluded a spell at Nottingham Forest FC.
He gave the club an insight into the financial side of running a professional sports club, including the difficulties they are experiencing today.
Mark outlined future plans for growth including increasing capacity, floodlights, creation of a new pavilion and improving the north east stand.

---

Club Speaker Mon 9th June.


Luddite Jeremy Parkinson gave a Job Talk.


Accountant by profession, but always worked in industry.
Jeremy gave a short resume of his career to date and then went on to explain the origins, history and current situation of his current employer Universal Carbon Fibre.
\the company dates back to 1980, initially based in Gomersal. but now based in Wyke.
The initial emphasis was on flame retarded materials which have been used in aircraft seating, police riot gear and fire entry suits, but the majority of the company products are now carbon based and are destined for the automotive industry being used in friction applications in clutches, torque convertors and synchromesh gears.


---

.