The "Rotary Club Edgbaston Convention" meets in Edgbaston, a leafy Birmingham suburb close to the City Centre.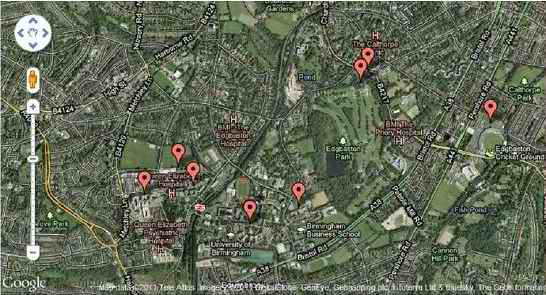 Situated to the south west of the City Centre, Edgbaston is a mostly middle-class area, with parks, the Warwickshire's Cricket Ground, two Botanical Gardens, the University of Birmingham's main campus, with most of the student halls and much more (see below).
Edgbaston was first recorded in the Domesday Book ( www.domesdaybook.co.uk/) 1086 as "Celboldestone". In 1810 George, 3rd Baron Calthorpe, developed Edgbaston as a residential area. Edgbaston established itself quickly as a fashionable suburb for wealthy industrialists with many elegant homes built during the late Georgian period.
A considerable part of Edgbaston is a conservation area (Calthorpe Estate) and was owned by the Anstruther-Gough-Calthorpe family and the Calthorpe Estate for almost 300 years.
In 1900 the Anstruther-Gough-Calthorpe family made many gifts of land: to the Queen Elizabeth Hospital, to Cannon Hill Parks, to the Warwickshire County Cricket Club, and more than 90 acres to the University of Birmingham.
Edgbaston Landmarks and Sights