Focus on the Crocus
.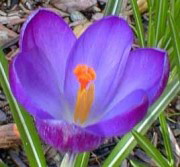 Focus on the Crocus - What's it all about?
As we celebrate Rotary Day on each 23rd February, Focus on the Crocus is a friendly way to plant in everyone's mind, the opportunity of being part of a historic worldwide campaign, spearheaded by Rotary International, to finally eradicate Polio across the world.
The Ruby Giant 'purple' crocus represents the dye colour dabbed on children's little 'pinkie' finger to indicate they have been immunised against polio in the few remaining parts of the globe since Rotary International commenced its campaign in 1985.
So whether you are a pupil, young adult, a mum or dad, own or work for a business or public authority, belong to an environmental or other club with civic pride , why not help Rotary End Polio Now by supporting our initiative?
With the Bill and Melinda Gates Foundation challenging Rotary to finally eradicate polio by adding nearly twice what Rotary raises it costs just 20p to bring a young life into bloom.
Check out the planting display each February at Abbey Fields