During the Rotary year, 1/7/11 - 30/6/12 Kilmarnock Rotary Club focused on raising awareness and funds to support our international campaign to rid the world of the crippling and sometimes fatal disease, POLIO.
When we first started in 1985 the disease was widespread throughout the world with around 350,000 new cases being reported each year. Now there are just four countries where it is still endemic - India, Nigeria, Afghanistan and Pakistan - and cases reported in this calendar year (to 22/9/11) are just 130. However there were a further 250 cases elsewhere in the world stemming from these countries. The disease is passed from person to person and until it is eradicated it remains just a flight away from everyone's doorstep.
Polio is most prevalent among the young so increasing their and their parents knowledge is our first aim. We gave presentations at all the Primary/Special schools in our catchment area and planted masses purple crocus bulbs. (The club donated 25,000 purple crocus bulbs.)
Annanhill, Crosshouse, Dunlop, Gargieston, Hillhead, Kilmaurs, Kirkstyle, Lainshaw, Mount Carmel, Nether Robertland, New Farm, Onthank, Park, Silverwood, St. Andrew's, Witchhill and Woodstock Schools, Bellfield, Fenwick, Loanhead and Shortlees all benefited with Loanhead's bulbs being planted in front of the Dick Institute.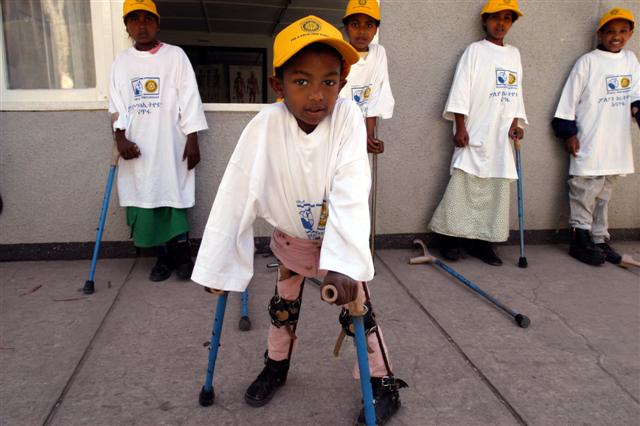 National Polio Immunisation Days (NID's)
When children are vaccinated against polio, they have a purple stamp put on one of their little fingers. In this way the immunisation team knows who has been vaccinated.
Each Purple Pinkie brings us closer to making polio history. Running a Purple Pinkie day is a great way to raise public awareness of the efforts being made to eradicate polio and to raise funds. Donate as little as 50p on a Purple Pinkie day - this pays for a single immunisation - and get a purple pinkie. Tell people why your little finger is purple, and see if they will also contribute.
Planting purple crocus bulbs is also a very effective way of focusing attention besides being fun and there is a continuing effect through the year with the planting in October followed by the beautiful flowers appearing in February, and each year thereafter.
We are also absolutely delighted that our Primary School pupils have donated