What we do in St Austell
Club activities
Parkinsons
Rotarians have given their support to helping to run a monthly Club at Cuddra Hall in St. Austell through the James Parkinson Centre Cornwall for many years now. There have been recent changes within the Parkinsons organisation which has meant that the format and venue will change.
We are pleased to announce that we will be continuing to support Parkinsons through Parkinsons UK. A new monthly Hub will take place at Bethel Chapel, St. Austell with the support of our Rotarians starting on Wednesday 14th January, 2015 at the new venue. We look forward to assisting Parkinsons UK as best we can and are delighted to have been asked to continue our support for what is a very worthwhile charity.
More information can be obtained from the Parkinsons website; www.parkinsons.org.uk
They are Nick and Jan Wilder
on 0172661502. e-mail nickwilder@tiscali.co.uk
Memory Cafe
St Austell memory cafe is one of twenty-four in Cornwall, where people with memory loss and thier family or carers can socialise, take part in meaninful activities, and enjoy 'home made' cakes and refreshments. The St Austell memory cafe operates on the first and third Monday in the month at Cuddra Hall, Holmbush from 2.00pm to 4.00pm, all welcome!
Memory cafe's can help refresh and reweave the relationship between people with memory loss and thier carers and also build mutual support. Knowing that others really understand makes a difference, and this can grow into a support network that exists outside the cafe.
For more information on REPoD ( Rotarians Easing Problems of Dementia ) click here.
One Step Further Stroke Club
The club meets at Cuddra Hall every two weeks from 2 to 4 pm on a Friday for people who have suffered a stroke.
For more information on the club click here
Saints Way Walk
Using the historic monks trail from Padstow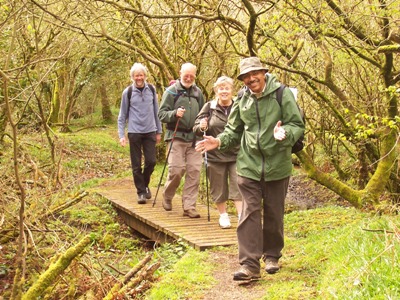 to Fowey members of St Austell Rotary Club and friends undertook a sponsored walk over the Bank Holiday weekend for the Precious Lives Appeal. In 2011 the walk raised over