Community Award Won by Rotary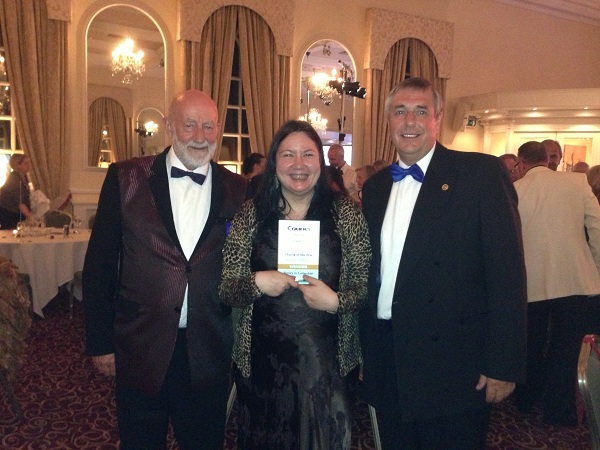 The Rotary Clubs in Calderdale were delighted to win the Halifax Courier Community Spirit Award nominated under the section of Charity of the Year.
It was commented that the Award recognised the enormous contribution that Rotary Clubs in Calderdale have made to the community for many years, but also the fact that they were now working together in projects like the Shoebox Appeal and the Navigation Walk.
Immediate Past President Ken Forsyth, Rtn Olwen Edwards (both Rotary Club of Sowerby Bridge) and President Peter Lloyd (Rotary Club of Halifax) can be seen above collecting this prestigious award at the awards ceremony.
Over 3 Tons of Food Donated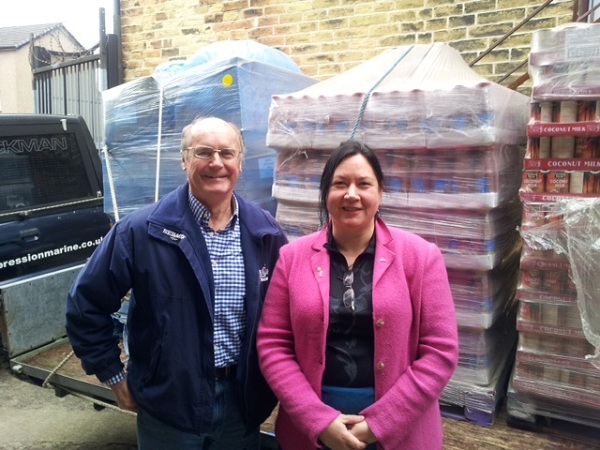 Michael Holdsworth and Olwen Edwards with 8 pallets of donated food
Rotarians Olwen Edwards, Michael Holdsworth and Keith Taggart from the Rotary Club of Sowerby Bridge organised the collection and distribution of over 3 tons of food for vulnurable people in Calderdale.
Many thanks go to Rotarian Ken Forsyth for using his contacts to obtain the food from an increadibly generous donor who requested to remain anonymous.
2340 Tins of Beef Bolognese!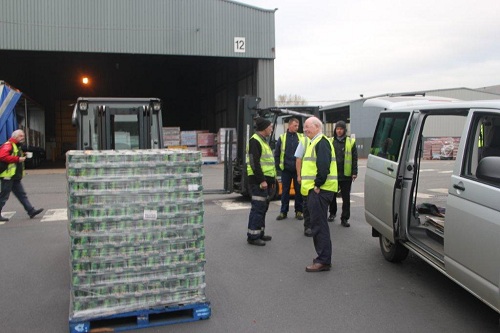 This is what 2340 tins of Beef Bolognese looks like as well as a confused Rotarian who needs to get them in his van.
Ye Olde Oak Ltd kindly donated a pallet of Beef Bolognese for the Rotary Shoebox appeal. All this will go to good use as the shoeboxes are distributed to people in need in the local area over Christmas.
Well done to everyone involved this year and a big thank you to all who filled shoeboxes or helped with the collection, and 2340 thank you's to Ye Olde Oak Ltd for their fantastic support.
Overgate Garden Party June 2013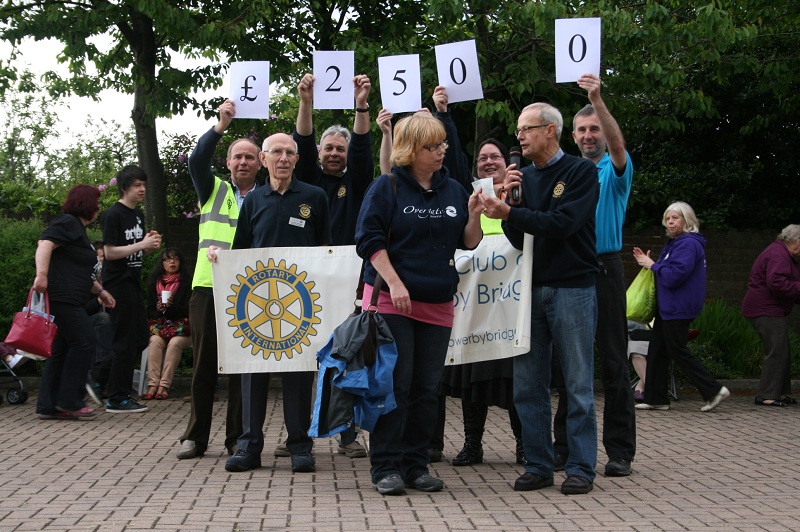 A busy day at the Overgate Hospice Garden Party saw the Rotary Club of Sowerby Bridge present an interim cheque for 2500 being the current share of the proceeds from the recent Navigation Walk.
On the day we also ran a 'Pig Race' stall which became very popular, especially with children.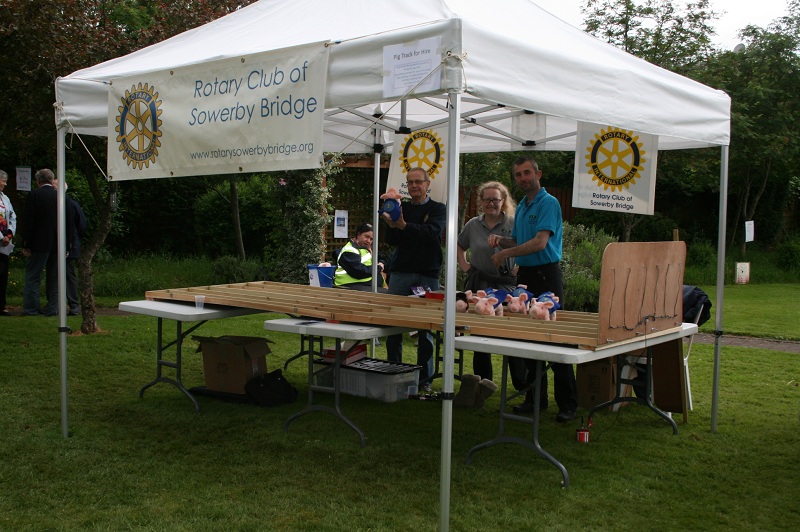 The Pig Race raised close to 200 on the day for Overgate Hospice. For more photos of the day look in the 'Photo Galleries' section at the top of the page.
A New Rotary Year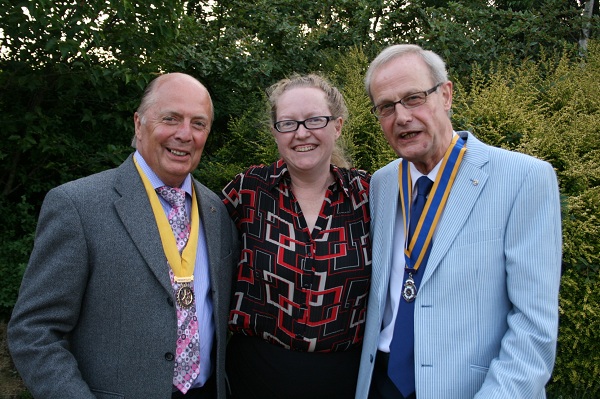 Barry Small (President Elect), Claire Metcalfe (Secretary) and Richard Goodwin (President).
July sees the start of the Rotary year with the new club officials enjoying their new roles. This years President of the Rotary Club of Sowerby Bridge is Richard Goodwin and you can read his plans for his year in office by clicking the 'A Message from our President' button on the left.
Charter Dinner Celebrations April 2013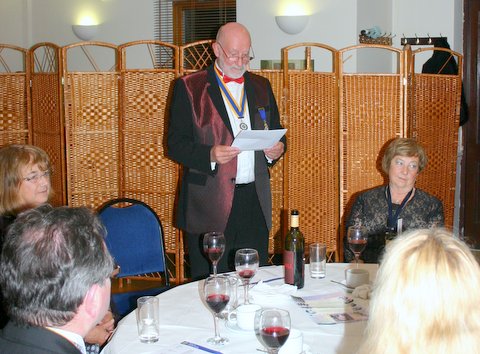 Enjoyed by all, our Charter Dinner was held at The Sportsman Inn on the 22nd April.
A photo gallery of this event can be found by pressing the 'Photo Galleries' button at the top of the home page.
Speaker David Glover 'Lettice not Lettuce' March 2013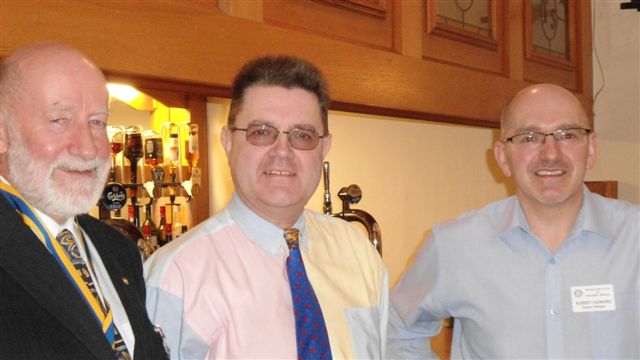 President Ken Forsyth with David Glover and Rotarian Bob Howard
The club were unsure if the talk by David would be about gardening issues or the English language. It turned out to be neither. It was an insight into Tudor times loooking at the eventful life of Lettice Knollys (1543 -1634).
Speaker Clara White from MacMillan Cancer Care - Feb 2013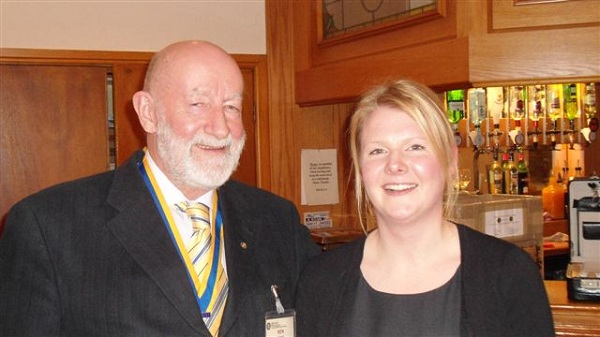 Club President Ken Forsyth with Clara White
The Rotary Club of Sowerby Bridge were delighted to receive Clara White from MacMillan Cancer Support.
Clara talked about the history of MacMillan from the origins of providing potatoes and coal, to the current support program which includes Healthcare, Information, Practical Support and Finance.
MacMillan is also a successful forum for lobbying. They have successfully managed to end prescription charges for cancer sufferers and their current campaign is to abolish hospital car parking charges. To sign up to be a campaigner for MacMillan, follow the link below:
http://www.macmillan.org.uk/GetInvolved/Campaigns/HospitalCarParking/CarParkingHome.aspx
A Week in the Life of MP Craig Whittaker - February 2013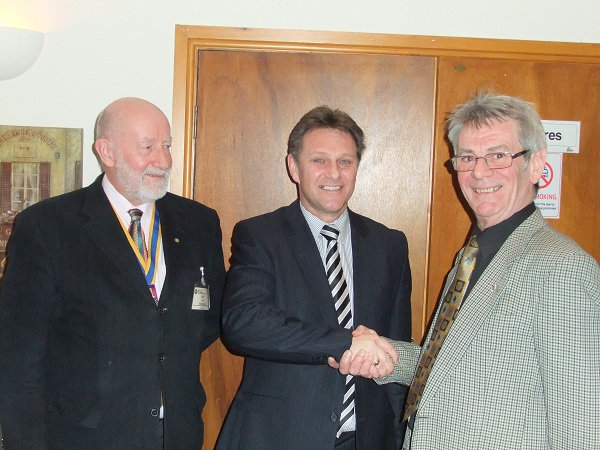 President Ken Forsyth with MP Craig Whittaker and Rotarian Roger Bancroft
The Rotary Club of Sowerby Bridge was pleased to entertain the Calderdale MP Craig Whittaker.
Craig enlightened members about the routine of a Member of Parliament with some graphic accounts of life both in Westminster and of visits around his constituency. He recounted highlights from letters and e-mails received by his office - over 26,000 last year and some of the strange and interesting requests!
Visitors from Suma Foods - February 2013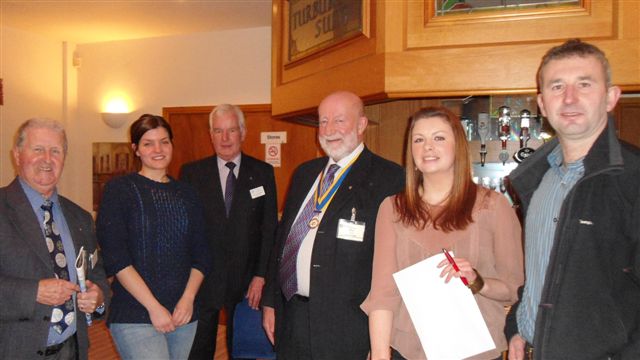 Nathalie Spencer and Rebecca Kinnard from Suma Foods with Sowerby Bridge Rotarians
Nathalie and Rebecca gave an interesting insight into Suma Foods based in Elland.
The Whole Food Co-Operative believes in investing in training their staff where everyone is paid the same hourly rate. They all share these values - an ethical sourcing policy and supply chain, Fair Trade, using organic products.Their products are totally vegetarian. The idea began in Leeds in 1975 in a student house where the occupants were tired of being unable to sufficiently source the vegetarian products they wanted and decided to solve their problem by sourcing items themselves.

Suma is also highly community focused. Examples of their volunteer activities include tree planting, river clearing and building a community garden.
Pig Race - A Great Success 2013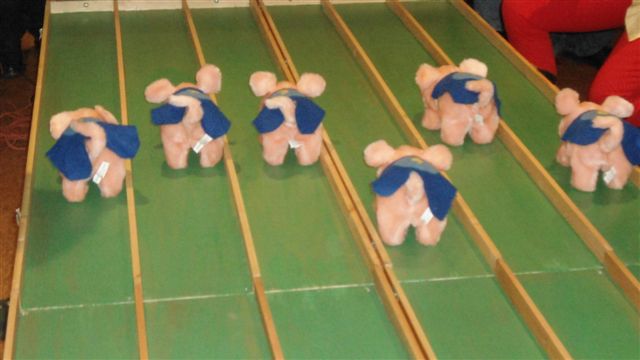 A fun night out for all who came and it looks like we have raised approximately 700 for Youth Projects in the Sowerby Bridge area.
Photos of this event can be seen by selecting the 'Photo Galleries' section above.
October 2011 - Speaker Lottie Wilcocks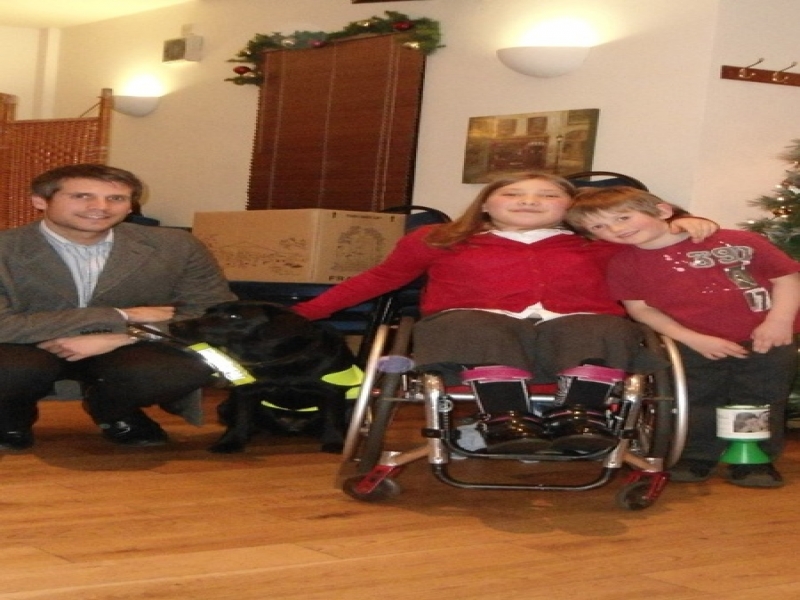 The Rotary Club of Sowerby Bridge were privileged to have Lottie Wilcocks as a guest speaker. In fact Lottie is our youngest ever speaker.
She is a plucky and bright little girl of 10 who has hydrocephalus, spina bifida and is in a wheel chair. Lottie came to tell us about her wheel chair racing with some of her biggest fans and supporters, her father Chris, her younger brother Noel and her dog Velvet who is her best friend and helps her a lot.
6th October 2011 Sowerby Bridge Youth Club Fundraiser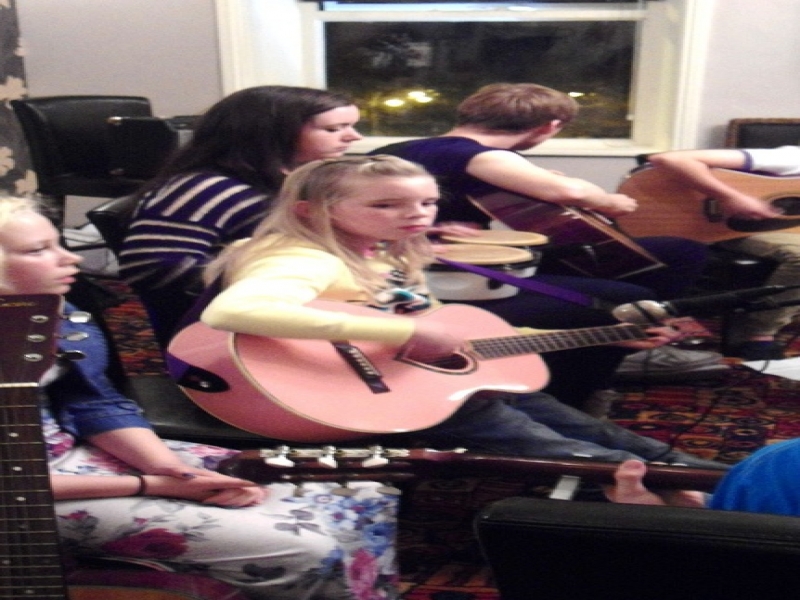 An excellent evening was held at the Java Restaurant in Sowerby Bridge featuring 3 recently formed youthclub bands making their debut performances. This combined with an extensive Indian hot buffet ensured a succesful evening.
26th September 2011 Speaker Tom Hartley on 'RYLA Exchange in Sweden'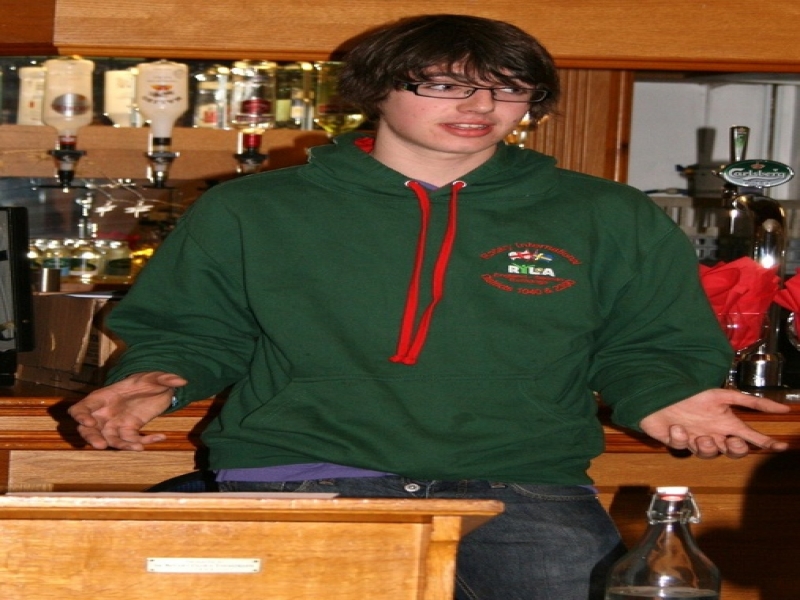 Alex Healy talking about his expolits in Sweden
RYLA (Rotary Youth Leadership Award) sponsored candidate Alex Healy talked to the Rotary Club of Sowerby Bridge about his recent exchange visit to RYLA Sweden. RYLA is designed to promote skills in leadership, citizenship and personal growth for young candidates sponsored by Rotary Clubs throughout the world. Alex was sponsored by the Rotary Club of Sowerby Bridge in 2010.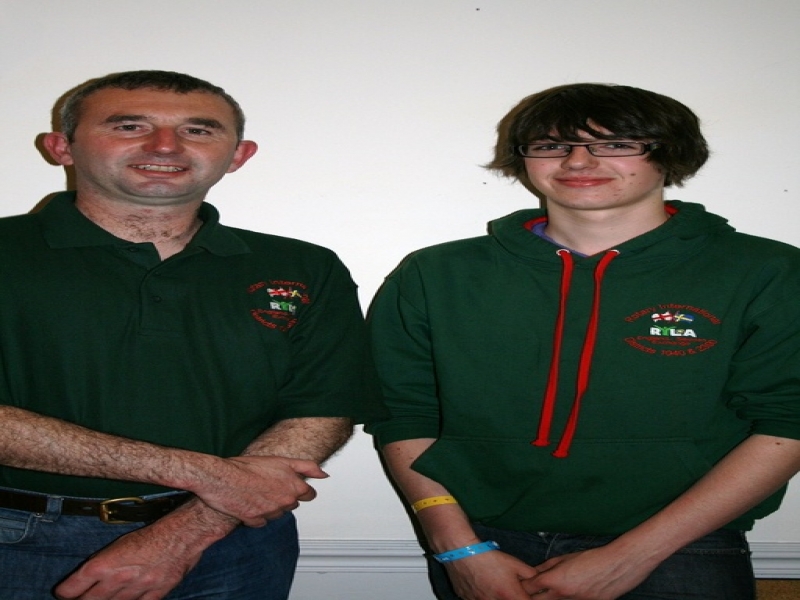 Rotarian Richard Greenwood (RYLA Co-ordinator) with Alex Healey.
Speaker The Right Reverend Tony Robinson October 2012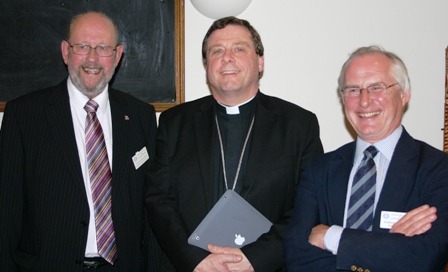 David Verlander with Bishop Tony Robinson and Gorden Akroyd
The Rotary Club of Sowerby Bridge were delighted to recieve The Right Reverend Tony Robinson, Bishop of Pontefract and to hear his inspiring talk 'Peace - One Day?'.
Speaker Paul Whittaker 'Music and the Deaf' October 2012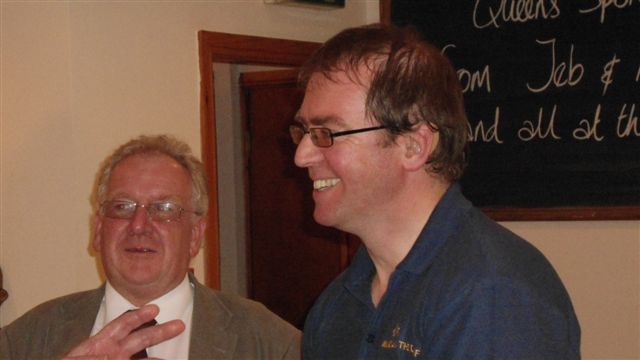 Paul Whittaker (right) with Past President Bill Wallace
An interesting and entertaining evening was held with Dr Paul Whittaker OBE who has been working form many years on bringing musical ability to the deaf in the UK and is now working on exciting international projects.
2011- 2012 Ketchup Appeal!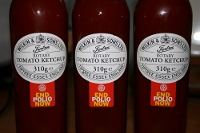 As part of the Rotary International campagn to erradicate Polio globally, we are undertaking as a club to all eat lots of tomato ketchup and fill the empty bottles with loose change to be donated towards the appeal. If you would like to help with our efforts, please get in touch via our website contact page.
Speaker Edwin Baker 'Lets Sing Gospel' - Sept 2012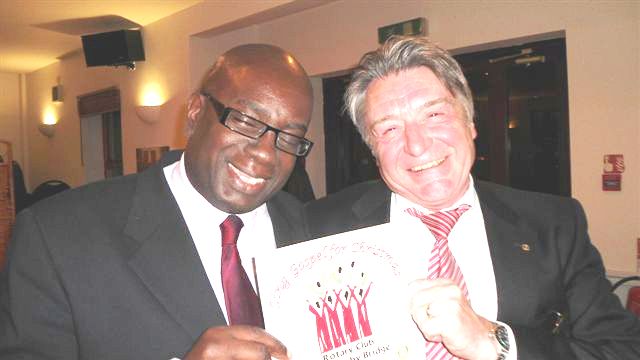 Edwin Baker (left) with Rotarian Alan Tatham
An entertaining evening was held with Edwin Baker (Choir Director - Huddersfield and Community Gospel Choir), who spoke with authority on the history and practice of Gospel Music.
Speaker Brian Harkness 'Halifax Diamonds' July 2012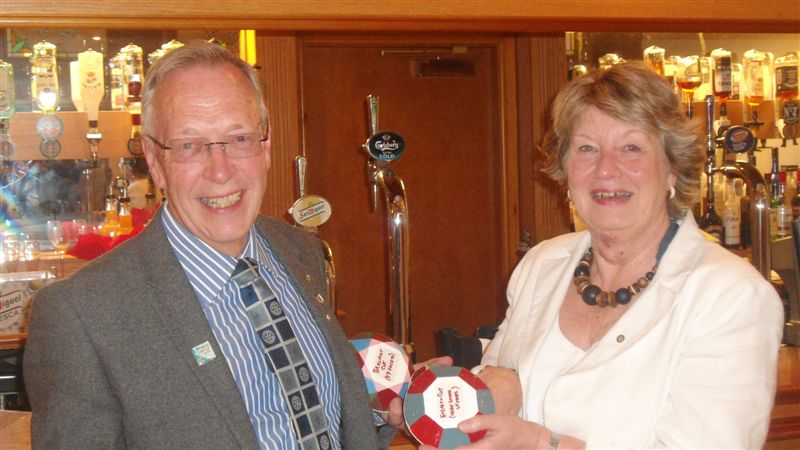 Brian Harkness with Rotarian Maureen Wilkinson
Brian Harkness from the Rotary Club of Halifax gave a very interesting account of the little known story of the mechanisation of the grinding of diamonds by the Halifax company 'Asquiths'.
Brians father Leslie Harkness played an integral part in the development of the process which was needed to make the diamonds saleable to the USA in exchange for food and munitions during the second world war.
Presidents Handover - 9 July 2012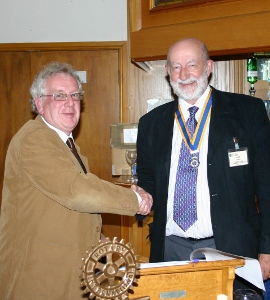 Bill Wallace hands over to incoming President Ken Forsyth. Bill was thanked for a great year of activity and achievement.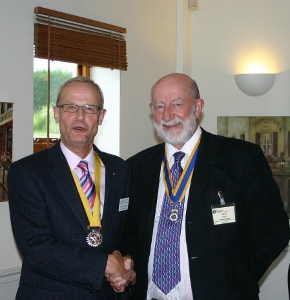 Ken's first task as President is to present a chain of office to his deputy Richard Goodwin.
Presidents BBQ - July 2012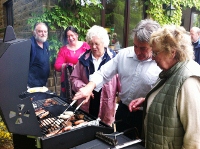 A good time was had by all at the Presidents BBQ on 1st July, at the conclusion of Bill Wallaces' presidential year, with excellent food, refreshments and even some sunshine at the home of Robert Mackenzie.
Left: BBQ skills from Alan Tatham
Below: Presidents confer - past (Bill Wallace) present (Ken Forsyth) and future (Richard Goodwin)
Click images for larger pictures. For more photos, see our photo gallery pages
Speaker David Fisher, Arthritis Research UK - June 2012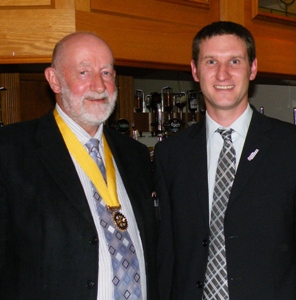 Arthritis is affecting more than 10 million people of all ages in the UK.

Arthritis Research UK is a long established charity, funded wholly by donations and is working to take the pain away for sufferers of all forms of arthritis, helping people to remain active.


left: David Fisher with President Elect Ken Forsyth


below: the pain of arthritis, drawing by an 8 year old girl, picture courtesy of Arthritis Research UK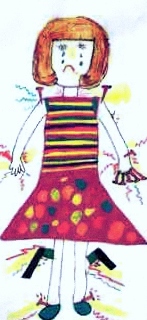 During his talk David provided amazing facts, figures and illustrations of how people are massively affected by the pain and reduced mobility associated with arthritis.

He encouraged us to help increase awareness and promote support of the important work of this charity.
Speaker Ken Robertshaw - June 2012
The Rotary Club of Sowerby Bridge were delighted by the visit of Alan and Mona Fox from The Rotary Club of Eganville Ontario. Alan and Mona have been recently working on projects in Nairobi and talked about their exploits.



Alan and Mona Fox with Club President Bill and Ken Robertshaw

On the same night we were treated to a passionate and amusing talk by Rotarian Ken Robertshaw of Halifax, who presented his exploits on the 'Husky Trail Challenge' in northern Norway, Finland and Sweden. Ken has been raising money for the Giggle Doctors charity, giving laughs and entertainment to terminally ill children. A very worthwhile cause.
Speaker Angela Monaghan - May 2012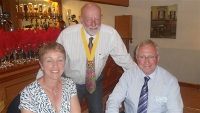 The Rotary Club of Sowerby Bridge were delighted to have Angela Monaghan (non Executive Chair of the NHS cluster of Calderdale, Kirklees and Wakefield) as an invited speaker.
Angela discussed the changes in structure within the NHS and the challenges this brings.
Angela Monaghan with President Elect Ken Forsyth and Rotarian Colin Lavender
Speaker Colin Watson May 2012
The Rotary Club of Sowerby Bridge were entertained by Colin Watson (President of the Sowerby Bridge Probus Club), who talked about the war, national service, being an apprentice and becoming the first non family Director of Marshalls.
March 2012 Invasion from Hebden Bridge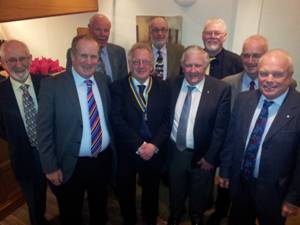 No fewer than eight members of the Rotary Club of Hebden Bridge visited Sowerby Bridge on a recent scatter night. The invasion party were very welcome and can be seen here with the Sowerby Bridge President, Bill Wallace.
February 2012 Speaker Stanley Topliss 'Why Don't We All Look Alike?'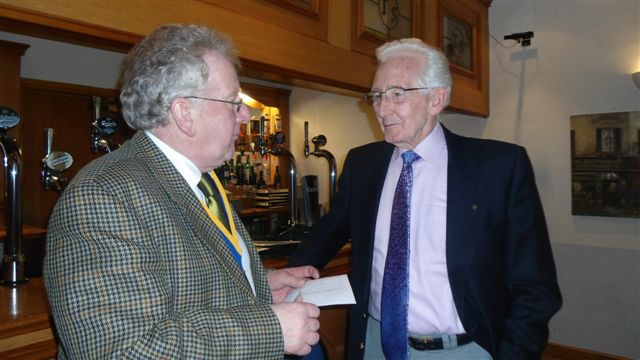 Rotarian Stanley Topliss (right) retired Opthalmic Optitian sizes up President Bill Wallace using the "Box, Line and Balance" method.
The 'Box, Line and Balance method was developed by Stanley "to sort peoples faces out" in terms of balance by choosing the spectacles best suited to their face. Stanley developed this method over his 45 year career in the local area. He wrote a book on workshop practice and taught this combined with dispensing for 13 years part time on the Opthalmic Optitian course at Bradford University and Technical College...
25th November 2011 Presidents Evening
A joint Presidents Evening with the Rotary Club of Elland at The Rock Inn in Holywell Green proved a great success. After good food, a ceilidh got everyone on their feet: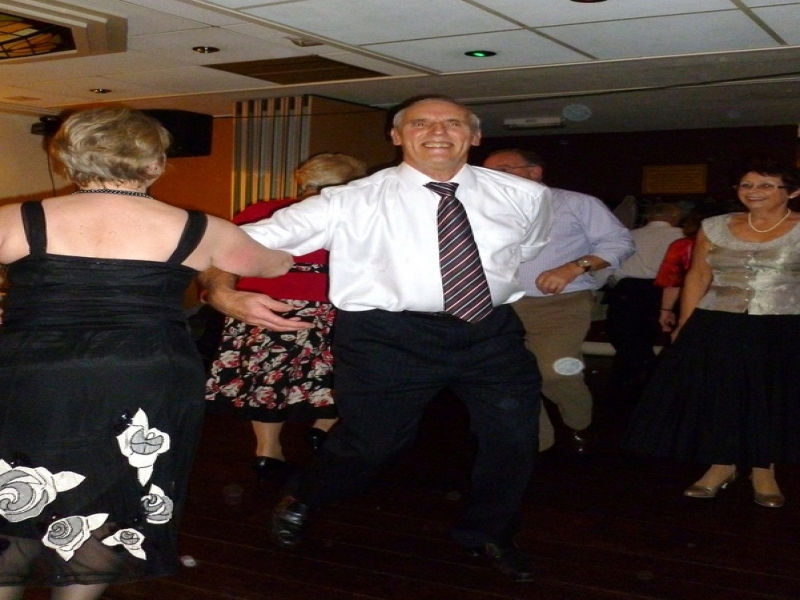 Club Secretary Jeff Fisher showing how it should be done....
President Bill helping a confused Rotarian who has lost his partner after going 'freestyle' whilst 'stripping the willow'!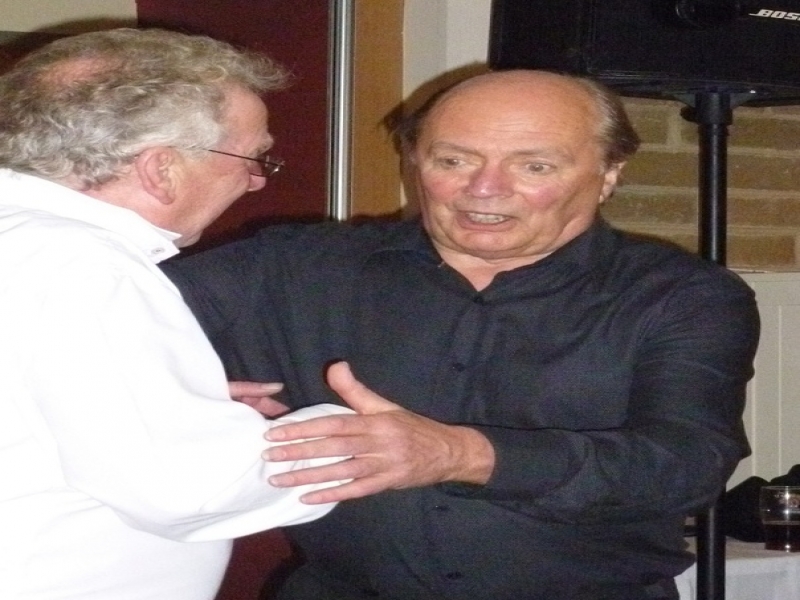 21st November 2011 Speaker Stephen Baxter CEO of JLA Group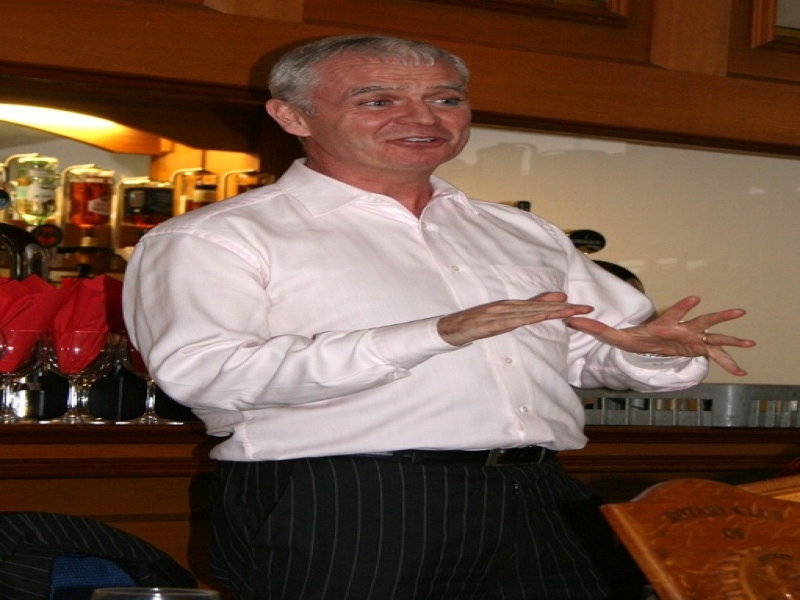 Stephen Baxter giving an insight into JLA Group
The Rotary Club of Sowerby Bridge were delighted to have Stephen Baxter and Johanna Bradley visit the club from JLA Group in Ripponden.
If Stephen ever needed a second career he would make a great Inspirational Speaker. With a real enthusiasm for both work and life, Stephen traced his impressive career to date and his ambitious plans for JLA.
10th November 2011 The Rotary Club of Sowerby Bridge is 'Bowled Over'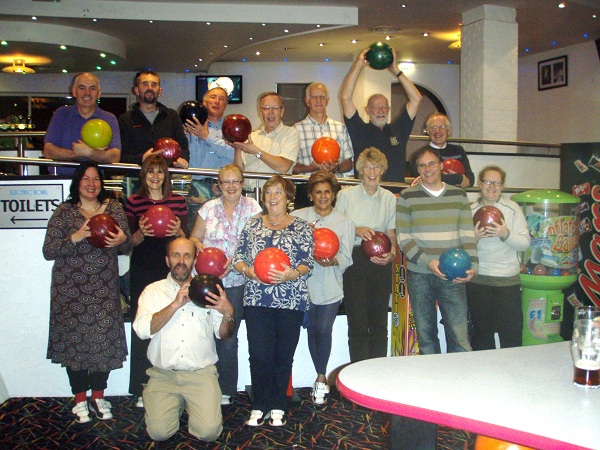 An evening of bowling was held in conjunction with the Rotary Club of Halifax. Of particular note was Maureen Farrar's 'Bouncing Bomb' technique, not often seen at the bowling alley!
7th November 2011 Citation Received from District Govenor 'Willie Clark'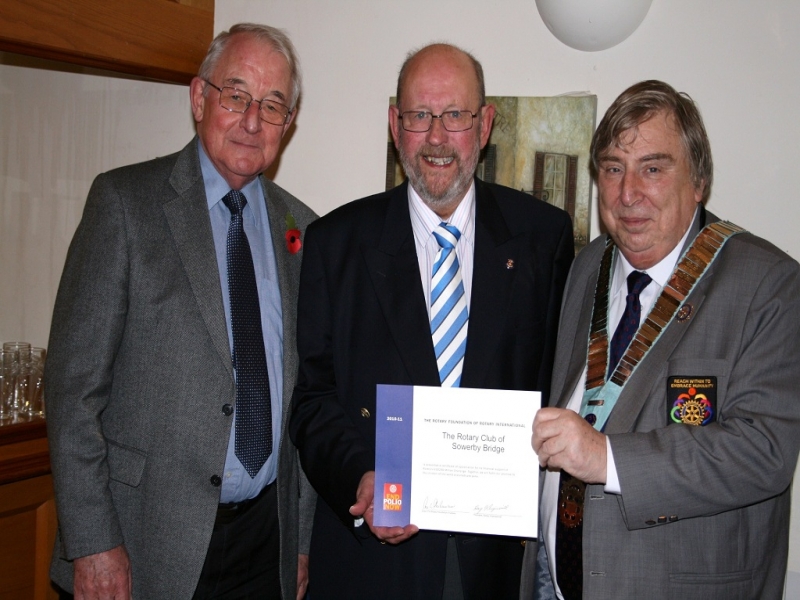 Foundation Convenor (2010-11) Derek Rolinson with Past President David Verlander and District Govenor Willie Clark.
The Rotary Club of Sowerby Bridge were delighted to host 'DG' Willie Clark who gave his message to the club in his year in office.
David Verlander (Past President 2010-11) received a Certificate of Appreciation from Rotary International for the contribution made by the club towards the $200 Million challenge to eradicate polio globally.
13th October 2011 Halifax Industrial Museum Visit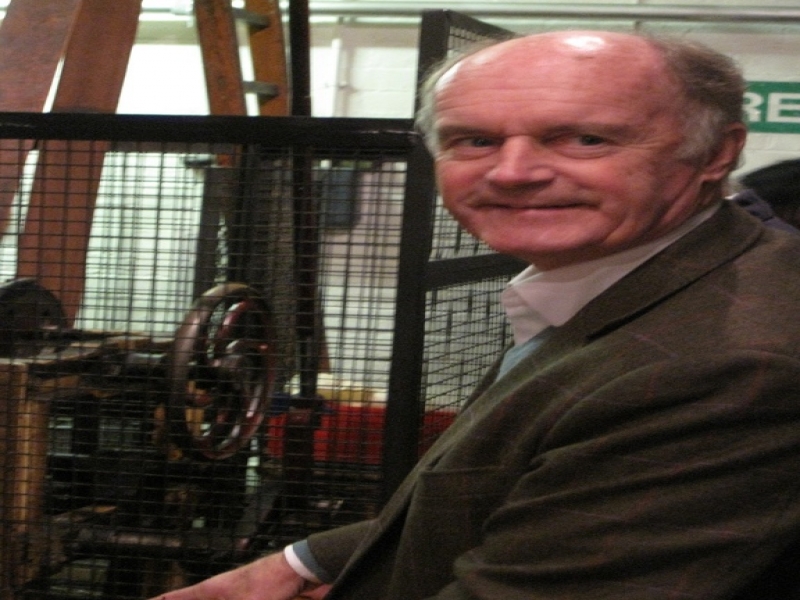 Rotarian Michael Holdsworth at Halifax Industrial Museum
The Rotary Club of Sowerby Bridge were allowed access to the now closed Halifax Industrial Museum.
This was an experience to remember for one Rotarian, Michael Holdsworth who's family business John Holdsworth and Co had a 200 year history in the town having been one of the largest suppliers of Moquette fabrics for bus and coach seating for many years. In 1979, this Company donated a working loom to the museum. It was dismantled, transported and erected in it's current site. All the rest of their looms have been scrapped over the years in small pieces.
Further information about this visit and about the Holdsworth machines can be found by clicking on this link: Hx Ind Museum.pdf
15th August 2011 Speaker Tony Earnshaw on 'Made in Yorkshire'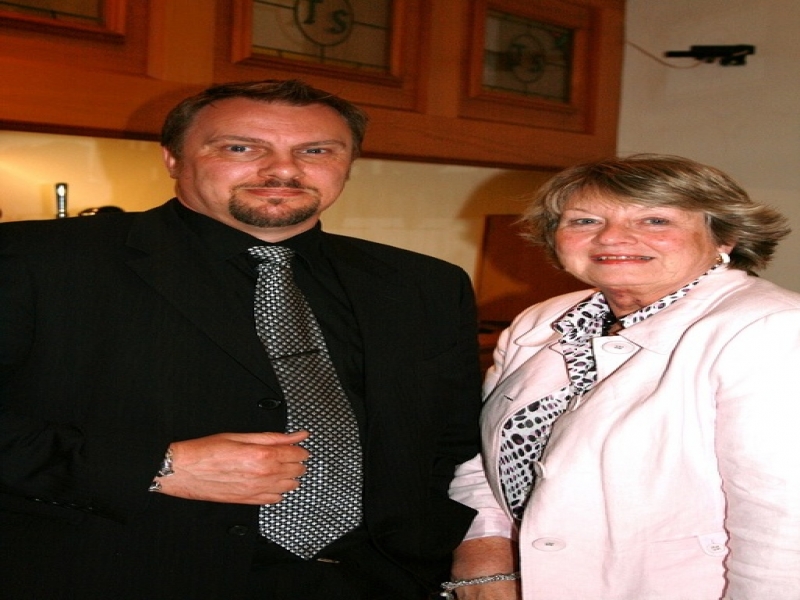 Author Tony Earnshaw with Rotarian Mo Wilkinson
The Rotary Club of Sowerby Bridge was delighted to hear anecdotes from Tony Earnshaw, author of 'Made in Yorkshire', a book covering movies filmed in our county.
From 'Room at the Top', 'The Dresser', and 'Kes', to 'Brassed Off' and 'The Full Monty', Tony has an encyclopedic knowledge of his subject.
25th July 2011 Speaker Les Cutts on 'The Tradition of the Town Cryer'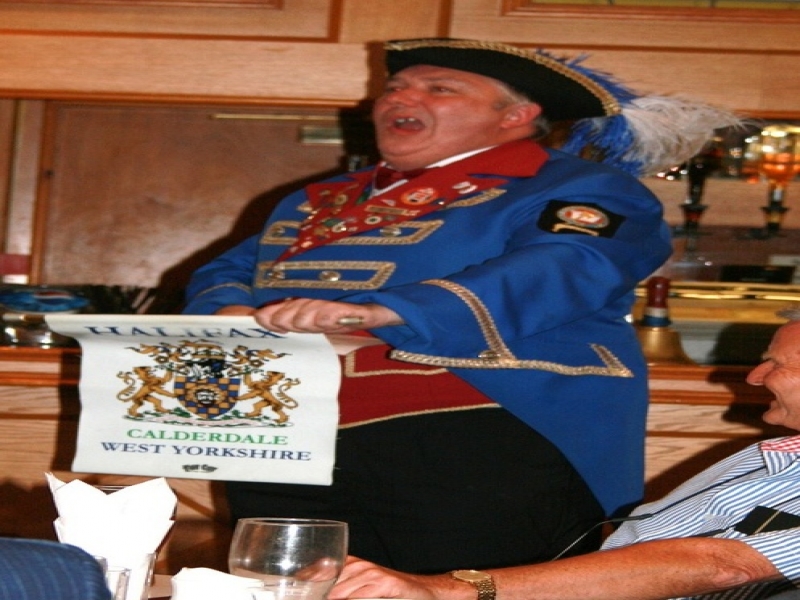 Les Cutts: Halifax Town Cryer, Bellman of the Borough of Calderdale and Cryer of the Town Council of Hebden Royd.
The Rotary Club of Sowerby Bridge were entertained by Les Cutts who enlightened the club members on the history and traditions of the town cryer. From reporting news, certifying beer as suitable for consumption to promoting towns and events, Les was able to tell us with authority and humour.
18th July 2011 Speaker Sue Holdsworth on 'Advice for Graduates'
Sue Holdsworth with Rotarians Wilf Jones (left) and Brian Whitaker (right)
Sue Holdsworth from the University of Leeds gave an interesting talk about the route to employment for newly graduated students. Of interest was the change in both the number and the demographic of students over the past 50 years.
4th July 2011 Presidential Handover 'Bill Wallace Takes Over'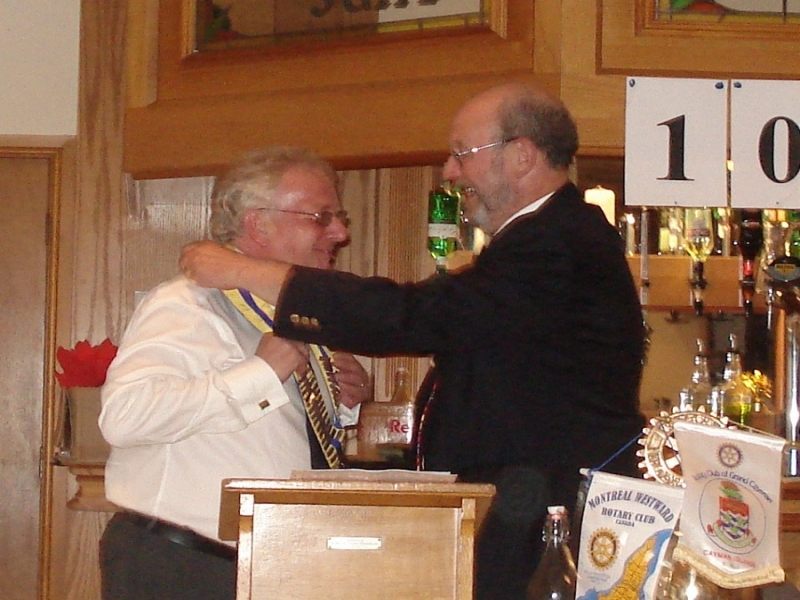 New President, Bill Wallace, receives the chain of office from outgoing President David Verlander
Bill Wallace took over the presidency of the Rotary Club of Sowerby Bridge on the 4th July. President Bill thanked David for his hard work in the past year. As well as a new President we have new Convenors for our Committees. You can read their aims for the coming year by going to the Committee pages (buttons on the left).
27th June 2011 Paul Harris Fellowship Awards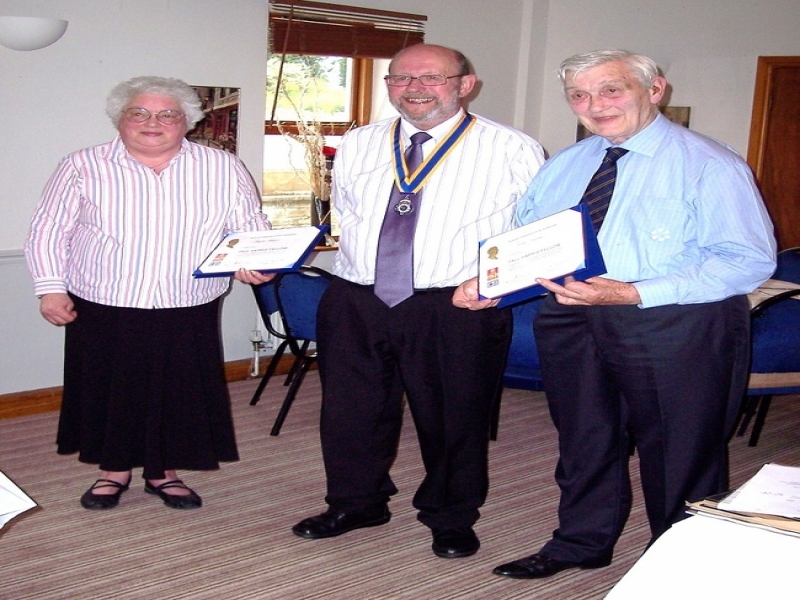 Angela Wilkins, President David Verlander and Mark Andrew
The Rotary Club of Sowerby Bridge is delighted to award Paul Harris Fellowships to two outstanding local people.
Angela Wilkins has worked tirelessly for nearly fifty years to bring succesful Guiding to the town of Sowerby Bridge. Starting in the 1960's with a Brownie group and working through to her role today as Divisional Commissioner. Her fund raising activities to enable the local Guiding groups to fully enjoy the 100 year celebrations is particularly impressive.
Mark Andrew is well known to the local people of Sowerby Bridge for his efforts over many years to support growth and regeneration of the town. Notable activities include work to support the Calder Navigation Society, Yorkshire Clean Up,Sowerby Bridge in Bloom, Rochdale Canal Society 'Lock 1' restoration, Keep Britain Tidy and Sowerby Bridge in Bloom.
Two totally deserving individuals who received their awards for work in the local community from President David Verlander.
27th June 2011 Speaker Tim Robinson (Editor of the Halifax Courier)
The members and guests of the club were delighted to meet and hear the anecdotes of Tim Robinson as he visited the club recently.
Of particular interest is how Tim fully utilises feedback from his readers to ensure The Courier is a newspaper that is both current and interesting.
Tim is himself a recipient of a Paul Harris Fellowship Award for the work he and his team did in the Grantham area to keep a local hospital from closing.