We are committed to serving the local community. We do this either through local events such as outings and parties for older people or by raising thousands of pounds every year for local charities.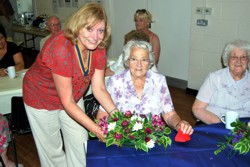 Lucky lady ,Vera Savile from Smithy Green is seen here receiving a floral presentation from Anne Tyrrell, the President of the Rotary Club of Cheadle & District at the Club's summer tea party for senior citizens in the district.

This is an annual event put on by our Club as part of its service in the community program. Fifty or so seniors sat down to a tea of sandwiches and cakes and of course plenty of cuppas, listening to music from the Sixties
Rotary supporting people living with dementia
An ongoing community project, started last year (2012 -13), is our work in partnership with Alzheimer's Society. We run a fortnightly 'Drop In Cafe' at the Governors House Pub, Ravenoak Road in Cheadle Hulme on alternate Wednesdays. The project has been set up to help provide a friendly and supportive environment for people with dementia and their carers. Occasionally,someone from the Alzheimer's Society also attends to help address any concerns that anybody may have.

(See subpages) or click here for dates.
We help run another dementia group on Tuesdays weekly at the United Reformed Church in Bramhall with a light lunch and entertainment/dancing.
Rotary supporting local and national charities

The club President usually serves for a year and in Cheadle and District Club the President gets to choose which charity receives special emphasis in their year of office, which runs from July to June. In recent years we have supported the following charities as well as making one-off donations to many small local charities.
2009-10 Alzheimer's Society
2010-11 Guide Dogs for the Blind
2011-12 Macmillan Cancer Support
2012-13 NSPCC
2012-13 RNLI
2014-15 Wellspring
2016-18 The Seashell Trust
2017-18 Marie Curie