CHRISTMAS COLLECTIONS
Thanks....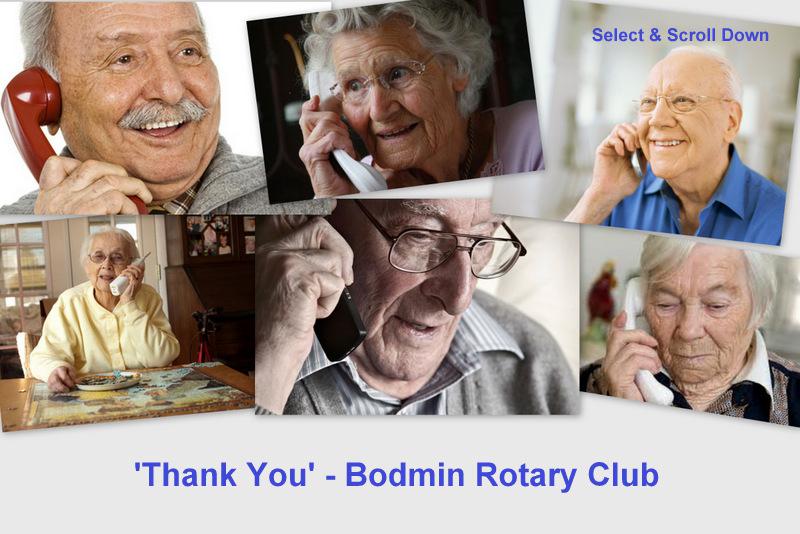 < Parcels were delivered Sun. 13th - Wed. 16th >

<>

CHRISTMAS PARCEL COLLECTIONS - Every December
The members of Bodmin Rotary Club would like to thank all the people of Bodmin who always give so generously towards this worthy cause.

The once a year collection is always successful and funds raised enable the Bodmin Rotary to distribute Christmas gifts to approx. 300 individuals, to sheltered housing units social funds and Bodmin Hospital, in total remembering approx. 500 people in the town at Christmas time.
Gifts are delivered to many elderly, lonely, deserving people who appreciate being thought of at Christmas - A friendly face, knocking on the door, with a gift and prepared to have a chat can greatly help the season of good will. Any surplus money is spent on local community needs.
<>
.
Bodmin members with their Organ - Once a year collection - Please support us if you can....
<>
Our annual collections take place in Fore Street, Bodmin and Morrisons Store in December.
<>
.
.
Collection Dates 2013:
Fore Street, Bodmin - 9th - 11th Dec. 2015
Morrisons Store, Bodmin - 22nd - 24th Dec. 2015
Main Parcel delivery is planned for for am - Sunday 13th Dec 2015
<< PLEASE SUPPORT US IF YOU CAN >>
~~~~~~~~~~~~
wm