MEET OUR PRESIDENTS
Introduction to our current President
Club President 2019/20 - Kerstin Ochel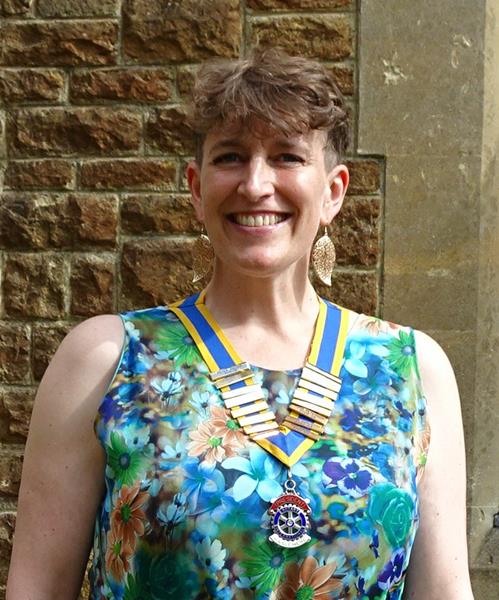 A message from President Kerstin
I first got into contact with the Rotary ideas when I studied Mechanical Engineering at the University of Siegen in the early 1990s. A fellow student invited me along to a meeting of the local Rotaract Club and I was immediately taken by the friendly atmosphere, the fellowship and the activities the club members were involved in. Hands-on projects were mixed with stalls at village fetes or Christmas fairs to raise money for local causes but also to spread the word about Rotary and its involvement in regional, national and international projects.
Not much has really changed since then apart from being a little bit older and now enjoying the fellowship and involvement of Rotary in my club in Haslemere. We still raise money for local causes; have our stalls at local village fetes and very much look forward to our Christmas collections with our Rotary Santa Sleigh.
I have been a member of Haslemere Rotary now for five years and I am honoured to lead the club for a year, planning various activities to continue supporting our local community - in our 85th year. We will focus our fundraising activities on two charities this year, both close to my heart.
I fondly remember hours and hours spent outside roaming the countryside with my friends when I was young, and find this a very important part of growing up. I have picked the 'Wild School' of Camelsdale Primary School as one of my charities. I was blown away by the skillset the children have acquired over their years in the Wild School. The club very much look forward to learning more. We are currently planning our involvement with this school project to share the wealth of experience of our club members with the next generation.
The other worthy cause I would like to support with Rotary Haslemere and our community is the Breast Cancer Haven Wessex. From personal experience I know they are a fabulous charity and offer much needed support to both female and male patients affected by breast cancer. Visitors of the centre can enjoy treatments, informative talks, various exercise classes and one-to-one support from the highly qualified staff of the Haven.
Spreading the word about Rotary and helping the local community keeps me busy however I also run my own business called Fashion Fantasies where I aim to give my clients more confidence in their appearance. I offer bespoke dressmaking, artisan jewellery design and image consultation to mainly female clients. I also design casual and formal shirts for male clients. When there's any time left I enjoy the great British countryside - walking, visiting country houses and parks and the seaside.
Visit our website www.HaslemereRotary.org and Facebook page to stay in touch; we always look for members of the community to join our activities and new members, too.
Yours in Rotary
Kerstin Ochel
President Rotary Club of Haslemere 2019/2020
Scroll Down for Past Presidents Listing
PAST PRESIDENT'S LISTING
1935/37 JH Edwards
1937/38 AG Whitcher
1938/39 HM Salmon
1939/40 HGS Peck
1940/41 LL Hamilton
1941/42 HE Dudeney
1942/43 EJ Blaker
1943/44 C Teale
1944/45 LA Harrison
1945/46 FC Brown
1946/47 RH Turk
1947/48 WD Walker
1948/49 FD Huntingford
1949/51 RJ Bolton
1951/52 BT Freeman
1952/53 RC Stephenson
1953/54 DP Lawson
1954/55 HF Price
1955/56 CI Cox
1956/57 VC Lilly
1957/58 CJ Wother
1958/59 PEJ Bargery
1959/60 HP Dubber
1960/61 LG Vine / SR Gibson
1961/62 HS Mason
1962/63 PG Madgwick
1963/64 FL Huntingford
1964/65 AJ Douglas
1965/66 MM Reese
1966/67 AN Fergus
1967/68 RD Reynolds
1968/69 LD Nicholls
1969/70 HE Cook
1970/71 GM Sykes
1971/72 WR Bleach
1972/73 JA Broughall
1973/74 R Milton
1974/75 AF Coombes
1975/76 L Anning
1976/77 FM Hodges-Roper
1977/78 EL Taylor
1978/79 DS Boxell
1979/80 GG Harris
1980/81 JR Berrow
1981/82 PW Smith
1982/83 JP Hollins
1983/84 A Bryne
1984/85 P Leete
1985/86 RJ Coleman
1986/87 P Charman
1987/88 WE Lewis
1988/89 C Brooks
1989/90 T Gittins
1990/91 MJ Gillet
1991/92 Leo Cash
1992/93 Ewart Rice
1993/94 Mike Jones
1994/95 John Smith
1995/96 Alan Paynter
1996/97 Tim Shepherd
1997/98 Mike Cowan
1998/99 Alan Wylam
1999/00 Graham Cook
2000/01 Robert Pullen
2001/02 Ray Hagger
2002/03 Martin Mustart
2003/04 Frank Chalstrey
2004/05 Rae Boxall
2005/06 John Peterson
2006/07 Jackie Gaskell
2007/08 Steve Lovell
2008/09 Gordon Exeter
2009/10 John Patrick
2010/11 Rae Boxall
2011/12 Ray Hagger
2012/13 Leonard Bate
2013/14 Yvonne Mayer
2014/15 Rob Terry
2016/17 Roy Wylam
2017/18 Jenny Mason
2018/19 John Robini