Thu 23rd February 2012 at 12.00 am -
Martha Ferguson from WHA won the instrumental section of the Area finals at Annan and represented us at the 2012 District final which she won.At the Scottish finals in Perth she was just beaten. But Congratulations for 3 wins out of four contests.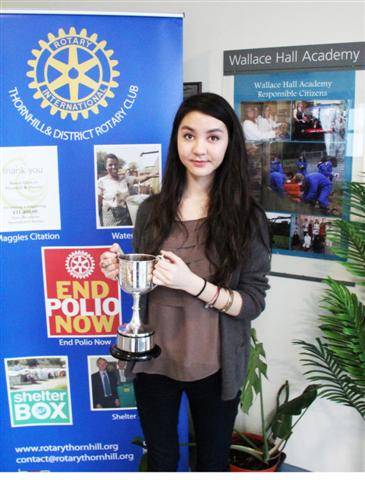 Show related pages
Martha Ferguson, 15, after her first win at Dumfries in the first round,she then won the recent 2012 Rotary Area Finals of the Young Musician Competition at Annan beating off some excellent competition and followed this with a win at Edinburgh in the 1020 final.The Scottish competition proved just a step too far when she came up against a clarinetist from Gourock.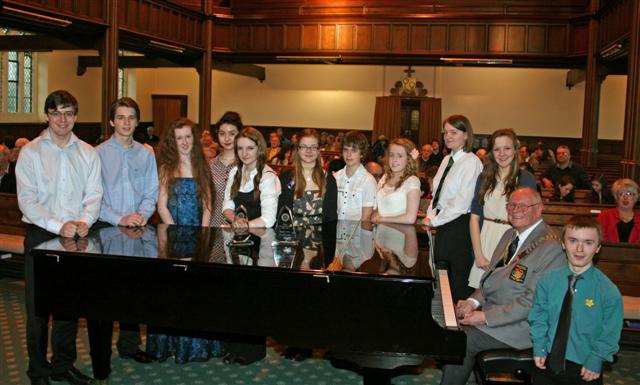 Martha with fellow competitors at Perth in the Scottish finals on Sunday 18th March
Martha most enjoys playing classical music like Beethoven and Chopin which she studies both at WHA and at the Royal Conservatoire of Scotland ( www.rcs.ac.uk ) under the watchful eye of Heather Slade-Lypkin, Professor Of Piano.
However a bit of jazz, cello and alto sax are not beyond her considerable talents.
This may all just be related to the fact that her Japanese mother's family were musical as is her Irish father's uncle who plays professional piano in the US.
These four Rotary competitions are the first ever entered by Martha but she told us that, whilst stressful, she was looking forward to the finals as another new experience.
She, of course, now joins that illustrious group of previous WHA winners at our Young Musicians competition.
Who knows, whilst she is thinking of languages or law for her career, music may just flourish to be as important to her as it has been for other WHA alumni that started off at a Rotary competition.