What is Rotary?

The beginnings - to today

Rotary International is the World's original, and largest, service organisation formed on 23rd February 1905 by Attorney Paul Harris with three business acquaintances: coal merchant Silvester Schiele, mines engineer Gustavus Loehr and tailor Hiram Shorey.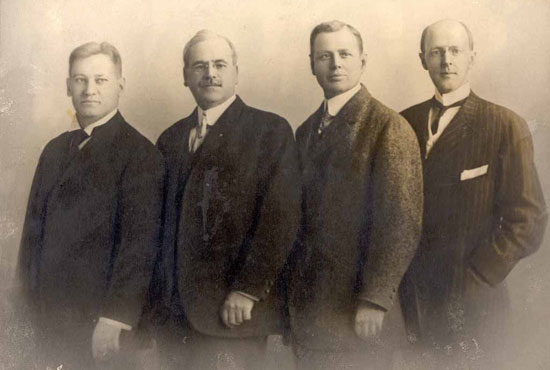 The four original members met each week at each-other's properties in turn; i.e. they rotated their meeting locations hence the origin of the name "Rotary". The purpose was to establish stronger business bonds and engender trust: now termed as 'Networking'.
The Chicago Rotary Club grew quickly: within a year it was so large as to necessitate a bigger fixed meeting place. Significant funds were accumulated and as a result the first community service project was undertaken: to provide public conveniences outside of the Chicago City Hall. The conveniences building still stands but is no longer in use.
Now Rotary, worldwide, has in excess of 1.24 million Rotarians who regularly meet together in over 34,000 Rotary Clubs in 200 countries and geographical areas. Each year on the 23rd February Rotary celebrates "Rotary Day": often special events take place in support of the Rotary Foundation (q.v.). Rotary's good works include "End Polio Now"; a 28 year long challenge to eradicate Polio.

So ... Why Rotary?

Please take a few minutes out to look at the following video and please don't miss the end! You may then appreciate why Rotarians know the answer to the question "Why Rotary?"
The Rotary philosophy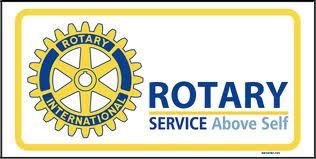 "Service Above Self" is Rotary's principal motto and philosophy: in that, as individuals, we put the needs of those less fortunate, above self needs. Rotarian's unselfish voluntary service within their own communities, the events and projects, and the support of the Rotary Foundation (Rotary's own charity) ensures that Rotary can successfully undertake and achieve worthy, and sometimes great, humanitarian missions. Such great work often inspires and drives Rotarians onto greater service.
The Rotary brand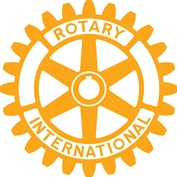 We all recognise the power of branding: it is a powerful message that secures customer loyalty and represents significant value in goodwill. Brands are precious assets, that are carefully managed and generate substantial income to their owners. In business the most successful organisations are branded: Nike, Coca-Cola, Mercedes Benz, McDonalds, Next, Intel, the B.B.C., Rolls Royce, Facebook: the list is endless. Brands humanise a product, a service or an organisation and gives it a personality of its own.

Rotary is also branded (above left); the brand speaks of who Rotary are, what Rotary wants and who Rotary wants to be. Rotary's reputation and image are strengthened by such branding. The Rotary brand stands for integrity, honesty, commitment and selflessness in Rotary service as well as in any Rotarian's personal and business life.

The Rotary Foundation

Foundation is the American word for "charity". The Rotary Foundation was created in 1917 by 6th President Arch C. Klumph with the aim to create an endowment fund "to do good in the world". The Rotary Foundation is one of the world's largest and most prestigious international fellowship charitable programs.
There are many Foundations, some based in the U.K. The U.S. based "Bill and Melinda Gates Foundation" is a charitable organisation that has donated millions of Dollars to Rotary in which to continue the battle to eradicate Polio.
These donations aside the Rotary Foundation is funded by Rotarians who volunteer an annual contribution at the same time as the membership fee is paid. The membership fee that clubs set includes the contribution to Foundation. Foundation also benefits from contributions made at club level where part of the proceeds of fundraising are donated; with each club being set an ideal target. Often dedicated events and projects are run exclusively for the benefit of Foundation.
The resultant Foundation funds are used in three ways:
Some is invested back into Rotary in the way of grants to assist Rotary Clubs with specific charitable projects. Clubs submit a bid for a grant, and upon success of the bid, funds are awarded through the Districts.
Some is used to run youth and young adult development and educational programs like Rotary Youth Leadership Awards (RYLA), Group Study Exchange (GSE), Rotary Youth Exchange, Ambassadorial Scholarships, and Rotary Peace Centres.
Some is used to undertake major international humanitarian projects like fighting hunger, supplying clean water, reducing child mortality, promoting peace and conflict resolution, improving education and literacy, and eradicating Polio.

International membership

Rotary membership is to the parent organisation "Rotary International" based in Evanston, near Chicago, Illinois, U.S.A. Individual membership, however, is effected and administrated through a local Club: usually based near to the member's own residential or business location. Every Rotarian has the right to visit any other Rotary Club, anywhere in the World, and would expect to be welcomed as an honoured guest.
Rotary International elects a President each year and the current holder of that title is K.R. Ravindran who is based in District 3220 at the Rotary Club of Colombo (Sri Lanka).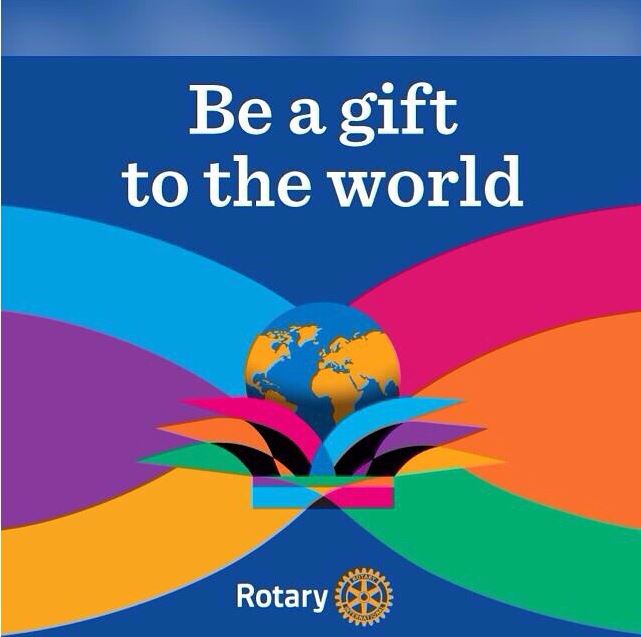 Each Rotary year the Rotary International President chooses a theme that reflects the purpose and direction of Rotary as a global organisation. The theme will often contain a message which seeks to inspire and motivate, not only existing Rotarians but those who might wish to join Rotary (including those who are yet to recognise that they do). This Rotary year the theme is "Be a Gift to the World".

The first theme was used in 1947-48 "Enter to learn, go forth to serve" after that there were several years, excepting 1953-54, where there was no specific theme but since 1957-58 there has been a theme for each Rotary year. Information about past themes can be found here.

Rotary in Great Britain and Ireland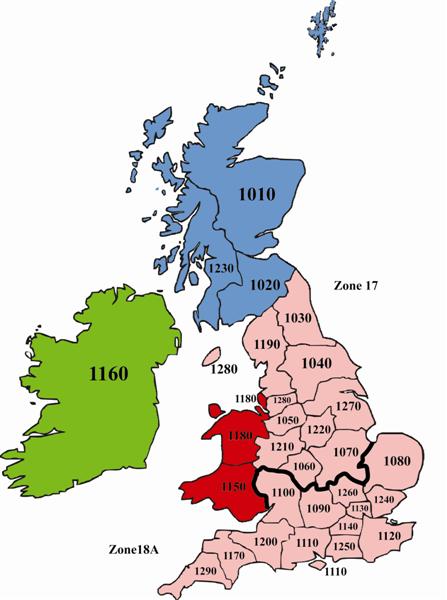 In the British Isles, Rotary has its own association of Rotary Clubs called "Rotary Great Britain and Ireland" or "R.G.B.I."

The R.G.B.I. is governed by Rotary International but represents the Clubs in Great Britain and Ireland in a way that is unique: as no other country or geographic region has an organisation that sits between clubs and Rotary International.

Annually the R.G.B.I. elects its own President: currently that title is held by Peter Davey of the Rotary Club of Monmouth in Middlesex (District 1100).

The R.G.B.I. Secretariat based at Alcester, Warwickshire provides administrative, financial and marketing support direct to clubs as well as though the Rotary 'Districts'.

The R.G.B.I. represents over 53,000 Rotarians in approximately 1,850 clubs. Clubs in R.G.B.I. are organised into 29 Districts: each with its own District Governor and a District Team providing support to the 50-70 clubs in their District.

Our Club, one of 69 such clubs (including an eClub), is located in Rotary District 1100 and our District Governor is Tony Horn of the Rotary Club of Swindon Phoenix.

Re references above to 'Zones': these are administrative regions: 34 worldwide in total. Zones are reviewed at least every 8 years to ensure that each has approximately the same number of Rotarians (each zone currenty having between 30,000 and 50,000 Rotarians). In the south of the British Isles districts are in Zone 18A and this joins with Zone 18B (Belgium and Luxembourg) to form Zone 18.

The Rotary Club format
Clubs present an opportunity for Rotarians to share in fellowship, to socialise, to have fun, to learn, to network, and to express themselves through their talents and through teamwork. Being part of a team is important to Rotarians; and enables Rotarians to be able to offer service in their own communities. Participation in teams helps Rotarians to volunteer a little time more effectively, and apply their collective skills, to help "Make a World of Difference" (see video below) wherever that help is needed most; be it locally, nationally or internationally.
Rotary has no political affiliations and does not discriminate against any religious, racial, gender or any other lawful group. All Rotarians, in all personal, business and community endeavours, work within an ethical framework: where truth and fair-mindedness prevail. Rotarians aim to promote goodwill and friendship, and will strive to ensure that their actions will be beneficial to all concerned.

Each club is autonomous and decides on it's own programme but it must operate within its constitution as established by its charter which is granted by R.I. (via R.G.B.I. in the case of G.B. & I.). Despite this distinctiveness neighbouring clubs will often collaborate on joint events and projects, and also 'Scatter' to visit other Clubs: both activities thus enhancing Rotary fellowship.

Every club has a set of officers: a President, a President Elect (formerly known as Senior Vice President), a President Nominee (Junior Vice President), an Immediate Past President, a Secretary and a Treasurer. Most officers serve for one year only but Club Secretaries and Treasurers can serve for up to five consecutive years. All officers are elected, and re-elected, by the members. The officers, together with between 3 and 6 ordinary members, form the governing body of the club called the 'Club Council'.

Club meetings of all members are regular and are mostly held weekly. Meetings are almost exclusively at meal times and thus Clubs are classed as 'Breakfast Clubs', 'Lunch Clubs' or 'Evening Clubs' (not 'Dinner Clubs'). The exception to this are eClubs who do not physically hold regular meetings but conduct their club business via the Internet, however eClubs do meet to run events and projects.

How to find a Rotary Club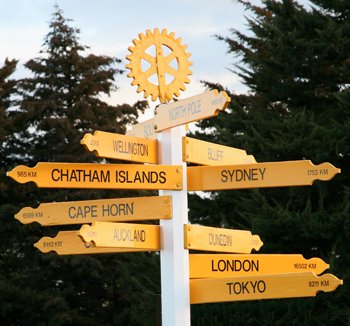 Most British towns and all British cities have at least one Rotary Club and the best way to find where clubs are is to Google "town/city name Rotary" e.g. "Bristol Rotary". In the case of "Bristol Rotary" the search yields a list of 9 clubs on the first page of Goole results.
If the unique Rotary District number (as shown in the R.G.B.I. Districts map above) is included in the Google search, then the Google results will reveal the District website. A list of all clubs within the District (each with a link to the club website) is provided e.g. "District 1100 Rotary" provides a link to the District 1100 website and thus a list of the 68 clubs including the District 1100 eClub that make-up our District.

How to join Rotary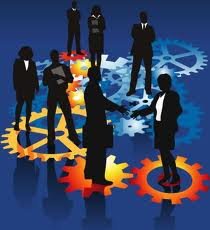 You may not join a Rotary Club without an invitation and you must have a sponsor who is a Rotarian, at your preferred club, to be able to start the process of joining. Often prospective members are acquaintances of an existing member. It is common practice for potential new members, who are not acquainted with a Rotarian, to directly contact one or more Rotary Clubs and arrange to visit and such approaches are welcomed.
Such visits, whether through acqaintance or otherwise, will allow both the prospective new member and the club to get to know each other. From there, and as appropriate, a sponsor and mentor is appointed (in most cases this will be the existing member that introduced the prospective member) to guide and advise the prospective member. Membership is then approved by the existing members of the club.

What does Rotary cost?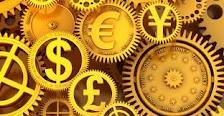 Each club sets its annual budget and Membership Subs are calculated accordingly. Subs are usually paid in a single annual amount but split payments are not unheard of. There may be a joining/registration fee. Meal costs are extra and are usually paid weekly.
Such is the variation in costs you should check with the Club for exact details. You should however budget a cost of between £10 and £20 a month for Membership Subs. Depending on the type of club (because breakfast is cheaper than dinner) the meal would usually cost between £5 and £15.

Fishponds and Downend Rotary Club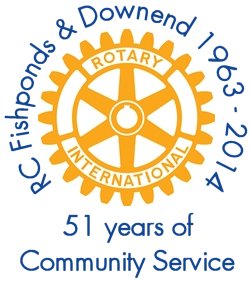 Part of District 1100 we are a well established and enthusiastic evening club based in the Bristol suburb of Downend. Generally we meet at 18:45 on Thursday evenings in Emerson Green, Downend (please always check the club diary). Please see General Club Information for meeting timings and Locality Information for details of how to find us.
We have just celebrated our 51st year as a Rotary Club and now enjoy a membership of 18 (including 1 honorary member and we also have 1 Friend of Rotary attached to our Club): members mostly consist of mid-aged men and women. Just over a quarter of our membership consists of ladies. We are looking for dynamic men and women of all ages and from all walks of life to join and contribute to our Club, and share in the fellowship and fun that is part of everything we do.

We invite all our members to take an active role through Club Service, by local community service, by support for national and international Rotary projects, by participation in Club social occasions, and by interaction with Club events and projects. Have you the skills, the energy, the qualities and a little time to spare? If so then we are looking for you!
Could you place Service Above Self? Would you like to have fun and enjoy the rewards of fellowship? Do you need to network and promote your skills? Would you enjoy helping organize Community Service Events? Could you lend a hand to those less fortunate and support Rotary charities and good causes? If so then you are looking for us!
If you want to find out more please email president@fishpondsanddownend.rotary1100.org

We thank R.G.B.I for making available the videos used in this article and their copyright is recognised.