Our Charitable Work
A key part of the role of Rotar is in supporting charities. At Keynsham Rotary we are a relatively small group and so take a focused approach to the support we provide. Below is a short outline of some of our work.
Rotary Club of Keynsham. Registered Charity No. 1030596
Rotary International: Foundation
The Rotary Foundation is the charitable arm of the organisation which co ordinates the contributions of Rotary Clubs and Districts. It's work includes support of projects for the provision of clean water, medical care and education world wide. Keynsham Rotary provides ongoing support for Foundation in the form of donations and by recommending projects to which Foundation provides part funding (see below).
Local (International) Charities.
Keynsham Rotary supports several charities based in the South West region of the UK but which undertake excellent work on an International scale. These are Send a Cow, WaterAid and ShelterBox.
Note - Keynsham Rotary passes on 100% of any money collected to the beneficiaries. We have no overheads and we take no commission.

Send a Cow
Send a Cow is based in Newton St Loe, Bath and works hand in hand with poor families, typically in African countries, teaching them the skills they need to build new lives free from poverty and hunger. By providing training, livestock, seeds and support, we restore hope and create stronger communities for the future.In turn, these families then pass on young livestock, seeds or training to others. This "Pass it on principle" approach not only builds stronger communities, it allows us to help even more people to develop skills, confidence and self respect.
For more information please visit http://www.sendacow.org.uk/home

Water Aid
WaterAid is based in the South West and is an international non governmental organisation. It's mission is to transform lives by improving access to safe water, hygiene and sanitation in the world's poorest communities. WaterAid's vision is of a world where everyone has access to safe water and sanitation.
For more information please visit http://www.wateraid.org

Shelter Box
ShelterBox is a charity based in Helston, Cornwall. They provide emergency shelter and lifesaving supplies for families around the world who are affected by disasters, at the time when they need it the most. They deliver the essentials a family needs to survive in the immediate aftermath of a disaster.Each large, green ShelterBox is tailored to a disaster but typically contains a disaster relief tent for an extended family, blankets, water storage and filtration equipment, cooking utensils, a stove, a basic tool kit, a children's activity pack and other vital items.
For information please visit http://www.shelterbox.org
Tools for Self Reliance
Tools for Self Reliance is a charity, established in 1980 and based in Southampton. It is a small UK based charity working to help relieve poverty in Africa. Their approach to development is to focus on the artisan sector in rural communities. They have a small number of staff and hundreds of volunteers who help to collect and refurbish tools, and who actively campaign against the causes of poverty.Keynsham Rotary club have supported this charity for a number of years. Any tools collected from the public are delivered to a Charity museum/tool refurbishment centre in Kingswood, Bristol.
For more information please visit: http://www.tfsr.org/
Bujagali Trust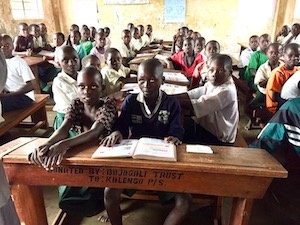 We have actively supported the Bujagali Trust, which is a small Bristol based charity working in Uganda. We have provided support to properly equip several schools which were lacking even basic amenities. Regular reports on progress have assured us that the money we have donated has been well spent.
Rotary International: Foundation
Keynsham Rotar provides ongoing support to the Rotary Foundation (the charitable arm of the organisation). Foundation co ordinates the contributions of Rotary Clubs and Districts and it's work includes projects for the provision of clean water, medical care and education world wide. Below are some examples of recent Keynsham activity in support of Foundation.
Eradication of Polio
Eradication of Polio; Rotary clubs across the world are contributing to the target fund of US$200million (to be matched by the Bill & Melinda Gates Foundation) in order to support immunization campaigns to eradicate polio in developing countries. Since 1988, Rotary International with partners ( World Health Organisation, UNICEF and US centers for Disease Control and Prevention) have spearheaded the Global Polio Eradication Initiative. Since then the number of polio cases has dropped 99% worldwide....but there is still work to do! Keynsham Rotary plays its part by raising funds throughout the year (such as charity collections and concerts). These funds are sent through to the main Rotary International campaign.
For more information please visit: www.ribi.org/foundation/polio
Ambassadorial Scholars
Ambassadorial Scholars; Rotary Foundation enables students to study abroad and provides travel grants and living costs. However, in order to qualify, the prospective students must apply through their local Rotary (students with Rotarian parents may not apply). They have to make a number of presentations. Firstly to apply via their local Rotary groups; then they must make presentations to Rotary clubs in the Country they visit (presenting their home town, family and studies. Finally they must present on their return from studies in respect of what they have seen, done and achieved. In the photograph above Ambassadorial scholars Yurim Kim from South Korea and Tomoko Kikuchi from Japan are pictured visiting Keynsham Rotary club. They made presentations to members and spoke about their home countries and their University studies in Bristol. They were accompanied by Paul Keith, a member of Bristol Breakfast Rotary.
Keynsham Rotary provides a warm welcome for any such visiting ambassadorial scholars.

International Crises
International Crises; Keynsham Rotary responds to International crises where and when possible-often in partnership with other Rotary clubs in District 1100. A good example was the Tsunami in 2008. Fundraising was undertaken in the District to support an Indian village which lost all its fishing boats. News of this tragedy was sent from the Rotary group near to the village and funds we raised were sent to help via that Rotary club; including money raised in Keynsham. As a result the generocity of local people and the speed with which funds were transferred, all the fishing boats were replaced and the school building replaced within a short time of the Tsunami.