A very interesting speaker tonight. Sarah Wyatt, a Rotary Ambassadorial Scholar from New Zealand, currently studying at Liverpool School of Tropical Medicine.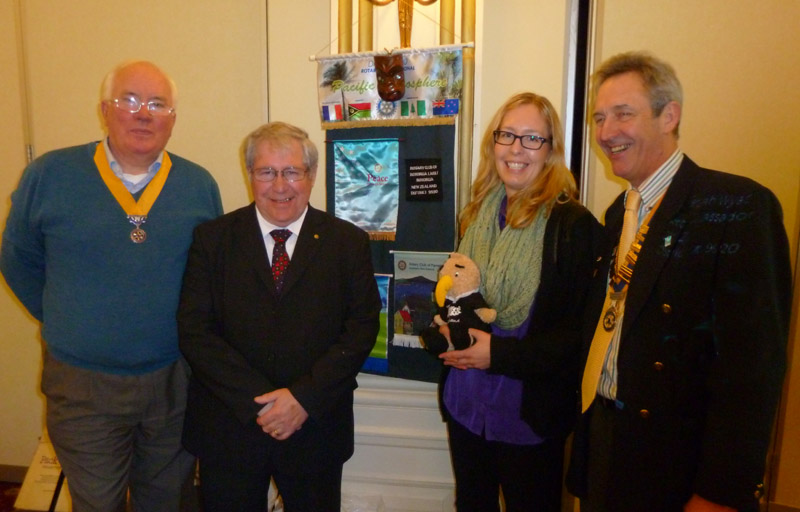 Bill Thomas, David Barton,Sarah Wyatt and Club President John Doyle.
I am Sarah Wyatt, an Ambassadorial Scholar from District 9920 (Parnell, New Zealand) coming to Liverpool to study a Masters in International Public Health at the School of Tropical Medicine.

I graduated in 2004 with a Bachelor of Nursing degree, and have since worked in a few different specialties, and in a few different countries. I have mostly specialised in Cardiology, adult and paediatric, however more recently primary health care.

After gaining a solid foundation working in hospitals in New Zealand, Australia and Canada I branched out and become a volunteer for the United Nations (UNV). As a UNV I spent 14th months in Abyei, Sudan as a part of the now ended Mission in Sudan. Abyei was and still is a region at the forefront of boarder related tensions between Sudan and South Sudan.
I was primarily a health nurse for the UN staff, but I volunteered outside of the compound walls by teaching basic first aid and hygiene to local military and police. Was an active member on the child protection team, and co-organised a relay run where we raised almost $10,000 for the homeless children of Abyei. My time in Sudan was simply amazing, I experienced so much love, laughter, happiness, sadness, anger and fear. I witnessed unimaginable moments; 86 buses filled with Internally Displaced People from North Sudan returning to the South, dancing and singing with their families while waiting for the buses to empty and then 4 months later a three day military invasion and complete take over of Abyei by the Northern military forces. Heck I even meet George Clooney!

I am currently living and working in Alice Springs, Australia for a-not-for profit community dialysis centre, that was set up and funded by a remote Aboriginal community to enable Elders and Traditional Land Owners back home to their country. While here I have also worked as a primary health care nurse at Alice Springs Correctional Centre. Both these jobs have exposed me to the harsh reality of the health blight of Aboriginal people in Central Australia. The situation is horrific at best, and will get worse before it gets better. Alice Springs has the busiest renal unit in the Southern Hemisphere!

My experiences in both Sudan and Alice Springs have solidified my passion for public health. And also made me realise I needed to further my education to be able to contribute more to these less fortunate communities. There are similarities between the two places, also differences. In Sudan I felt the need to empower woman, here in Alice I feel men need empowering, to keep them out of prison, and looking after their families and communities.

I find my life has lead from one opportunity to another, such as discovering Rotary and Ambassadorial Scholarships. I look forward to where my life may lead after my year in Liverpool. As long as it is focused on health care and communities I will be happy