There were 275 entries and 239 actual runners on the day. This was slightly down on last year, but for instance, London Road Runners brought only a few runners in comparison with previous years, and pointed out that there were other events going on in East London this year!
Conditions were good, with the ground being firm but not rock hard, the weather was cool with only occasional light showers, but there was a strong headwind on the moor section, which was probably why no records were broken this year.
Andy May of Valley Striders (Leeds) won in 54min 36sec,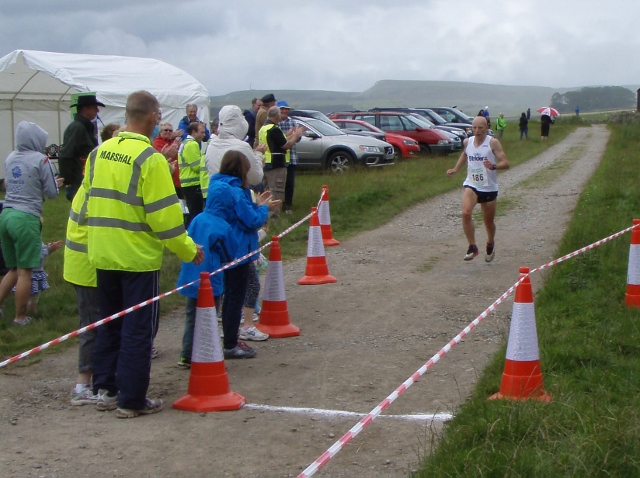 with Paul Butler of Loftus and Whitby second in 55min 34sec, despite being a Veteran!
Jo Buckley of Calder Valley Fell Runners was 1st Lady home and ninth overall in 59min 57sec.
Abbey Runners (Leeds) used the race as their annual Club Trip and brought a large contingent of 32 runners, They were rewarded by winning both the Mens and Ladies team awards!
Results in brief
Men
Overall: 1 Andy May, Valley Striders; 2 Paul Butler,Loftus & Whitby; 3 Chris Miller Harrogate H & AC
Over 40: 1 Tony Lambert, Swaledale Road Runners; 2 Trevor Wilks, Leeds City AC
Over 50: 1 Steve Brown, Swaledale Road Runners; 2 Andy Normandale, York Acorn AC
Over 60: 2 Mick McKenna, Dallam Running Club; 2 John Ward, Abbey Runners
Overall; 1 Jo Buckley Calder Valley Fell Runners; 2 Lucy Thompson, Stainland Lions; 3 Carol Morgan Nidd Valley Road Runners
Over 35: 1 Kate Bell, Abbey Runners; 2 leanne Farmerly-Hague, Abbey Runners
Over 45; 1Aileen Baldwin, Stainland Lions; 2 Lorraine Hiles, Thirsk & Sowerby harriers
Over 55: 1 Pamela Costello, Redcar Running Club; 2 Valerie Pell, Kippax Runners
1st 4 Men Rotary Trophy: Abbey Runners
1st 4 Ladies Swaledale Road Runners Trophy: Abbey Runners
Mixed Team 1st 2 Men & 1 woman: Stainland Lions
Click on FULL Results for all finishing times etc.
This year the event again raised more than 2,000 which will be used by the Rotary Club of Wensleydale to support local community projects and disaster relief.
PHOTOS- thanks to Pip Land for many of the photos. She has copyright on them but if any are wanted for personal use or for club websites, she is willing to email them. Others were taken by me (Chris Wheatley). Please contact me directly, or through the club website contact form, if would like any of the photos sending in better resolution.
NB there are hundreds of photos on the slideshow. If you want to look for specific people, try clicking on "View thumbnails"- these can be enlarged.
The initial photos on the slideshow are the various winners being presented with their prizes by James Whyte, son of James Herriot.
08/08/12 Just received a disc from Cilla Alcock- click on More Photos to see those she took at Gate 14about 500 metres from the finish.
Thanks are due to our sponsors; Gregory Packs, who provided Active Trail Packs for both Mens 1st and Ladies 1st; Hagloffs, who provided Hip Packs for Mens and Womens 2nd; The Walking Shop, Leyburn, who provided Buffs for Mens and Womens 3rd, as well as liasing with Gregory and Hagloffs for their sponsorship.