Euroscola 2012-3
Sat 1st September 2012 - Sun 31st March 2013
Congratulations to Heather Hall of Stewarton Academy on being selected to represent her school, Kilmarnock and Scotland for the annual Euroscola trip to the European Parliament in February 2013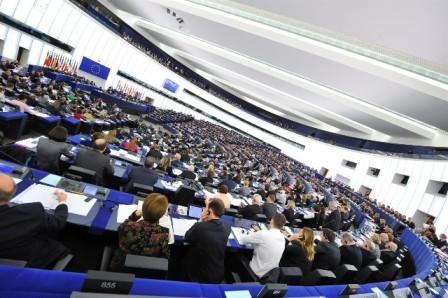 Show related pages
Update - 18th February 2013
Heather will be leaving on Friday 22nd February and we wish her well for the event. We hope to hear of her experiences at our meeting on Thursday 7th March. Bon voyage Heather.
Update - 23rd November 2012
We were delighted to hear this afternoon that our candidate Heather Hall of Stewarton Academy has been successful in her application for the Euroscola programme. We offer her our congratulations and very much look forward to hearing from her on her return from Strasbourg in the spring.
There were 41 candidates put forward to the final selection process for just 26 places and many more who were unsuccessful at the Club level so it is a considerable feather in Heather's cap, and indeed Stewarton Academy's.
..................................................................................
Rotary clubs throughout Scotland are putting together an exciting opportunity for Sixth Year pupils. The project is based round the Euroscola day at the European Parliament.
The Euroscola day is hosted 10 times a year by the European Parliament in Brussels or Strasbourg. Around 500 young people from across the EU take part in a day of presentations, questions, discussions and voting on issues relevant to them. The day is multi-lingual with the expectation that all participants can communicate in French and English.
The day is led by officials of the Parliament and is structured to ensure all young people participate to the full. It is a prestigious event with the young people being treated very much as MEPs: sitting in the main debating chamber; using electronic voting etc.
Scottish students will be travelling in February 2013 with selections taking place in October/November 2012.
For information about the event itself visit the Euroscola website:- http://www.euroscolaonline.com/