David Bates Memorial Fund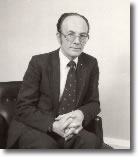 Since the death of founder member David Bates in June 1997, Luton Someries Rotary Club has supported many community projects in his name. David was very conscious of the many charities struggling in the local community and he supported and involved himself in them.
Our subsequent support and donations have included Luton Shopmobility, Bedfordshire Enterprises By the Blind, Alcohol Services for the Community, the Stillbirth Someries room at the Luton and Dunstable Hospital, as well as The Luton South Divisional Guides Association and the 7th Someries (Luton) Air Scouts Group.
In 1996 Luton Someries had the opportunity to form a partnership with Luton Music Services to fund and award Music Scholarships to talented and dedicated young music students. Subsequently it was agreed to use the David Bates Memorial Fund to finance this partnership. Each year the Club audition the students, ranging in age from nine to sixteen, and the