Our club has been twinned since 1982 with the Rotary Club of Chantonnay et Bocage Venden in France; we have developed strong friendships with our twin club and visit each other in alternate years for a weekend of fun, activities and renewed friendships.
We hosted our French friends on 19-22 June 2014.
I
Our 2013 visit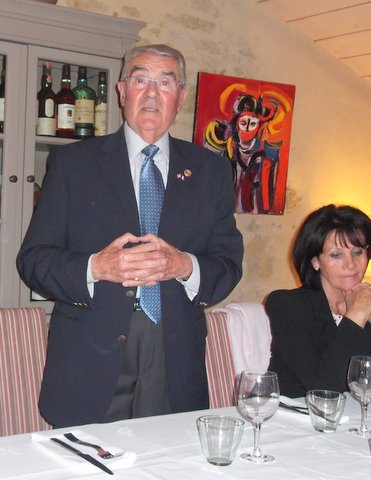 In May 2013, a group of our Rotary Club visited Chantonnay as the guests of our French counterparts. Despite the weather, we were warmly welcomed. We had the pleasure of visiting the town of Fontenay le Compte, where we were shown arond by an English-speaking guide originally from Tyneside. This was followed by lunch in the village of St Hiliare de Bois and then a visit to a chateau whose owners were engaged in saving rare breeds of horses and other farm animals and had set up an equestrian centre.
More visits followed - a trip to the market town of Niort delighted us with the variety of food on display, especially meat, fresh fish, and fruit/vegetables.
Our hosts were pleased with our attempts at their language but our efforts were overshadowed by their rather better command of English. We were please to present a Presidents Jewel and collar to their President Valentine, who spoke in English without notes about the importance of their friendship with our club and how this gave them the opportunity to follow the international cause of Rotary with their neighbouring country.