Blooming Marvellous




by Colin Bevis (pictures by Phil Simon)
On a wet and windy day on 16th June 2012 at the Cleeve Rugby Club, Mangoptsfield members of Fishponds and Downend with partners and friends brought the produce they had cultivated over the last year (and in some cases the last two or three years) to The Mangotsfield Show.
We started to build the plant stall, the first items were the tables, gazebo and equipment to bulld our stall. A lone Pam Lawry started the build on her own at 8 a.m. and by 8:30 a team of at least a dozen were busy building the stall or collecting and delivering plants.
By 10 a.m. the buiild was near complete, the final push was pricing the plants and finalising the stall's layout for the general public to purchase at 11 a.m.; this was after the main procession that had started earlier in Mangotsfield village had arrived.
The sale started and everyone of us turned into plant sales assistants or raffle ticket sellers - there must have been a dozen of us there at all times.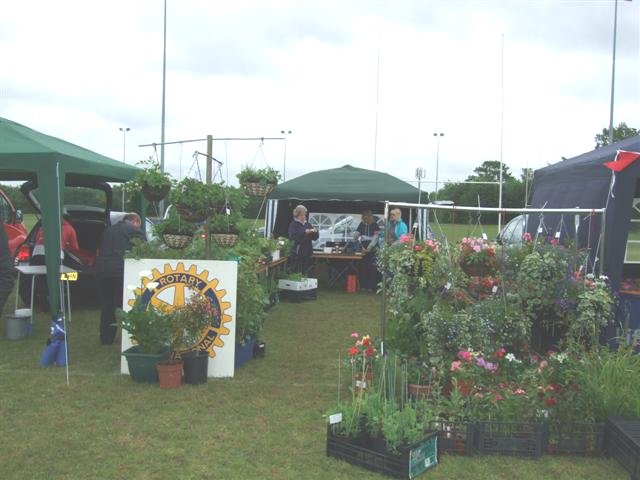 by Colin Bevis (pictures by Phil Simon) Above: Mangotsfield Show F&D Plant Stall
(picture 'Photo-shopped' to make light of the dull, damp and cloudy conditions). .
The raffle took place at 4 p.m. and the prize winners were notified. The rain did not stop us and the show finished at 5 p.m. The raffle prizes were then delivered to the winners.
The day finished with a delicious meal the started at 8 p.m. and went on 'till late.
Thank yous to and for:
Plant suppliers: Margaret Aspbury, Caroline Bryant, Colin Bevis, Pam Simon and Pam Lawry
Sales assistants: Ron Aspbury and Jean Tully
Raffle: Pete Lawry, Reg Tully, Tony Bryant, Chris Bentall, John Smith and Judy Powell
Transport: Dave Baker and Dave Powell
Evening meal: Rosemary Baker
(Editor) The event raised