After over ten years of fund-raising, the Rotary Club of Middleton have raised £80,000 - enough to provide irrigation in Kajuki, Kenya.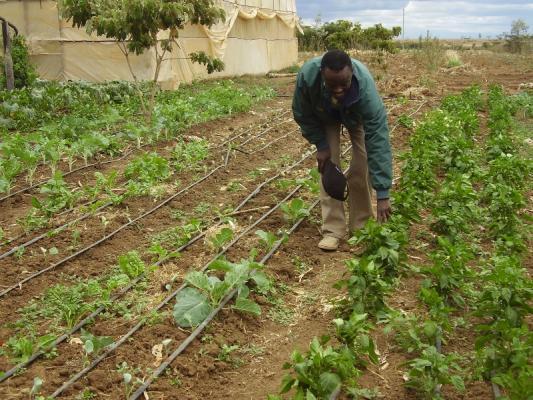 When the rains fail, as it often does in this region of Kenya, famine stalks the land and food prices soar.

The Middleton project will help over 3,600 people to grow their own food – lifting them out of poverty and starvation.

Rotary Club of Middleton member Peter Hayward worked tirelessly to see the project through to its completion. He has visited the site on a number of occasions, commissioning local site surveys and environmental impact analyses, to gain the necessary government approval to start work.

When completed, the project will harvest water during the rainy season storing it in 600 reservoir pits each five metres wide and two metres deep. Then using mainly gravity-feed through piping, water will be carried to the community's farmland. Here water pans and Zia pits will help to deliver vital water and nutrients. (Zia pits are small pits repeated over a wide area that help to capture dew and small sources of water and hold them so that plants can grow).
The Nithi River, which rises in the Mount Kenya National Park, used to claim as many as 50 lives each year near the Kenyan villages of Kajuki and Mutino. A previous Middleton project funded a bridge that allowed villagers to cross the river safely, transforming the economies of the villages in the process.

Kajuki is a parish in the Diocese of Meru in the Eastern Province of Kenya. It is in the shadow of Mt Kenya and is about 3 and a half hours drive north from Nairobi. The parish has an estimated population of 40,000, covering an area of 200 sq km, centred round the village of Kajuki. It is an infertile, baking hot, harsh, semi-arid region, with a growing season of only two months, in which the average annual rainfall is a meagre 400mm.

Rotary Club of Middleton President Sue Furby said: "Peter Hayward began this project before I was even a member of Middleton Rotary. I'd like to thank him for his commitment and dedication to this project, the members of Rotary Middleton and the people of Middleton, who have donated to this project so many years to help improve the lives of people in Kenya.

"This sums up what Rotary is about and highlights the kindness and generosity of the people of Middleton."