Our project in Indonesia is based in the villages around Jogyakarta in the south of the main island. It is another agricultural project stimulated by Bob Orskov and looks at the development of economics in the farming community through the provision and selling on of goats in the villages. Managed by the women of the villages it is essentially a self sustaining project with significant benefit to the villagers.
In conjunction with this agricultural project the club with the help of the Aberdeen Deeside RC assisted with the funding to build a bridge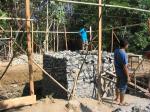 between the village and the village school. This allows both teachers and pupils to reach school even where the river level is at its highest, previously preventing children from attending school unless they chose to swim the river.
There is a photo montage in the photo gallery showing the initial development of the bridge.
The school continues to be supported by members of the club with funds having been sent to purchase school equipment and develop the toilet facilities. Staff at the school remain in regular contact with the members