Club History
by John Smith, Phil Simon & Mike Gay
with contributions from Reg Tully, Pete Taylor, Chris Bentall & the R.I.B.I. Secretariat at Alcester
The Club was chartered on 2nd July 1963 as the Rotary Club of Fishponds (Bristol) with Dr. W.L. Broadfoot as the inaugural President. Our sponsors and mentors were from RC Bristol (our Mother Club). The Club was based in District 110 which, in 1991, was renumbered to District 1100. Rotary District boundaries have moved many times but the Club has always been in the same District. In 1963 District 110 included many successful Clubs that are now in District 1200 e.g. Chippenham, Frome, Bath, Bath West, Taunton, Bridgwater, Yeovil, and Weston-super-Mare, amongst others.
To set the scene, in early July 1963 Jerry and the Pacemakers were No. 1 in the charts with "I Like It" and the No. 1 LP was "Please, Please Me" by The Beatles. The Profumo scandal was making all the headlines, sadly the Moors Murders were just about to start, Kim Philby was named the 'Third Man' in the Burgess and Maclean spy-ring, a month later the Great Train Robbery took place, and John F. Kennedy had just delivered his historic "Ich Bin ein Berliner" speech and was planning his Autumn re-election campaign ... to Texas!
Meanwhile back in East Bristol the following 31 Founder Members were beginning their careers as new Rotarians, (the table below includes classifications and inaugural posts):
| | | |
| --- | --- | --- |
| John Colin Anderson | Director - J. & D. Anderson (Iron & Steel Scrap Recovery) | Council Member |
| Richard George Axworthy | Pharmacy Manager - Boots the Chemists | |
| Rev. Harold Reginald Barnard | Vicar - St. Mary's, Fishponds | |
| Dr. William Leslie Broadfoot | Physician Superintendent - Manor Park Hospital | President |
| Douglas Bryan-Kinns | Bank Manager - Lloyds Bank, Fishponds | Hon. Secretary |
| Roger Cater | Director - Roger et Cie (Florists) | |
| Geoffrey John Cook | Partner - Hartnell, Taylor & Cook (Estate Agents) | Vice President |
| Thomas Edward Davies | Director - City Engineering (Sheet Metal Working) | |
| Sydney Donald Dewsbury | Proprietor - Conway Studios (Commercial Photography) | |
| George Gilbert Dixon | Partner - Dixon's Wallpapers (Distribution) | |
| George Edward William Dunn | Director - Dunn & Hopton (Men's Clothing Retailing) | |
| Edward William Henshall | Director - Frank H. Silvey (Coal Retailing) | |
| James Guy Houghton | Superintendent Engineer - Manor Park Hospital | |
| Horace Albert Keen | Director - H.E. Keen & Sons (Baking Retail) | Council Member |
| Robert Edis Legat | Partner - Donald, Bennett & Legat (General Law Practice) | Council Member |
| Gerald William Lovegrove | Managing Director - Terminus Garage (Garage & Service Station) | |
| William George Mace | Director - Kingston Investment (Loans) | Hon. Treasurer |
| Harold John Richard Maine | District Manager - Pearl Insurance (Insurance General) | Council Member |
| Peter Thurston Mantell | Director - Milton's of Fishponds (Book Retailing) | Council Member |
| Derek Reginald Miller | Group Secretary, Suppliers Office - Manor Park Hospital | Council Member |
| Maurice Robert Mudge | Director - South Western Tools (Tools & Jig Manufacturing) | |
| Eric Willis Salmon | Partner - Freeth Salmon & Co. (Accounting Services) | |
| Leslie John Sheppard | Partner - C. Sheppard (Meat Retailing) | |
| George Frederick Smele | Managing Director - Smele & Sons (Fruit & Vegetable Retailing) | |
| Eldred Vaughan Southam | Director - E.A. & A. Robinson (Paper & Package Manufacturing) | |
| Francis David Stephens | Director - Henry Willcock & Co. (General Contracting) | |
| Leonard Ronald Targett | Works Manager - Parnall & Sons (Machinery Manufacturing) | |
| Harold George Turner | Principal - H.G. Turner (Ophthalmic Optics) | |
| Arthur Leslie Webber | Proprietor - A.L. Webber (Stationery Retailing) | |
| William Ronald Webser | Sales Manager - Pountney & Co. (Pottery Manufacturing) | |
| Hugh Carlisle Wescome | Chief Engineer - Bristol Pneumatic Tools (Equipment Manufacturing) | |
All 31 Founders worked in Fishponds, 10 also lived in Fishponds and, incidentally, 7 Founders lived in Downend. At that time each Founder paid 26/- (£1.30) to join Rotary. It is perhaps interesting that none of the Founders were retired and 21 Founders worked as directors, managing directors, principles, proprietors or partners. The Founders were, as to be expected for the era, all male. Most of these Founders were members of the nearby Conservative Club and some were neighbours or work colleagues. Three Founders were employed at Manor Park Hospital and it was there that the Club held Council and Committee meetings. Of the 31 Founders a total of 8 served as Club Presidents and all in the first 8 years of the Club's existence.

The Inaugural Meeting had been held on Tuesday 12th March 1963 at The Berkley Café, Clifton. The meeting was attended, by virtue of ticks against a list of Founders names on a surviving programme, by only 17 of the 32 prospective members at that time.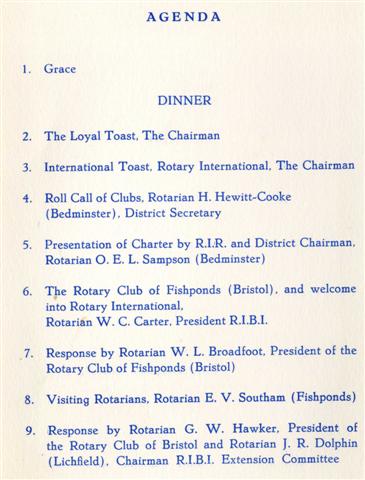 It should be noted that H.A. Orton, who had not attended the Inaugural Meeting, resigned in May 1963 due to pressure of work, and thus only 31 of the prospective members went on to be Founders.
After the Inaugural Meeting all initial Club meetings were held at Keen's Café (owned by Keen's Bakers) on Fishponds Road situated in Fishponds near the corner of Manor Road. The meeting place was courtesy of Founder, and Director of Keen's Bakers, Horace Keen.
Keen's were a well known name in Bristol east: although not a chain as such. The meeting place was on the upper floor to avoid the members having to mix with Keen's own customers at the weekly meetings.

The Club's Rotary membe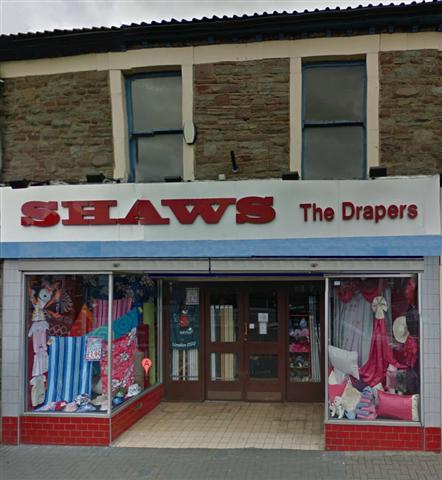 rship application form bears the address 769 Fishponds Road which is now a drapers shop (shown left). One senior Club member feels that the site has always been a café and remains so now. There is a café two doors-down, but that is at no. 765 and right on the corner of Manor Road. Another member feels that the site was in the rank of shops and not right on the corner. The address is the clincher though: so, by weight of hearsay and evidence, the building pictured left was the Club's first home.

The Club had been regularly congregating as an interim Rotary Club since March 1963. The Charter was signed by the R.I.B.I. Secretary on 2nd July 1963 (that being the date when the interim club became a Rotary Club). The official Charter Meeting was held almost 3 months after the actual charter date.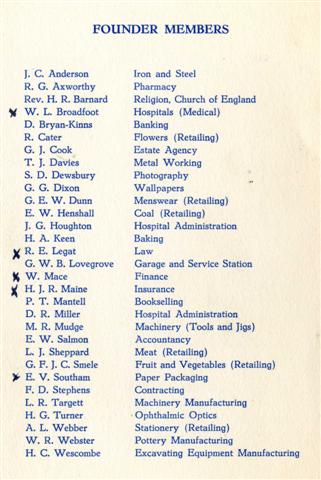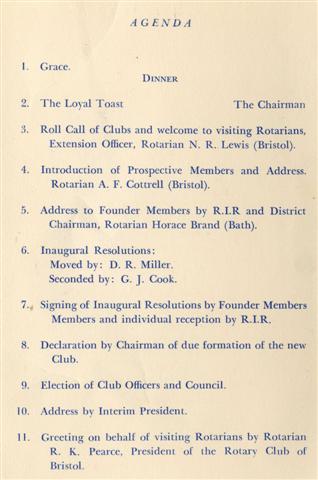 The Club's Charter Meeting was held at The Berkley Café, Clifton on Monday 30th September 1963, attended by 26 of the 31 Founders. Amongst those that did not attend, by virtue of crosses against a list of Founders on a surviving programme, were the President W.L. Broadfoot and Treasurer W.G. Mace.
The programme shows that the response to the R.I.B.I. President's welcome was to be given by the Club's President: it is assumed that, in the President's, possibly unexpected absence, that the response was given by Vice President G.C. Cook.

The annual subs for 1963 were set at £5. 5s. 0d (£5.25) per member (the equivalent of just over £80 today). The annual subs included the District capitation and R.I. contributions. The current subs at £164 per annum would have been the equivalent of just over £11 in 1963.
Some of the earliest events that the Club organised were, a visit to the Bristol Hippodrome for a group of old age pensioners from Manor Park and Frenchay hospitals to see the 'Old Time Show'. The Club also compiled a register of O.A.Ps. not in organised bodies: in an endeavour to assist them, and to hold an auction to establish a charity fund for future purposes. Some members joined an existing group who organised evening outings for O.A.Ps. The Club also organised a Car Rally in aid of Manor House Children's Home, and an autumn film show for the infirm at the Hillfields Community Centre, including transport to and from the event.

The meeting venue at Keen's Café was increasingly becoming more unsuitable as the Club membership increased, and also because members wishing to introduce business guests to Club meetings couldn't do so: simply because there was no space for more seats.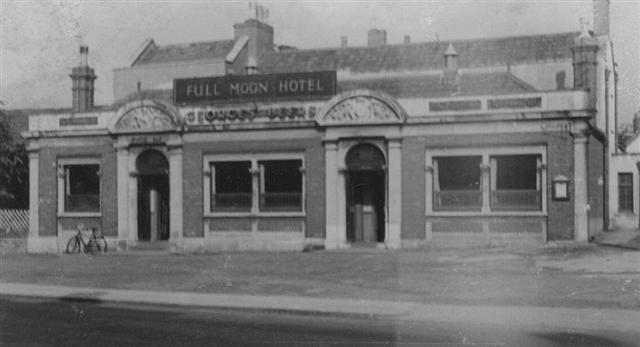 Documented in the Club's minutes archive is this comment: "Even with the existing number in the Club the premises are agreed to be cramped and there is certainly a difficulty for the waitresses in serving the food." Thus it was decided that the Club should seek to move. The Full Moon Hotel, at 780 Fishponds Road (shown right) had a room that would accommodate up to 50 people and so became the Club's new home from the 4th July 1963.

Within weeks of this move to the Full Moon there were complaints from members about excessive noise emanating from the pub's bar which was disturbing Club meetings.

It is therefore a happy, but seemingly unplanned and most likely unappreciated coincidence, that the first meeting, on 4th July 1963, at the Club's new home was, in fact, the first meeting that the Club held as a fully fledged Rotary Club (i.e. after the Charter had been granted on 2nd July 1963).
On 19th September 1963 the Club Council met and the minutes show the Club was still named the "Interim Rotary Club of Fishponds, Bristol". This would explain why the Charter Meeting was not held until the 30th September 1963: it would seem clear that the Club had either not received news of the Charter being signed on 2nd July 1963, until after the 19th September 1963, or that the Club did not consider itself a Rotary Club until the Club had held its Charter Meeting.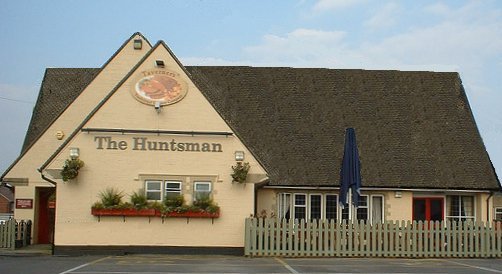 The Club, as is usual in Rotary circles, then changed venues. The Club's new meeting place was The Huntsman public house in Blackhorse Road, Downend; very close to the future location of Emersons Green (the latter built in the 1990s and our current home since 2008). Whether the move was voluntary or enforced, and when the Club moved to The Huntsman is not known, but when senior member Graham Williams joined the Club in 1966-67 meetings were definitely being held there.

The Huntsman (above) as it was before the dramatic events of 7th April 2007 (see below).
One of the early members of the Club was a certain L.J. Saunders who was the Station Master at Bristol Temple Meads. He often greeted celebrities, dignitaries and even Royalty as they alighted onto the platform. It is rumoured he often asked the great and famous people he met to be speakers at Club meetings. Quite a character you could say, but there again he was the Club's Speaker Finder!
Just three years after the Club Chartered there were 49 clubs in District 110 with a total Rotary membership of 2,358 in the District: making the average club 48 members strong. Nationally R.I.B.I. had 1,066 clubs with 48,735 members in total, thus averaging 46 members per club. Our Club had 33 members at this time and each member paid 25/- (£1.25) District subs per year.

There was an active Inner Wheel Club, that was chartered on 16th June 1966. The Inner Wheel met on the 4th Thursday of the month at 19:30 at the Portcullis Hotel in the Fishponds Road. It should be noted that the mother of current member Tony Bryant was the Inner Wheel President in 1969-70.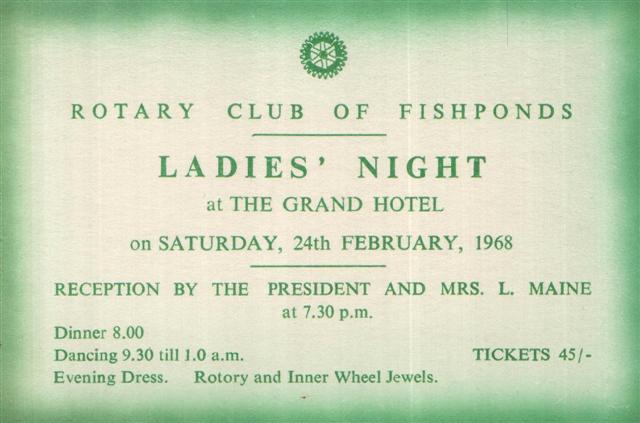 The Club had also began a link relationship with French Rotary Club 'Le Charte' but twinning didn't happen as Le Charte decided to twin elsewhere. No trace of the Le Charte club can now be found on the web, so it is assumed they either closed or were renamed. An earlier link relationship with a Dutch Club in 1963 had also failed.
In early 1967 the International Committee led by Harold Turner organised a disco at the Manor Park Hospital Conference Hall for the Bordeaux children, on the Youth Exchange visit, together with their British hosts. This was to mark the 21st post war anniversary of the Youth Exchange project. The Band were called "Wolves" and it was commented that they "deafened us". The pictures below show the event (it is rare to find pictures of events in this era because cameras were not so commonplace as they are today (including most mobile phones) and photos were not digital and had to be developed, at great expense).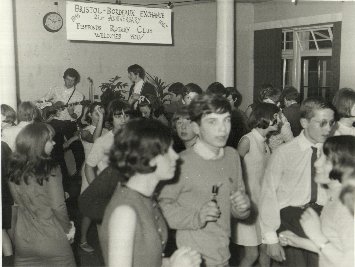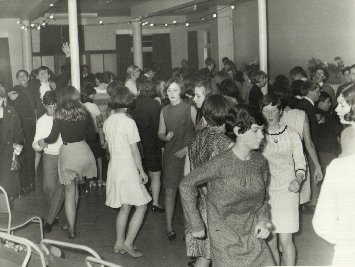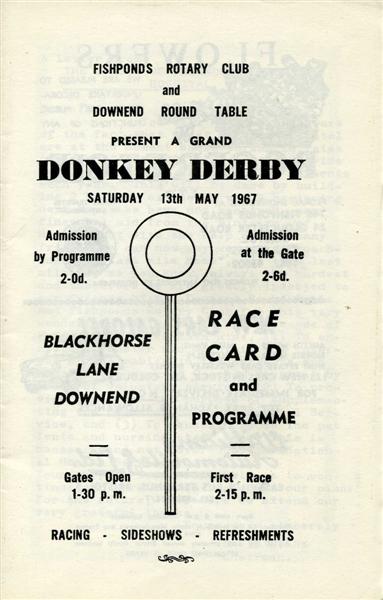 In May 1967 the Club, in conjunction with the Downend Round Table, held 'A Grand Donkey Derby' at a football ground in Blackhorse Lane, Downend. Admission was by advance purchase of a program at 2/- (10p) or on-day admission of 2s 6p (12.5p).
This event was in aid of Cossham Hospital who raised £10,000 (without aid from the Ministry of Health) in order to provide facilities for an extra 180-200 patients a year by way of an extension. At the event there was racing, sideshows and refreshments.
There were 17 rules including the fact that no donkey should carry a weight greater than 8 stones (approx. 50 kilos): that ruled out Rotarians as jockey's then! Entries had names like 'Freezing' where breeding details were 'by Radiator out of Heet' and 'Flooding', 'by Plumber out of Solder' and 'No Reply', 'by Bell out of Order'. There were 6 races each with 8 entries, plus a mystery race, with winners prizes being paid by mostly local businesses who were race sponsors.
When former Member Reg Tully joined the Club in 1972-73 the Club had already moved again, back to Fishponds, to the Alcove Lido: and again whether this was a voluntary or enforced move, and the year of the move, is not known.
Alcove Lido is an abandoned Victorian clay-pit that had flooded and formed a fresh-water lake courtesy of a spring which couldn't be stemmed (seems the Victorians lacked suitable cost effective technology). It was situated off the Fishponds Road just west of Fishponds town centre. Some time in the early 1960s an entrepreneur called Ray Purnell (a local businessman who also ran the beer festival in the City Docks for many years) had developed existing outbuildings and set up the "Spyglass" and the "Golden Hinde": two floating public houses come night clubs and restaurants moored on the lake.

The Lido had been a very popular local attraction since the 1930s and was a place for a summer's day-out when British summers were hot and sunny!
The Lido was promoted as 'Bristol's Island in the Sun'. Kids could swim, and testosterone-fuelled young men could show off their bodies, tans, and diving expertise from a ten metre board. See here for further information.

The Club held its meeting aboard the Golden

Hinde which could cater for up to 200 people. There were regular functions held at the Lido including weddings; as it happened member John Smith and his wife Pat had their wedding reception at the Lido in 1963: although this was on dry land in the static function room.

It is not at all clear when the Club moved aboard the Golden Hinde, or when the Club left. At the time former Member Reg Tully, however, recalled having to walk over a quite narrow and rickety pier to board and alight the vessel.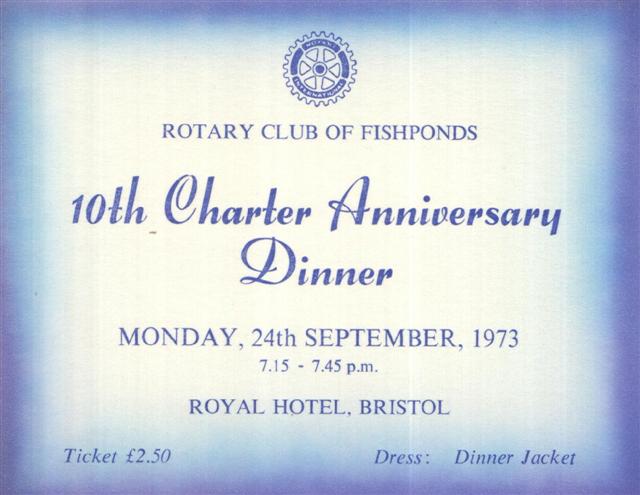 Reg said: "It was a bit like walking the plank and it would never have passed the Health and Safety regulations in force now." It is therefore thought that the Club moved to the Golden Hinde in 1970-71 and remained afloat for about 18 months.
In 1972-73 in Don Bryant's year the Club moved back to The Huntsman for the second time. The Huntsman had a good, and commodious function room where the Club met on Thursday lunch-times: at that time the Club was about 35-40 strong.
The Club held a 'Karting Derby' at Mangotsfield A.F.C. ground in May 1977 during Graham Williams presidency. Event-goers paid 15p entrance fee by advance purchase of a programme or 20p for on-day entrance. When you look at what 15p is worth today (65p) it shows how hard the Club had to work to raise money.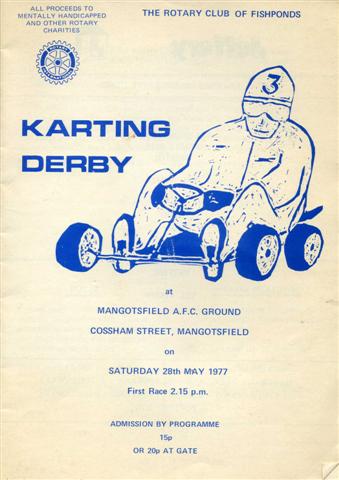 There were 8 sponsored races each with 6 individually sponsored cars racing for 5 laps of the circuit. Races had novel names like 'Rotary Runabout', 'The Publicans Crawl', 'Caravanners Clamber' and the ladies race 'Fillies Frolic'. The Huntsman, Lloyds Bank (Downend), City Motors, Mike Clark Scooters, Tovey's Fishmongers and Lex Bristol were amongst the sponsors.

The event probably would not be able to be held today because of the rigorous Health and Safety regulations, and the fact that we would probably have to engage a full medical team with ambulance standing-by in case there were to be an accident. That is sad because a lot of good fun is being missed by young people.

Prizes of £25 vouchers given by each of the race sponsors were awarded to the winners of each race. The event was in support of the Mentally Handicapped and other Rotary charities.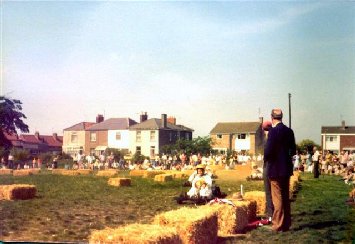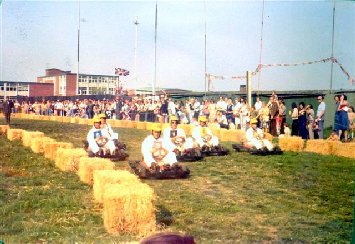 In June 1977 the Club organised a O.A.P.'s summer outing to Clevedon Community Hall. The Club has always strongly believed in the importance of local community-orientated projects. All Rotary Clubs draw significant proportion of their membership and financial support from their local communities and it seems right that Clubs should put something back: particularly to sectors of the community that are marginalised, neglected and short of funds.
It was at this time that the Club made contact with the Rotary Club de Melle in France and initiated the twinning arrangements. It is known that the Club had been linked with Rotary Club de Civray but it was with Melle that we became twinned. Civray did visit us in August 1977 and again, along with Melle, in March 1979. Our Club visited Melle in May 1979 during the George Alder's presidency.
In May 1978 the Club held a sponsored assault course event, for children, at Page Park in Staple Hill in support of local handicapped children. Participants negotiated, amongst other challenges, a tyreleap, an alligator swamp, climbing frames and nets, a pirate's plank, Tarzan's trapeze, stepping stones, rope swings, hurdles, and a tarpaulin crawl. There was also a tug-of-war challenge for teams of 8. The event drew a large field of over 1,000 competitors plus spectators who were also entertained by 266 Battery Royal Artillery of the Territorial Army who carried out displays with 25 pounder guns, and demonstrated radio controlled vehicles and other equipment. A total of £405 was raised partly to buy toys for the Spina Bifida unit at Frenchay Hospital and the balance went to the W.R.V.S. Children's Fund. It was a great day out but again heaven knows what today's Health and Safety officials would have made of it!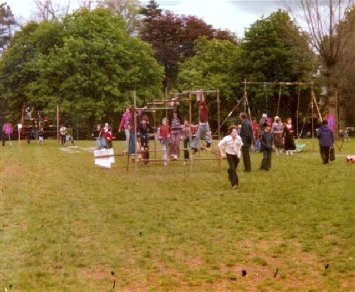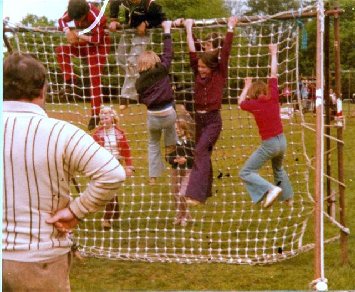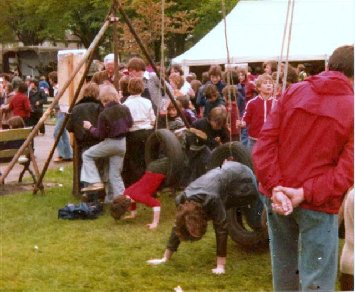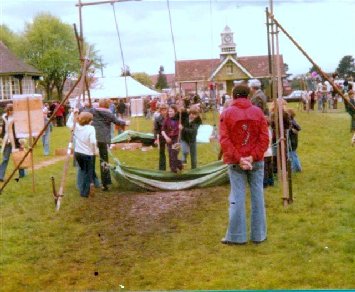 The Club was certainly busy in the late 70s and the early 80s and funded the repair of the W.R.V.S. minibus, ran a stall at the Round Table Fireworks display raising £142, raised a further £87 from holding a barn dance and supporting local fetes held to raise funds for Glenside and Manor Park hospitals. A caberet and dance raised £74 for the Club's hospitality fund. Christmas collections in this era were raising in the order of £600 (equivalent of approximately £2,400 today). The club ran a number of summer fetes at Page Park in Staple Hill regularly raising at least £500.
In 1980 the Club embraced Rotary International's own 75th Anniversary and evidence suggests that former President Reg Tully had a very busy social schedule in attending our own celebration at St.Pierre Golf and Country Club, Chepstow plus 6 other celebratory dinners, a District 110 Conference in Bournemouth, and the visit of French twin club Melle.
The Club was content to maintain the status quo with the majority of members being resistant to change, this was later to come back to haunt the Club. The Club had been large and had enjoyed much success, thus had seen no reason to adapt to the new social and business structures by becoming less formal, admitting lady members and making a change to evening meetings. This led to potential members being turned away and this had resulted directly to the formation of RC Bristol East Avon (who held evening meetings in the same area as our Club) from July 1983. Our Club and RC Kingswood were the joint Mother Clubs for RC Bristol East Avon. It was at about this time in 1982-83 during Doug Perrin's presidency that John Smith joined the Club: having been sponsored by former Member Reg Tully.
In 1987 the Club organised a Horse Show / Gymkhana at Kendleshire which recorded proceeds of £964.15 (worth just under £1,900 today). Other fundraising events that year included Christmas collections. The horse show and gymkhana was a particular success for a number of years and attracted some up-and-coming riders as well as local pony club members. There was a lot of hard work setting up, staffing the event, and stripping out: but at the same time there was a lot of good fun had. During the next 2 to 3 years the Club supported Polio Plus and a Corneal Eye Appeal. The Club also sponsored physically and mentally handicapped children to go on 2 to 3 day courses with Bristol Outdoor Pursuits, and supported an old people's party and outing. The Club sponsored Community Service Awards in Colstons, Fishponds and Speedwell Schools where £20 was given, at the school's choice, to the pupil who had achieved the most community service in any one year.
The Club, in about 1989-90, moved to the Cleve Rugby Football Club whilst it was still based at Bromley Heath Road, Downend. It is not known why the move was made but it is possible there was some falling out with the management of The Huntsman. Whilst the Club were at Cleve RFC the meals for meetings were prepared by outside caterers. Often was the case that members would arrive before the caterers or caretaker, and again waited whilst everything was prepared. The wooden pavilion used by Cleve RFC had been in continuous use since 1934 and had been moved from Cleve RFC's former ground in Staple Hill. Due to bad and unregulated thermal performance, as it was poorly insulated, it was often either too cold or too hot. The room in which our Club held meetings was particularly very cold during winter, and the toilets and passageways were often covered in mud from the previous evening's training session. Cleve RFC later sold their land in Downend for re-development in circa 1993 which led Cleve RFC to relocate to Mangotsfield.
After about a year at Cleve RFC our Club moved back, for the third and last time, to The Huntsman which was now under new management. This was during Mike Clark's presidency in 1990-91 and onwards into Miles Boyd's first presidency when Billy Burns had joined the Club.
It was at about this time that one of the Club members was Jamaican Guy Reid-Bailey. Guy had a rich and varied life and working career. He had applied to join Bristol Omnibus Company in 1963 (just as our Club was born) but was refused an interview on the grounds of his colour, sparking off the famous Bristol Bus Boycott. He was a fantastic cricketer, co-founding the Bristol West Indian Cricket Club, (and thus the latter connection with Downend, as the birth-place of W.G. Grace, was almost a bizarre coincidence). Later in 2005 he was awarded the O.B.E. by the Queen at Buckingham Palace for his outstanding achievements and service to people in the South West of England. See here for further information.
In 1990-91 Club member Frank Rawlings served as District 110 Treasurer: it is not known how long he held this position but it is usual for a term to last 3 years. At this time the Club had 39 members and met at 12:45 on Thursdays, and on the occasion of a fifth Thursday in the month met at 19:30 for dinner.
Gradually over the next 5-6 years the Club lost members and at some point The Huntsman would no longer allow the Club use of the private function room, because it wasn't profitable for the pub. So the Club was moved to a non private side bar where other pub patrons would wander through whilst meetings were being held. This was, of course, not at all satisfactory and the Club seriously considered relocating. The Club declined further and at some point in 1996 had about 14 members.
The Club continued to decline and in 1998 the Club, now with 9 members, held a meeting to decide whether or not it should close: obviously it voted to continue with some changes to its format: i.e. evening meetings and less formality etc. As a result of the vote, the Club name was changed to RC Fishponds and Downend to reflect the fact that the Club was firmly rooted in, and the majority of the members came from, the Downend area.
The Club was now meeting in the evenings, but still in The Huntsman's public side bar. The new Club's first President was Dave Powell who had joined in 1994-95 during Keith Silcocks' second presidency: Dave was a highly motivated and positive President. Unfortunately David Powell (who had joined in 1995-96, and unrelated to President Dave Powell), was unable to continue as he had a regular commitment on Thursday evenings. The Club did however recruit Pete Taylor through personal invitation of the President. Also during this time The Huntsman's landlord and landlady expressed some interest in joining the Club, but that never progressed.
When Phil Simon joined the Club in 2000, membership was growing but still quite low. The Club's morale was not helped by the presidency of Andrew Baker (2000-01) who was unwell: thus adversely affecting his ability to effectively run the Club and motivate members. The Club continued to have prospective members visit and some joined: but for one reason or another recruits mostly fell by the wayside, it was sad that such opportunites were lost.
Membership rallied when lady members were introduced (voted in by the narrowest majority in 1999). The Club's first lady member was Jenny Pierce who joined at about the same time as Phil Simon. Jenny transferred after about a year to join RC Bristol Breakfast as she worked and lived in the centre of Bristol, so a breakfast club was much more convenient to her.
When Judy Werrett (now Judy Powell) joined in 2000-01 there were ructions in the membership, not because she was female, but because she was the partner of an existing member: and it was seen as opening the floodgates to other partners joining. The fears proved unfounded though: as lady partners disposed to join Rotary preferred to join the Inner Wheel Club (including Kim Taylor and Jenny Hole). Sadly the Inner Wheel Club decided to close at the end of 2011-12.
For a time RC Bristol East Avon had been more successful than our Club especially when, in Billy Burns' first presidency in 2001-02, three members left our Club to join East Avon. Billy's first presidency did however mark a significant and positive change in the Club's outlook: because of Billy's decision to disband specialist committees and have one general committee that dealt with all the Club's activities and business. The departure of Immediate Past President Roger Ferguson, who's style of leadership had not sat well with the members, also went a long way to make the Club a happier organisation.
During Pete Taylor's first presidency in 2002-03 East Avon suggested an amalgamation but this was rejected. This rejection was very largely due to the fact that one of the members who had left our Club the previous year was still in East Avon: this had caused some rancour amongst some of our Club's members.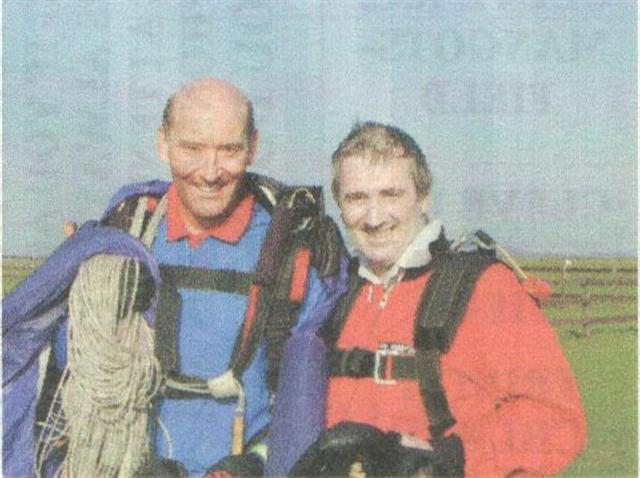 It was perhaps most ironic that a few years later when in 2010, RC Bristol East Avon closed, three of their members then joined our Club and still remain with the Club today.





President Pete Taylor took part in a sponsored parachute jump (shown left) in aid of Jessie May Trust (Pete is on the right in the picture). This local Kingswood based charity provides nursing care so that terminally ill children can, throughout the final stages of their illness, stay at and pass away at home.



The Club left The Huntsman in April 2003 because there were problems with the pub's management: there was no privacy in the side bar, and there were issues at speaker meetings (the Club normally needed more space which the pub was not prepared to give).

The meals at The Huntsman were also expensive, especially as the pub had a two-meals-for-one policy on a Thursday night but would not make any compromise on the amount our members paid. So members ended up going to the carvery taking advantage of the two-for-one offer. The pub management did not make our Club feel at all welcome: so the Club voted with its feet and moved to a new venue.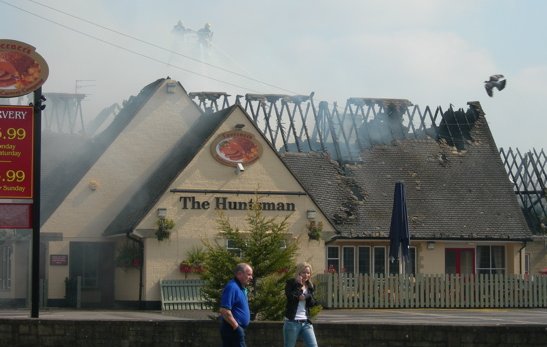 A postscript to this episode is, that some time after our Club left it is believed by some that the landlord and landlady, as tennants, were accused of misappropriation of funds and thrown out by the brewery.

Later in April 2007 The Huntsman completely burned down when a workman, who was helping construct a smoker's shelter extension, accidentally set the loft alight (see right and if you look carefully you can just see firemen still hosing-down). It was quite a story!

Following several abortive attempts to find a new meeting place the Club eventually settled on the Cleve RFC again but now based at Cossham Street, Mangotsfield. The Club stayed at the venue for a couple of years or so but there were problems with the quality of the food, as it was again prepared by outside caterers who were changed from time to time. As a result the quality of the meals could vary enormously. There were also problems with the cost of the meals and the fact that Cleve RFC wanted £50 room hire per meeting, which with the cost of meals made the financial burden untenable. It was at that time, in 2003-04, during Phil Simon's presidency, that a commendation from R.I. was awarded for having the best membership retention in the District: as no-one left the Club in that year plus the Club increased membership by one (Ron Aspbury).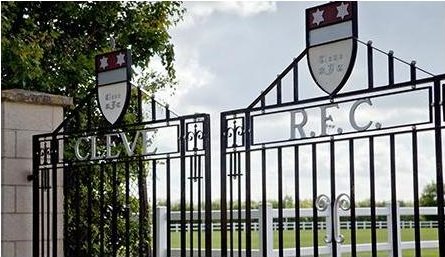 In 2004-05 Judy Werrett, as she was known then (Judy Powell as she is known now), became the Club's first lady President. This was a remarkable turn-around, being barely 5 years after the narrow vote that had first permitted lady members to join the Club.
The Club were based at Cleve RFC during Judy's presidency and it was at this time that member Colin Bevis joined the Club.
More on the Cleve RFC year is needed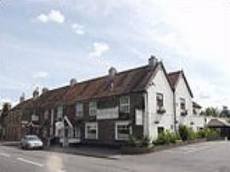 The Club, unhappy with life at Cleve RFC moved to the Wheatsheaf Public House in Winterbourne in about 2005.
More on the Wheatsheaf years is needed
In November 2005, in Dave Powell's second presidency, Dave was part of a Rotary Friendship Exchange to District 9500 South Australia. The visiting team from District 1100 was led by PDG Alan Martin.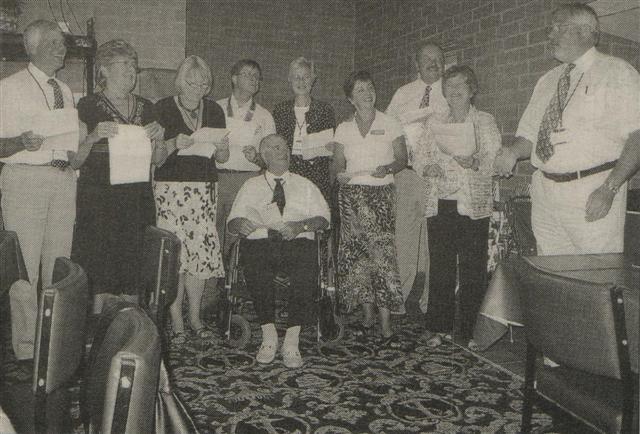 The quality of the picture (left) taken from a Aussie newspaper cutting is not great but President Dave can be seen 3rd from the right.
Dave was also awarded honorary citizenship of the State of South Australia and visited many places of interest as part of the hosting by local Rotary Clubs. The District 1100 team visited Yorke Peninsula with RC Maitland, having previously been guests of RC Adelaide, RC Gawler and RC Clare. The team then went on to visit Stansbury, Port Vincent Marina, Port Giles, Coobowie, Bublacowie Museum, and Wattle Point Wind Farm.

During the Clubs time at the Wheatsheaf member Dave Baker joined in 2006-07 when Ron Aspbury was President.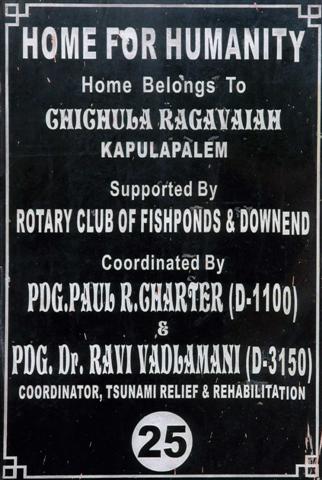 In 2007-08 during the presidency of Colin Bevis the Club was awarded a Rotary Shares Presidential Citation for demonstrating how Rotary Shares its talents, skills, energy, and resources in order to create a better world.

This was in connection for work that the Club supported in District 3150, Andhra Pradesh State, India. The Club, as part of the District 1100 'Homes for Humanity' scheme, initiated by then DG Peter Davey, which saw all 59 Clubs in the District contributing to this joint Clubs project.
As most people are aware the Boxing Day 2004 Indian Ocean Tsunami had left its mark on many places including the eastern seaboard of the Indian subcontinent. The Club, as part of 'Homes for Humanity' scheme, funded the building of 1 of the 59 new homes built for poor fisher folk. These new homes replaced traditional homes that had been washed away by the tsunami.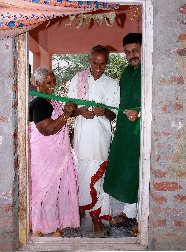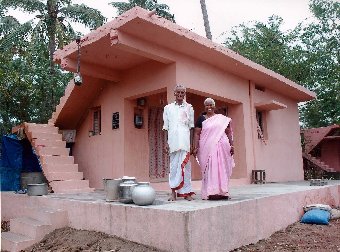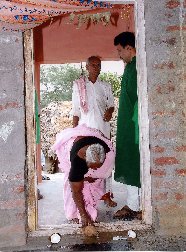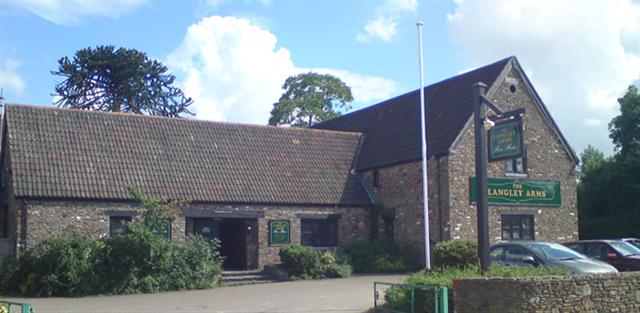 The Club then moved to the Langley Arms Public House, in Guest Avenue, Emersons Green (our current venue shown left) sometime in 2008: and the Club were definitely at the Langley Arms for the 2008 Christmas meal.
The move away from the Wheatsheaf was forced when the hotel chain that owned the Wheatsheaf went bust: it's now an Indian restaurant.
More detail needed on the early Langley years.
Gradually others joined and brought a more innovative and get up and go attitude. Membership was further stimulated, in 2007-08, by the acquisition of Pete Lawry on a free transfer. Pete, along with the other soon-to-be acquired members, from Winterbourne, helped the Rotary cause with their social attitude which further stimulated the Club from its earlier moribund torpor. Like any other organisations the Club relies on its President for leadership and motivation: and the members have all had different strengths and weaknesses, but the willingness to participate and to give time is central to any club's success.
Since then the Club has grown usually by one or two members per year. The exception being Dave Baker's year (2009-10) when there were 7 new members. There were 3 that arrived from the, now closed, Bristol East Avon club (Derek James, Chris Bentall and Tony Bryant). David Powell decided to return after nearly 11 years away (as he was no longer otherwise committed on Thursday evenings). Jayne Bennett, who knew Rosemary Baker (Dave's wife), had promised to join when the time was right, and did. Mike Goodman had also joined the Club on a free transfer. Lastly Julie Matthews joined as a result of a national recruitment campaign.
President Dave Baker received citations in 2010 "For strengthening Rotary's future through exemplary action and service" and "For contributions made to Rotary membership growth by increasing club membership to 20 or greater".
The atmosphere at meetings changed considerably for the good and helped the Club grow and achieve more through strong fellowship. The amount raised by fundraising events has continued to grow, without having one major event, due to teamwork and contributions of time being made by all of the Club members.
At the end of 2011-12 the Club's longest serving Member Keith Silcocks, at that time, felt he had to leave the Club. Keith was offered an honorary membership but, as he had not attended for over a year through illness, he felt that he could not recover his health sufficiently be able to attend future meetings. Keith sadly lost his battle against cancer in the Autumn of 2012.
Karen Beaumont-Wraith who joined in 2011 sponsored by Colin Bevis. Mike Gay who joined as a free transfer from RC Chippenham Larkrise in March 2012 and has quickly got into stride: becoming our Webmaster, a Club Council Member, and will be our President in 2015-16.
The Club celebrated its Golden Anniversary at the end of 2012/13 by holding its 50th Charter Night in the presence of DG David Houghton and 105 other guests at the Hilton Hotel, Bradley Stoke. The Club was granted its Charter on 2nd July 1963 and on 4th May 2013 we held our celebration.
Andy Fisher, sponsored by Pete Lawry, joined us in August 2012 and was our Attendance officer last year and if confirmed at our SGM will be President in 2017-18. Janet Palmer, sponsored by Karen Beaumont-Wraith, joined the Club in March 2013 and has adapted well to Rotary becoming our Attendance Officer her first year (2013-14).
Past President Pete Taylor left the Club at the end of 2012-13: a valued member of the Club since 1998 and left the Club due to personal reasons. Also Jayne Bennett left, as a full member, to become a Friend of Rotary; this due to the success of her new business venture which leaves little time for the demands of Rotary. After a year of being a Friend the Club decided, as Jayne was unable to be active in Rotary, that we would not renew her Friend of Rotary status.
The 2013-14 serving Club Secretary Chris Bentall suffered from Stroke in early September 2013 and his duties were taken over by Derek James untill the end of last year (2014-15). Chris has now been granted Honarary Membership from the beginning of the 2014-15 year and we all hope to see his gradual return to the Club.
Margaret Mee (sponsored by Mike Gay) joined us in November 2013 as our 6th lady member but left in February 2014 having decided, regretably for the Club, that her future life and career lay elsewhere. Margaret was a Rotarian and Past President at RC Malvern (Melbourne, Australia) so we were sad to lose such an energetic and experienced Rotarian.
Immediate Past President Derek James became a Paul Harris Fellow on 7th November 2013 being presented Rotary's most prestigious personal honour by (then) President Tony Bryant.
Former Member Janet Faire rejoined the Club as a Friend of Rotary in 2013-14 and attends regularly. Jan (as she is known) was involved with a major fundraising event in 2014-15.
The 2014-15 Rotary year started with a bang with two new Members being inducted during the very first meeting. Both Jim Scott (sponsored by Tony Bryant) and Elaine Fowler (sponsored by Mike Gay) had attended for several meetings. Unfortunately Jim's work took him increasingly further afield and it quickly became clear that he had issues with attendance at meetings and in support of our events. Jim eventually resigned having not attended a further meeting.
For the first time in the Club's history there were joint Presidents last year (2014-15) As explained above, circumstances dictated that Jayne Bennett had to withdraw from Club Presidency in 2014-15 due to pressure of work. Mike Gay felt it was too soon in his F&D career to be able to step up. With nobody able to step forward it was decided that Judy Powell and Ron Aspbury would share the Presidency as neither of these members had sufficient time to take-on the job alone.
Sadly Past President Reg Tully PHF died in August 2014 having been ill for serveral months. Reg was well regarded by the members of the Club but had become increasingly frail and found meetings difficult due to hearing problems. As a result Reg had become a Honorary Member at the end of the Rotary year 2011-12.
In the autumn of 2014 Karen Beaumont-Wraith after a considerable period of absence, due to family commitments, tendered her resignation. In early 2015 the Club were sad to recieve the resignation of Juie Matthews due to a change in circumstances.
The 2015-16 year has just started and unfortunately one of our longest serving members, Billy Burns, after 24 years has left Rotary. The Club recognises the reasons for Billy's departure and regrets most sincerely that Billy feels unable to continue as a Rotarian.
The Club's longest serving member is still, and pleasingly, Graham Williams PHF (the PHF having been awarded by D.G. David Houghton at our 50th Charter Night celebration on the 4th May 2013).
The Club now has a membership of 17, plus one Honorary Member in Chris Bentall (honorary membership having been bestowed for one year in July 2014-15 due to ongoing recovery from stroke). As stated above the Club has a Friends of Rotary in Jan Faire. The Club is led by President Mike Gay. After due process at our SGM in December President Elect (TBC) Pete Lawry will become President in July 2016 and President Nominee (TBC) Andy Fisher will become President in July 2017.
The establishment of this website and the way it promotes our Club has led to membership enquiries and we are all working hard to extend our fellowship to make visitors feel welcome and thus keen to join our Club.
The current Club Members are as follows (with classifications, current post and officer past posts, and year of joining):
Graham Williams PHF

Electrical Contracting (Retired)

Past President

1967-68

John Smith

Police Service (Retired)

Past President

1982-83

Dave Powell

Independent Financial Consultancy (Retired)

Twice Past President

1995-96

David Powell

Banking (Retired)

1995-96*

Judy Powell

Financial Services (Retired)

Secretary, Immediate Past President, Past President

2000-01

Phil Simon

Law (Retired)

Council Member, Past President

2000-01

Ron Aspbury

Accountancy (Retired)

Treasurer, Immediate Past President, Past President

2003-04

Colin Bevis

Welding (Retired)

Past President

2005-05

David Baker

Telecommunications (Retired)

Council Member, Past President

2007-07

Pete Lawry

Telecommunications (Retired)

President Elect (TBC), Past President

2007-08

Chris Bentall (Honoury)

**

Banking (Retired)

2009-10

Tony Bryant PHF

Distribution & Packaging (Retired)

Council Member, Past President

2009-10

Michael Goodman

Architecture (Retired)

2009-10

Derek James PHF

O

ptometry

(Retired)

Past President

2009-10

Mike Gay

Professional I.T. Consultancy

President

2011-12

Andy Fisher

N.H.S. Administration (Retired)

President Nominee

2012-13

Janet Palmer

Safety Consultancy

Council Member

2012-13

Elaine Fowler

Catering Management (Retired)

Council Member

2014-15
* David Powell: Rejoined in 2009-10 after leaving in 1998
** Chris Bentall: Honoury Membership bestowed for one year from July 2014 due to ongoing recovery from stroke
The Club has 14 male members and 4 lady members including 1 male Honorary member (previously a full member). A total of 16 members have retired from full-time work and 12 members have served, or are serving, as President. No current members either live or work in Fishponds, 7 of the members live in Downend no members work in Downend. It is interesting to note that of the last 3 members joining the Club, all are lady members.
Generally fundraising has and continues, where possible, to be designed to help local charities and communities and, by and large, the Club has achieved that aim whilst not losing sight of the national and international picture. The current fundraising beneficiaries are well documented here.
Amongst the Club's other more noteworthy major events from the past have been sulky racing on a farm at Aust, and a pop concert at Arnos Court. The sulky racing also was financially viable: although trying to prevent gate crashers, particularly travellers, from free entry became a constant problem. The pop concert was successful but more problematical owing to the nature and age of our members (the 1960/70s music was just about right for the members and guests but probably had a wider adverse effect on the ticket sales).
The Club has had a series of regular fundraising events over the last few years. The Autum Ciderfest is in its 10th year; up to this year Colin Bevis has been the organiser. Last year Colin stepped-down to speed his recovery after an operation and a team led by Dave Powell oversaw a change to the event format (with the new-look 'Not Just a CiderFest' event) as we recognise the continuing popularity of 1960/70s music to which people like to dance. Colin in now back at the helm and the 70's revival theme persists. The Mangotsfield Show has, and continues to, provide us with an opportunity to have a very financially successful plant stall run principally by Ron and Margaret Aspbury, where the plants sold are grown from seeds and cuttings thoughout the preceeding year. The Easter Egg Raffles continue to raise significant funds for our supported charities. The one regular occasion that we 'tin-rattle' is held at the local Sainsbury's, organised by Mike Goodman, it is held just a few days before Christmas and this continues to be a major fundraising success.
In Tony Bryant's year the greater proportion of fundraising targetted the purchase of a sailing dinghy for "Bristol Sailability'. We were not able to support other local charities to the extent we have done in previous years; as the purchase of the dinghy cost £6,000 with a further sum of £1,200 being set-aside to help pay for the necessary modifications to the dinghy. Our fundraising for the dinghy was always, throughout the year, on track but boosted by a large donation from the local Round Table in recognition of our help, over the last few years, in the running of their 'Downend Firework Night'.
Last year in addition to the new format for our 'CiderFest' event and after a couple of years joint venturing a Music Concert event with other Rotary Clubs in our Zone we decided to run an entirely new event. Our 'Autumn Gig' organised by Mike Gay is again being held at a local venue and will feature a singer/group 'In Concert'.
The future may bring more and challenging fundraising events as our Club aims to grow its membership.
The full list of Past Presidents follows:
1963-64 Dr. W.L. Broadfoot (FM) +

1964-65 J.C. Anderson (FM) +

1965-66 G.G. Dixon (FM) +

1966-67 D.R. Miller (FM) +

1967-68 H.J.R. Maine (FM) +

1968-69 S.D. Dewsbury (FM) +

1969-70 T.E. Davies (FM) +

1970-71 H.G. Turner PHF (FM) +

1971-72 Dr. W.T. Cussen +

1972-73 D. Bryant +

1973-74 R.T. Crabbe +

1974-75 E. Howard +

1975-76 F. Rawlings +

1976-77 G.P. Williams PHF (CM)

1977-78 J. Cook +

1978-79 V.G. Adler +

1979-80 R.H. Tully PHF

+

1980-81 K.E. Silcocks +

1981-82 K.G. Snell +

1982-83 D.S. Perren +

1983-84 C.M. Harden

1984-85 L.M. Evans

1985-86 R.J. Hogarth

1986-87 D.V. Northam

1987-88 G.H. Twinn +

1988-89 J. Smith (CM)

1989-90 J. Skinner

1990-91 M. Clark +

1991-92 V.M. Boyd

1992-93 M.I.G. Barnard

1993-94 L.F. Rawlings

1994-95 K.E. Silcocks +

1995-96 V.M. Boyd

1996-97 M.I.G. Barnard

1997-98 K.E. Silcocks +

1998-99 G.H. Twinn + *

1998-99 D.P. Powell (CM) **

1999-00 R.D. Ferguson

2000-01 A.P. Baker

2001-02 W. Burns

2002-03 P. Taylor

2003-04 P.J. Simon (CM)

2004-05 J. Werrett (CM) +

2005-06 D.P. Powell (CM)

2006-07 R. Aspbury (CM)

2007-08 C. Bevis (CM)

2008-09 P. Taylor

2009-10 D. Baker (CM)

2010-11 P. Lawry (CM)

2011-12 W. Burns

2012-13 D. James PHF (CM)

2013-14 T. Bryant PHF (CM)

2014-15 J. Powell (L) *** & R. Aspbury (CMs) ****

-16 M. Gay (CM)
* first part of year, as last President of RC Fishponds
** second part of year, as first President of RC Fishponds and Downend
*** second time as President (first time under her maiden name of J. Werrett)
**** joint Presidents

FM - Founder Member CM - Current Member CHM - Current Honorary Member PHF - Paul Harris Fellow
(L) - Lady President + - Deceased