Club Archives/ Ryde Rotary Clubs 1937 Berlin Banner
Ryde Rotary Clubs 1937 Berlin Banner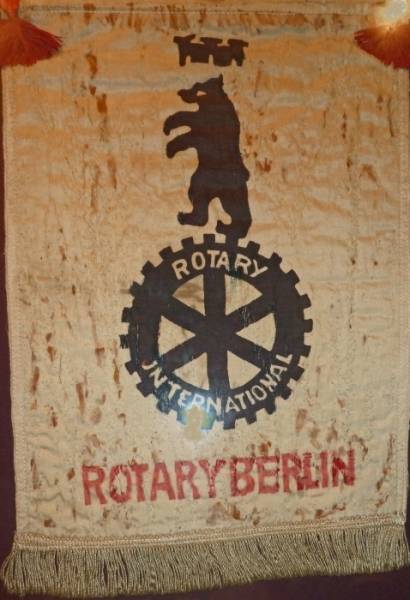 THE 1937 BERLIN BANNER
On Monday the 5th of July 1937 the Rotary Club of Ryde met at the Crown Hotel, Ryde when the outgoing President Bertram Hill handed over the Presidency to the Reverent Sirhowy Jones.
The meeting was attended by the founder of Rotary, Paul Harris who was on a visit to the Island and who invested the new President with his chain of office.
Representatives of other Island Clubs were present including the President of the Rotary Club of Shanklin, C B Best, who had recently returned from the R.I. convention in Nice. While at Nice a dinner had been given by the British Clubs at which he presented the President of the Berlin Club with a Union Jack banner on behalf of the Rotary Clubs of the Island.
He now presented to the outgoing President of Ryde Rotary Club a banner from the Berlin Club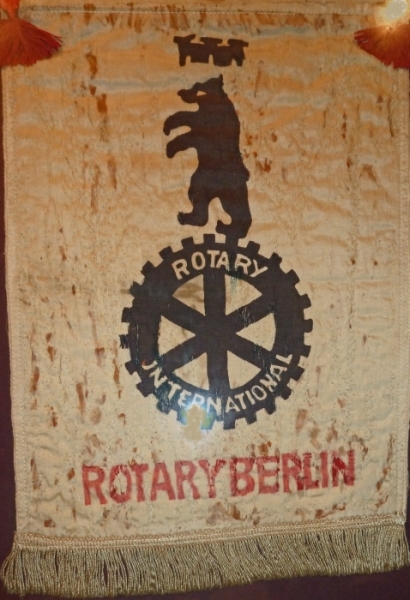 with the written request that it should be displayed at every meeting of the Club, as the Island banner would whenever the Berlin Club met.
It is not known if this was the only banner which Rotarian Best brought back from Nice or whether other Island Clubs received one. If this is the only on it was perhaps presented to Ryde as Paul Harris was present and the meeting was in effect an all-island meeting.
NG