Horseless Steeplechase: 4 August 2013
A sporting event held at Barbury Castle which is open to all runners. Spectators welcome.
The Rotary Horseless Steeple Chase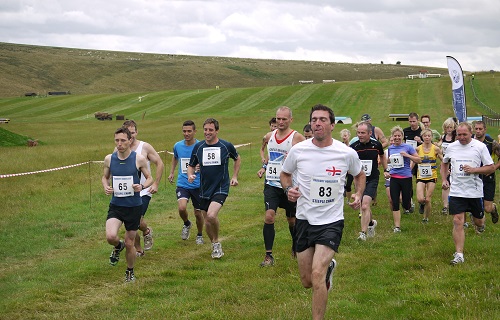 The Horseless Steeple Chase held at Barbury Castle on Sunday 4th August saw runners coming from far and wide to enjoy the challenge of two demanding races. Although the early morning was overcast with a brisk wind early on it was one to savour as the morning progressed and the weather began to brighten. The event attracted not only the participants but also wives, partners and family members who came along in support and in fact it became quite a family occasion. The Rotary food tent was in full flow, providing bacn butties and burgers to fill the energy needs of exhausted runeers and thier families.
The Steeple Chase, which is a joint event between our own Club and the Rotary Club of Swindon Phoenix, saw thirty six runners participating in the first race which was over two and a half miles and where they needed to navigate fifteen obstacles. The winner in just eighteen minutes was Glyn Dolman from Swindon. The second race found the athletes running twice around the same course subsequently covering five miles over thirty obstacles. The winner was William Feline from Fareham in Hampshire who took thirty minutes and three seconds to complete the arduous course.
To see off the runners and welcome them back, where she presented each athlete with a medal,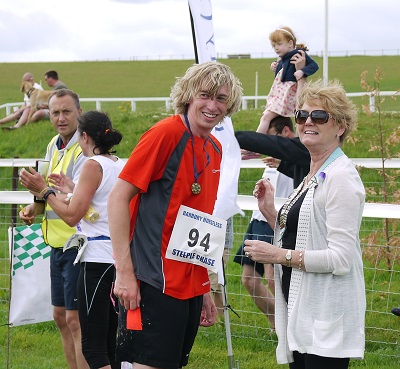 was District Governor Jan Harris to whom we are extremely grateful for sparing us her time when she has such a busy schedule. Thanks must also go to the sponsors without whose support the event would ever have provided sufficient funds to make the day a viable proposition. Thanks must also go to all the Rotarians from both Clubs who, over many months spent hours planning the day. Thanks also to everyone who set up the marquees, provided the food, cooked the burgers and manned the jumps on the course.
Organiser Gerry Hooper informed the Rotary meeting on Monday that, including registration and sponsorship, the overall amount raised by the event will be in the region of