Visit to BBC Newcastle
Sat 23rd February 2013 at 12.00 am - 12.00 am
Washington Forge visits BBC Newcastle
'Our Tour of BBC Newcastle'
This weekend a group from our Rotary Club had a wonderful tour of BBC Newcastle. Known locally as 'the Pink Palace', BBC Newcastle's Broadcasting Centre is the home to Look North, Inside Out, Sunday Politics and Late Kickoff, as well as BBC Radio Newcastle.
The visit allowed us to take a look at the BBC newsroom and to have an informative tour of the studios. This commenced with a talk on the history of BBC Newcastle, followed by a view of the archive unit. There was a demonstration of how the weather and traffic reports are prepared, with members being 'transported' to the A19, A1(M) and 'Angel of the North'. A trip to BBC Radio Newcastle explained how the shows are prepared and we observed the live radio broadcast with Simon Logan and Ingrid Hagemann - presenters have to do a lot more than just turn up and talk!!
The tour concluded with the opportunity to record our own version of 'Look North' and a radio drama complete with sound effects. The playback results on both radio and TV left us in no doubt that we should leave these programmes to the professionals!
Many thanks to our guides Tony and Claire at the BBC who added to the visit through their knowledge, enthusiasm and humour.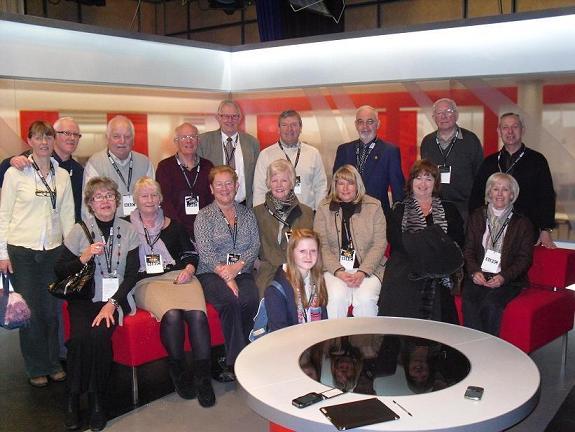 Washington Forge members and guests in the BBC Look North studios.