News/ Aquafilter - QE college
Queen Elizabeth's Sixth Form College Aquafilter presentation.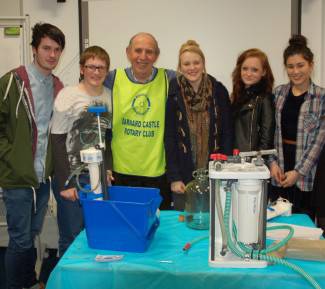 Students at QE had an informative visit from 2 members of Barnard Castle Rotary Club last week. Robert Hartness and George Brookes, who is also the Clerk for the Governors Committee here at QE, came into college to talk to Project Africa students and some members of the Student Association about a new Aquafilter device and charity they are involved, in.
The Rotary Club have had experiences fundraising for, and working with, a local company, Safe Water Trust, who provide water filters for those in need in Gambia, Ghana, Kenya, Rwanda, Somalia, Uganda, Sierra Leone, Botswana, and Congo Republic As Well as African countries aquafilters are in use in Pakistan, India, Haiti, Nepal, Romania and Honduras.
The Rotarians have had experiences of raising money and even visiting Africa where these Aqua filters have been donated. In the past the Aqua filters have been donated to small families and villages with no clean water, and very little sanitation.
Rtn. Robert Hartness demonstrated the amazing new filtration device, in which he transformed dirty, undrinkable water into clear, bacteria free, drinking water. The output from the Aquafilter was tested at Newcastle University, using a water source massively contaminated with e coli and demonstrated categorically to be completely free of bacteria. The device works, as the filter membrane is just 0.02 microns or a two hundred thousandth of a millimetre across which is small enough to also block viruses.
Students here at QE feel they may even raise awareness of the Aquafilter, and raise money for the charity in the upcoming months. The large community filter costs