2012 2013 Presidents Swan song
Ryde Rotary Clubs 2012 2013 Presidential year Swan song meeting
Ryde Rotary Club 2012 2013 Presidential year Swan Song
A PowerPoint presentation was given by retiring President Neil Gurney to the Club.
RI President Sakuji Tanaka's asked us to enhance our Club's public image.
Rotary GB&I president John Minhinic invited the public to get in louch with their local Rotary Club and discover how it can make a real difference in their area and how they can be involved.
District 1110 Governor Mary Pike asked the incoming Club Presidents to Challenge ourselves.
Don't be afraid to fail - Be afraid not to try.
We must ask and listen to find out what help is required from our Club, do not tell people what the Club is going to do for them.
She did not want to hear the words It's always been that way.
What will be your legacy at the end of the 2012 - 2013 Rotary year?
Neil said - Ask a member of the public about Rotary they know Rotary is trustworthy but they don't know what we do!
We must raise our profile to secure the future of Rotary and our Club.
With the goals I was given for my Presidency along with a little housekeeping, I made this the basis of my Presidency.
I addressed a few matters that would help the Club to run smoothly and fairly for all our members.
The PHF selection process needed to have a formal Council representative.
All members opinions had to be taken into account to allow decisions to be made on important Club matters.
We had to introduce Friends of Rotary
We had to raise the profile of Rotary and our Club within the community to survive.
Charles Darwin stated It is not the strongest of the species that survives, nor the most intelligent. It is the one that is most adaptable to change.
Our future is Youth, I wanted to develop links with the youth in schools.
Working with Ryde Academy Club members participate in the assisted reading scheme, we also funded some end of term awards, we gave a presentation to seven year 7 citizenship classes about Rotary. I have promoted opportunities that Rotary can offer the school including Mock interviews, Young writer, Youth speaks, Young photographer, Young musician and Young citizen awards.
A need had been identified within our community at Foyer for the Island. To areas of landings within the Foyer were identified that with a bit of creative building work could be turned into a communal meeting place and gym. Ryde Rotary Club sought costs and immediately guaranteed the project funding, allowing works to progress immediately. The Club helped by a donation from Ryde Lions paid for the completed works. The Lounge has been named Ray's Room which is a tribute to the memory and work of a much loved Rotarian.
I am pleased the link with Foyer for the Island is now being developed further by the Club agreeing to administer a welcome box scheme for its new residents.
The Rotary GB&I President John Minhinick official opened Ray's room during his recent visit to the Island.
An Rotary GB&I Presidential visit was secured to Ryde Club where he exchanged pennants with me.
Following the loss of two major income streams there was an urgent need to develop new streams of charitable income. Early in the year the fundraising committee came up with the idea of holding a Swimathon, this idea was developed, sponsorship was sought, and as a result the link was developed with Wight Salads, they generously sponsored the event which was arranged and held. The event made good income for the Club and funding has been put in place to run next year's event, Good publicity for the Club was gained. Lessons were also learnt with regard to the running of a future event. The link with Wight Salads was developed and expanded to all group 8 Clubs. Rotary on the Island was given the opportunity to help promote itself at the recent open farm day at Wight Salads.
There is a wealth of history in our Clubs archives, one such item is the pennant from the Rotary Club of Berlin which was disbanded by Hiltler during the Second World War.
The eradication of Polio continues to be the Rotary Foundations primary goal. Remember Polio is only a plane journey away!
Between 2007 and 2012 Ryde Rotary Club actively participated in a challenge by the Gates Foundation to help raise $200,000,000 dollars.
During that time I visited the schools in the area and gave a presentation on our End Polio Now campaign.
Ryde Rotary Club actively supports Water Aid. From the wishing well at Waltzing Waters we raise between £10,000 to £12,000 for Water Aid projects annually.
Ryde Rotary Club along with all the other Group 8 Clubs supplied shoeboxes directly to Moldova in Romania. The Children here are some of the poorest children in the world.
Ryde Rotary Club support the Earl Mountbatten Hospice, we help with car park marshalling at the Barton Manor Hospice days, we marshalled the Walk the Wight between Bembridge and Arreton and we supported the Walk the Wight awards night where I presented a cup to the oldest lady walker.
We presented Oakfield primary school with some Dictionary's For Life.
We judged French students at an English speaking competition in France, the two winners will be hosted for a weeks holiday by our Club members.
We held a New Generation evening where we met the two boys that we had sent on an RYLA weekend, we also met the two girls that won the French speaking competition along with Caitlin who had returned from studying Italian Culture and Politics at the University of Sienna for four weeks, this was followed by a weeks holiday with a Rotoract family in Rome.
We hosted an Italian student who came to improve his English, a similar exchange has been organised for the coming year.
We staged a Christmas grotto in Yelf's hotel for the local children.
We secured the opportunity to promote a concert at All Saints Church in Ryde with the American Northwest Girlchoir who would sing with local choir Island Voices. Taking the opportunity to work with schools all year 7 students at Ryde Academy and around 20 deserving students from each of the local Primary Schools were given free tickets to attend the event.
Promoting awareness of Prostate Cancer (the most common form of Cancer in men) led me to make The Prostate Cancer Charity my Presidents Charity for the year.
Several members of the Club joined in the Movember campaign, the goal being to raise awareness of prostate cancer, on shave off night there was much merriment as the new growths were removed and several hundred pounds was raised for Movember charity.
The Club joined in the Rotary initiative (that the Club had supported in the past) with the Stroke Association to stage a Know Your Blood Pressure event, this was held in the local Mingella Square, the public were handed leaflets and greeted by friendly members from our Club, A local doctor and nurse were on hand to take blood pressures and offer profession advice as required.
Members of our Club went to France to celebrate 50 years of our Club's twinning with the Rotary Club of Chateau-du-Loir/La Chatre-sur-le-Loir in France. In a busy programme amongst other things we visited Chateau Esse, which is the castle of the Sleeping Beauty story, we had an educational trip into the tunnel at St Rimay. Our Club's members were the guests of honour at a gala dinner in a theatre in Le Mans, Le Patis to celebrate 50 years of twinning between our Clubs, there were the customary speeches. We pre-empted the French entertainment with our own little show for our French hosts. Our entertainment included the Gan Man dance, this was followed by a professional show which included a mime artist and a Moulin Rouge dancing show.
This years Presidents night was held at Lakeside Hotel and Spa in Wootton, the guests enjoyed a sumptuous dinner followed with upbeat music from local band the Mechanix.
Fellowship is integral to our Club, some of the events that have been held over the past year include the Presidents garden party, a social evening with Ryde Lions, a visit to The Apollo Theatre, a trip to Island Brewery, A visit to Puckpool Battery, a curry evening at Bengal Palace, a trip to Goddards Brewery, and an evening of crazy golf.
Charitable donations over the past year by Ryde Rotary Club include payments made to the Cats Protection League, Ryde Sea Cadets, IOW Urology Cancer Support Group, Ryde Sick Poor Fund, Dimbola Lodge, Kids Hear, Youth Speaks, Feed The Children, Open Arms Project, Salvation Army, Island Foodbank, Historic Ryde Society, Islands Womans Refuge, Oakfield Primary School, a School trip to HMS Belfast, MAD Appeal (Medical equipment to Romania), a set of wheelchair batteries, IOW Urology Fund, Earl Mountbatten Hospice, Feathered Friends Rescue, Dream Holidays, Young Enterprise, facilitating a fundraising event for Layla's Trust, RLNI (Cowes Crew Fund), Ryde Sea Cadets, Spinabiffida Charity and a payment towards a Tom Cat trike.
Assistance was given with travelling expenses for a promising young rugby player, a talented musical student, a Girl Guide trip and a person to the transplant games.
The Club has held some interesting speaker evenings, the speakers included Lt Col Mike Samuleson, John Evans, Ann Loh, John Mackunde, John Hannam, Barry Dye, Jennett Gregson, Helen Foster and Pauline Fawdry.
There are other things that Ryde Rotary and it's members do, some of these include providing birthday presents to St. Vincent's residents, maintaining John's Clubs vehicles free of labour charges, putting out the blood donor banners, transporting local residents to weekly meetings at the Isle of Wight Society for the Blind, funding a Christmas lunch for local elderly and needy, supporting people with crisis in their lives and helping underprivileged children enjoy a holiday.
Returning to John Club, Past President Mark Clegg advised the Club that one of Johns Club's minibuses is on its last legs and is in urgent need of replacement, the Club has recently agreed to try and supply it with a replacement minibus. (The Clubs special guests from Johns Club John Phillips and his guests Ashley and Michelle were thrilled to hear that statement)
President Neil then went on to speak about Ryde Clubs involvement as the managing Club for Group 8, the problems it had and the subsequent reorganisation of its running.
Neil showed the Club members a Water Aid T shirt that he had been presented earlier in the evening.
President Neil acknowledged the retiring Treasurer Mike Croucher with a personal award.
Catherine Coeshott then presented President Neil with her own award.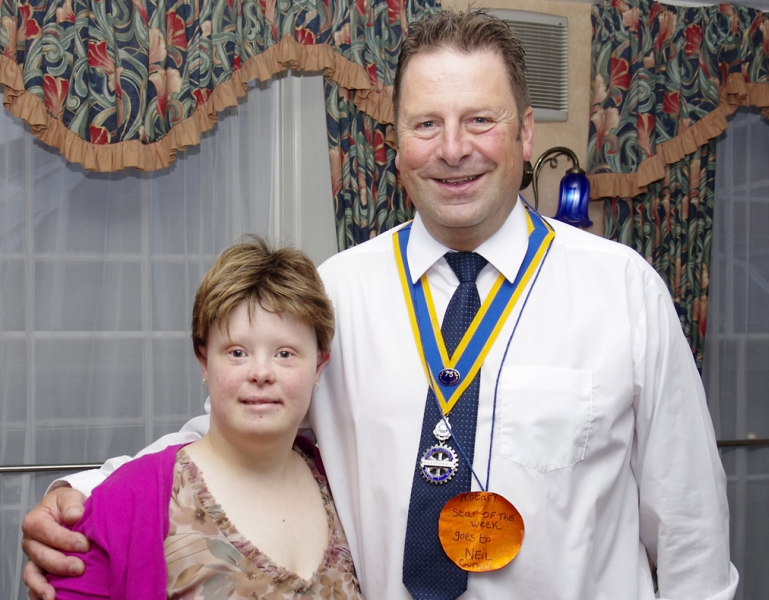 Secretary Alan then showed the Club members a duplicate of the plate presented to the French that marked the celebration of 50 years twinning with Chateau du Loire, the plate had been framed and is going to be mounted within the dining room of Yelf's Hotel.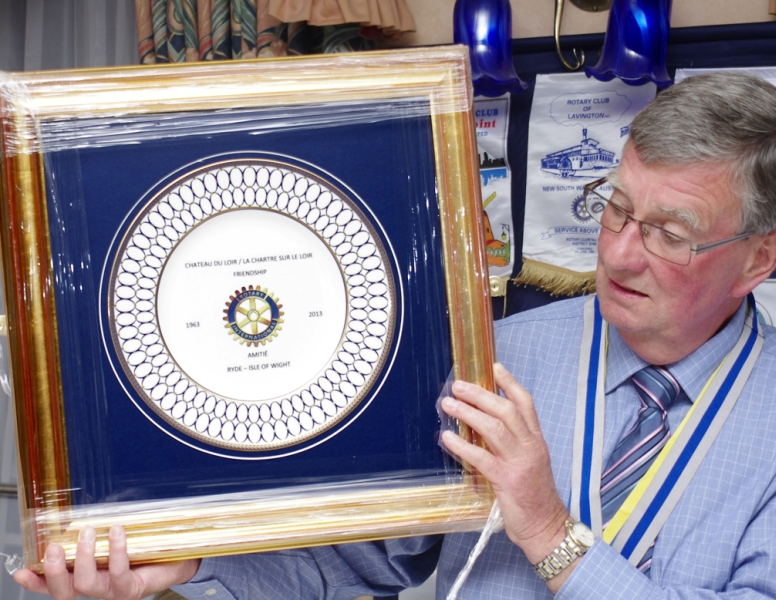 Other acknowledgments and various thanks were passed out by President Neil, he then read out two citations on behalf of the PHF committee that had been passed to him by the Foundation Committee chairman.
The first citation read as follows: This Rotarian has been a member for many years and from the onset has always been involved in all aspects of running the Club. He uses his accrued knowledge of Rotary in general and the running of the Ryde Rotary Club in particular to best effect. If he cannot answer a question straightaway he will soon find the answer and always does so in a courteous and friendly way.
Whilst he is an advocate of the fellowship principle of Rotary he has the ability to get the necessary business done at the same time. This was demonstrated to the full during his very successful Presidency. Consequently he is a very popular member of the Club.
His organisational skills have been evident of the past five years during which time as Club Secretary he has continued to display all the above qualities and we feel that Alan Truckel represents the Rotary ideals to the full and I am pleased to award him with this well deserved Paul Harris Fellowship award.
President Neil then presented Alan with his PHF award.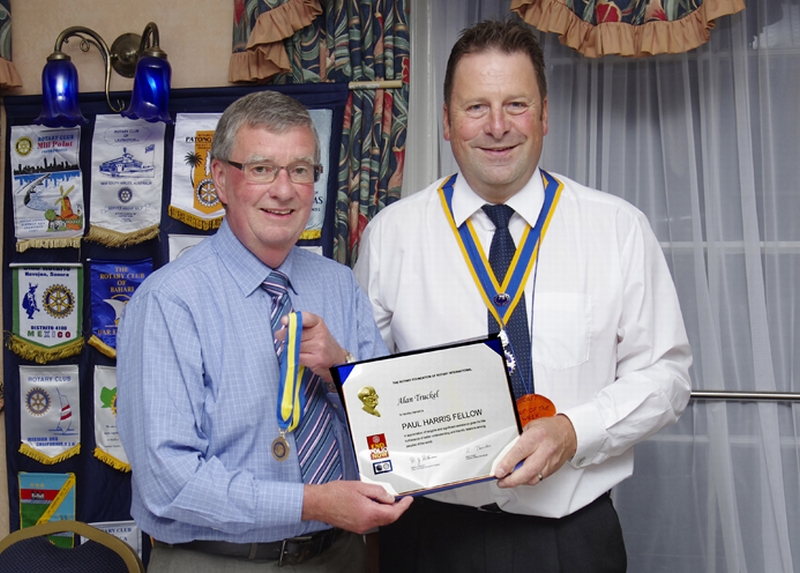 The second citation read as follows: John Phillips the founder of John's Club. It is a Club for people of all ages who have learning difficulties and mental health problems, from all over the Isle of Wight. John himself a severe dyslexic who is unable to read or write at all, ran his own business and was working in a residential home. He was invited to a customers party and thought to himself why doesn't this happen more often. Originally with three people from a residential home the Club has grown to 230 members from all corners of the Island.
The Club gives these members social skills and provides them with the opportunity to meet others with similar problems. Members soon realise that they are not alone. The opportunity to go out as a Club has given the members more confidence in pubs and other venues.
The Club meets every Friday evening, they also go out on trips, holidays and adventure weekends. They host a variety of classes and on a Monday evening John is involved with a self help group for people with learning disabilities. The success of the Club is a testament to Johns hard work.
The Club run five mini buses which pick up and take home members from their homes. The mini buses are also made available to other charitable organisations often at no cost. Organisations for the elderly make frequent use of the mini buses.
If this was not enough, starting and running this Club for the past twenty years he and his wife foster children. It is for all these reasons that John Phillips is presented with this Paul Harris Fellowship award.
President Neil then presented John with his PHF award.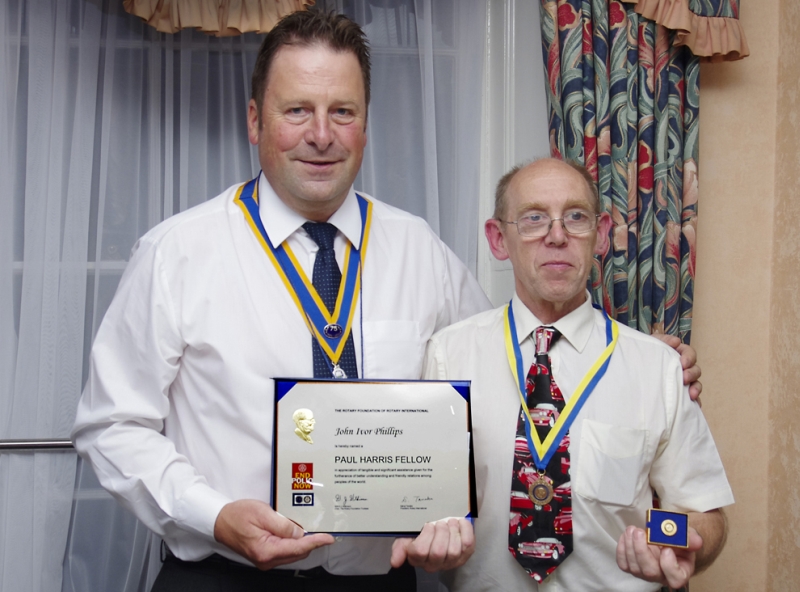 The meeting then moved to the ceremonial passing over of the President regalia from the retiring President Neil Gurney to the incoming President Nitin Pradhan.
Incoming President Nitin accepted the regalia and then read out the following citation on behalf of the PHF committee that had been passed to him by the Foundation Committee chairman.
In the last four years your input into the Rotary Club of Ryde has been second to none and you are going to be a hard act to follow.
As Foundation Chairman you were instrumental in raising our Foundation and Polio dues through new initiatives as well as some of the tried and tested activities.
In particular you visited schools in our area giving PowerPoint presentations about the campaign to eradicate Polio. These visits in turn led to spontaneous activities by schoolchildren to raise money for our Polio dues, a new take on engaging with the community.
Your recent PowerPoint presentations to year 7 pupils at Ryde Academy have built on previous links such as help with reading at the same school. You have been at the forefront of that and other community projects of that and other community projects such as Johns Club, Sea Cadets and of course, The Foyer.
The Regatta electrics were never better that when you took them over and your general involvement in the event and your encouragement to others has ensured that it is more of a team effort.
You have not only single-handedly set up the Club website but are now seen as the Club webmaster.
Your efforts as Chairman of Group 8 meetings have ensured that it is now being managed on a more realistic basis.
We feel all this effort and what it has achieved in a short space of time demonstrates that you Neil Gurney represent the Rotary ideals in full and I am pleased to present you with this well deserved Paul Harris Fellowship Award.
Incoming President Nitin then presented Retiring President Neil with his PHF award.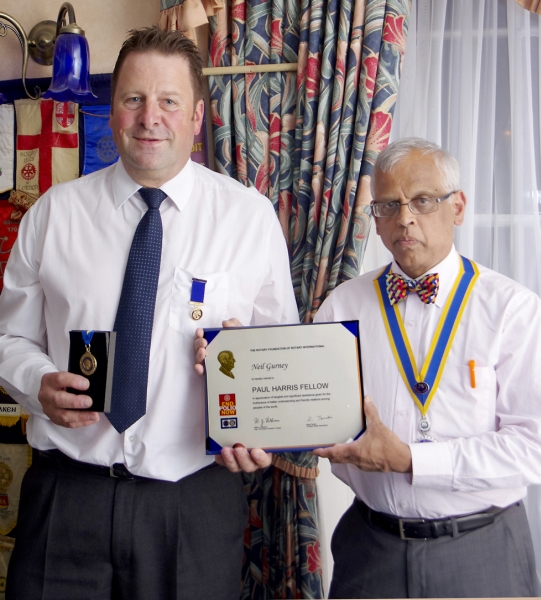 Retiring President Neils wife Julie was presented a boquet of flowers on behalf of the Club by Club Secretary Alan.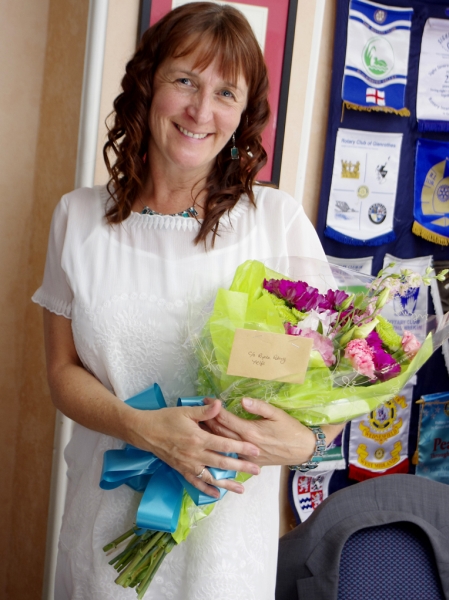 Incoming President Nitin then welcomed Alan as returning Club Secretary for the 2013 2014 Rotary Year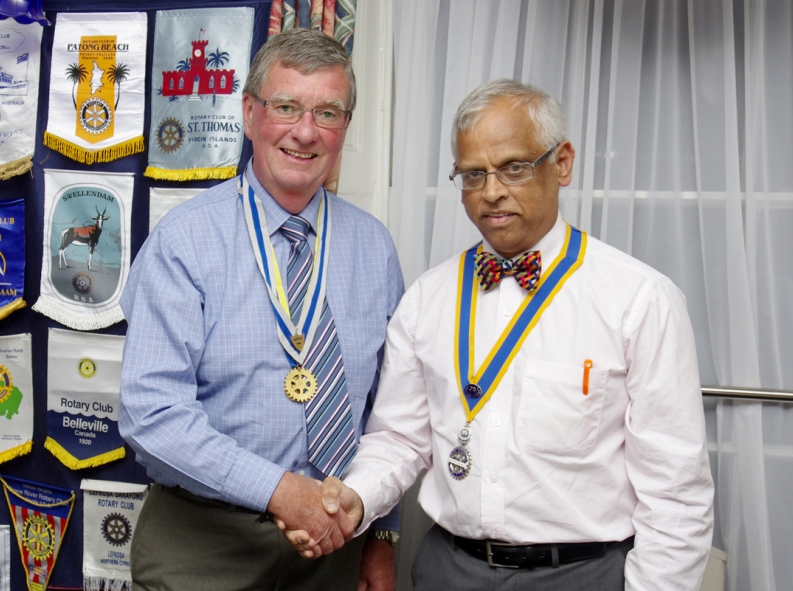 Incoming President Nitin then welcomed Ron Gould as Senior Vice President for the 2013 2014 year.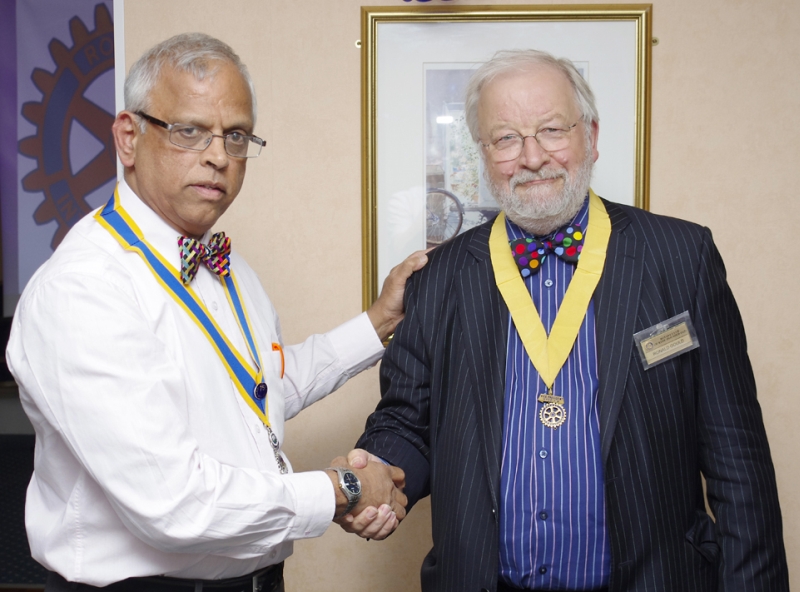 Incoming President Nitin spoke briefly to the Club about his upcomming year and then closed the meeting.
A photograph was taken of the PHF award winners: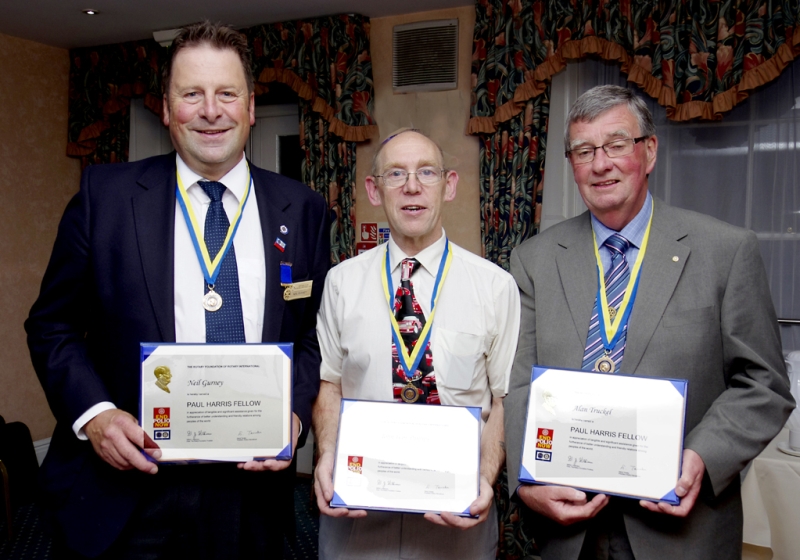 Other photographs follow: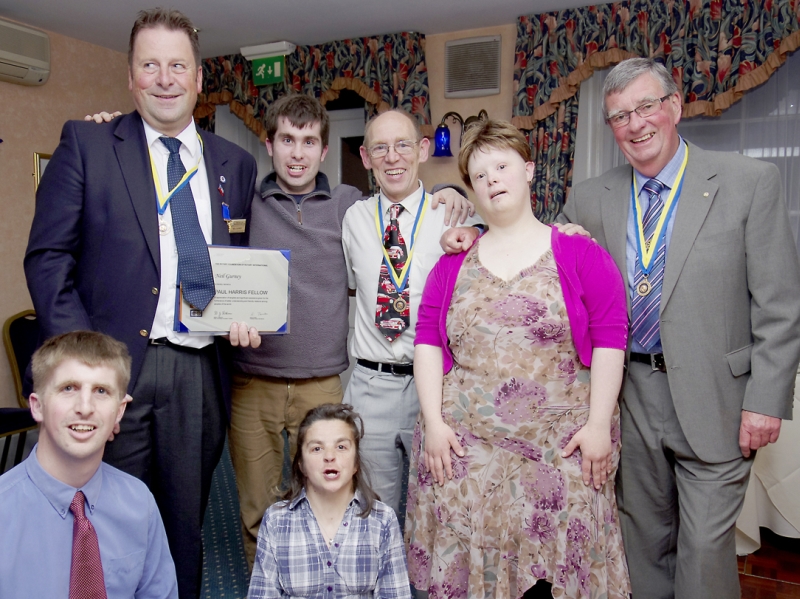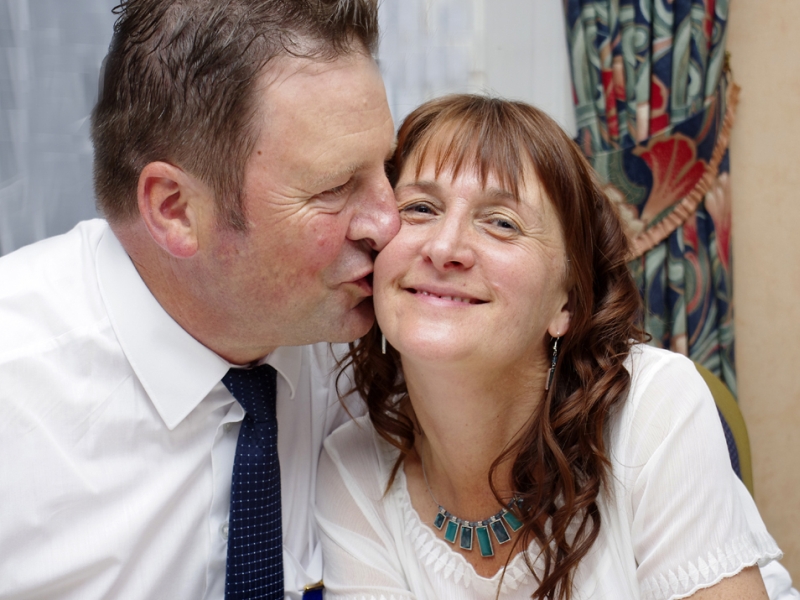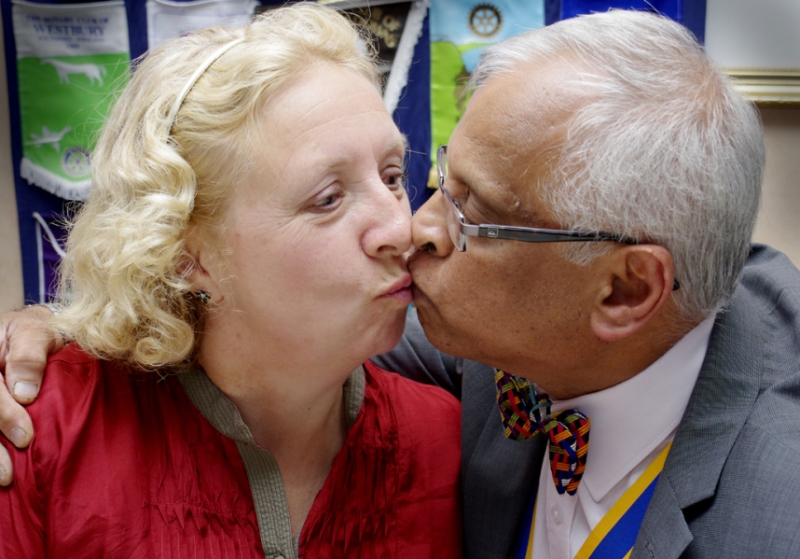 NG