Club Speakers 2012/13
Club Speakers 2012/13
Club Speakers 2012/13

Rotarian Robert Jackson District Governor 2004/05.
Robert as part of the Administration committee is the club speaker finder.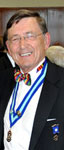 ---
The first speaker organised by Robert in President David Mullins year was Peter Warburton
who on Mon the 30th July gave a very interesting talk on Micro Loans.
Peter is the District Micro Loan co-ordinator

in

Rotary International District 1040.
Micro Loans give provision of a small loan to those who are too poor to have access to conventional financial services
Peter Warburton
Link to District 1040 and Peters work with Micro Loans
---
Mon 6th August 2012.
Roberts next guest speaker was Rotarian Don Metcalfe.
Don gave a talk about his work in the Halifax depot, his national service and his life in Perrys motor dealership.
---
On Mon 20th Aug Roberts next club speaker was Jan Scrine who gave a talk about the
"Milestone Society"
David Jan and Robert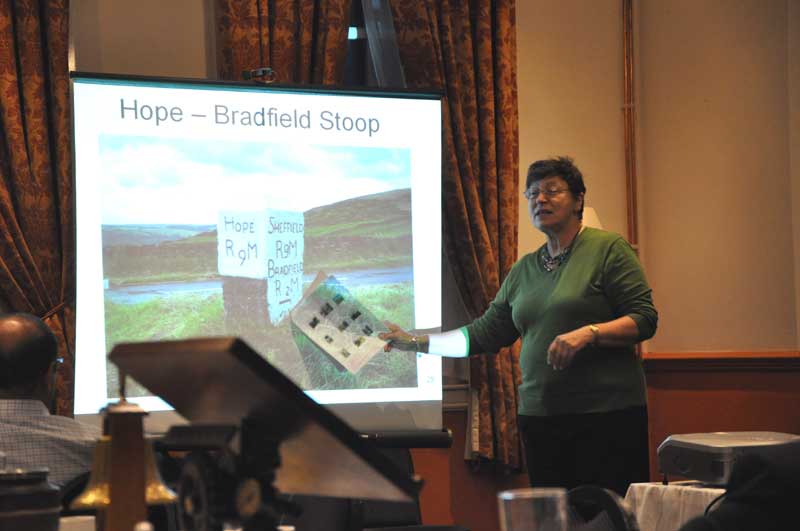 Jan giving her talk the "Milestone Society"
.
Jans talk about Milestones, finger-posts and boundary markers in Yorkshire together with their history was a very interesting insight into our Yorkshire past.
---
On the 3rd September Roberts next speaker was Keith Jeffery who gave a talk on
"Motoring since 1945"



Keith Jeffery left shaking hands with President David with Club Sec Andrew right

" Andrew Jeffery, a dealer principle with D M Keith Ltd, Skoda dealers to the gentry, spoke to us on Monday the 3rd of September on the "History of motoring since 1945". His words and books were most interesting and especially to me who remembered many of the details of his talk, things like erratic vacuum powered Ford windscreen wipers ~ starting handles ~ semaphore indicators ~ carburettors which needed adjusting for richness of mixture ~ sparking plugs you had to adjust the "gap" of ~ decoking an engine, from the filth in the petrol, was a normal service item, automatic ~ forget it unless you were very rich. Long gone firms with exotic names like ~ Lea Francis, Lanchester, Jowet [the local firm] with their Javelins & American cars who's plentiful chrome shone and rear fins threatened to slice anyone who touched with them. President Dave may not have known about the early items, he does now, and thanked Andrew for a very illuminating talk." Robert
---
Mon 24th Sept,
Robert introduced Maria Glott who visited Healds Hall to give Part2 of her talks on "Saltaire"
President David with Maria
Maria talking with gathered Luddites after her talk

Maria's Saltaire Part 2 talk gave a history of "Saltaire through to the present day".
Her talk led through Sir Titus Salt and Saltair village, The curse of Milner Fields and her appointment has Bradford's first Tourist Officer in 1990.
This led to the story of Bradford's first tourist and the success of tourism in Bradford and district.
Maria was proud of the World Heritage Site status and the great success of the
Saltaire Mill to the present day.

---
Monday 8th Oct.
Rotarian Clive Barwell was Roberts next club speaker, Clive spoke on "Care Planning"
Clive gave a talk on Care Planning.
This is a subject currently affecting some members,
the provision of care for our parents and friends in their
old age.
Clive talked about the
Society of Later Life Advisers and the accreditation process.
Their advisers giving financial planning advice to potential elderly clients.

President David pictured with Clive and Robert.

---
Mon 25th Jan 2013
On a snowy winters evening Joanna Catlow visited the Club an gave a talk on
"The Other Luddites"
Mon 21st January
Joanna Catlow braved the snow to give the club a talk about
The Other Luddites"

Joanna talked about the 1812 rebellian riots, the "Croppers" and Rawfolds Mill Liversedge and to the Brontie novel Shirley.

A very interesting explanation of the story of the Luddites in West Yorkshire


Joanna giving her talk to assembled Luddites



---
Mon 5th Feb 2013

The Club welcomed speaker David Wood from the ABF Solders Charity.

David thanked the club being part of District 1040s 65000 contribution to Catterick to help wounded soldiers and their families recover from their injuries both physical and mental.
David talked about ABF "A Better Future" the Armys National Charity although Army it is Tri service.

President David Mullns thanks
David Wood after his talk

---
Mon 11th Feb Valentines Night
On Monday 11 Feb
the club held a Valentines evening.
Roberts speaker was
John Startin who gave a talk about his hobby Stained Glass.

President David thanks speaker John Startin.




---
Mon 25th March Speaker Max Jones "Healds Hall Hotel"

Picture shows President David thanking
Max for his talk at Healds Hall.



Max gave a talk on his career in the

Hotel Hospitality and Catering

and Healds Hall
Hotel..


---