District 1030
An introduction to the activities of Clubs in District 1030, covering the North East of England
ROTARY DISTRICT 1030
Throughout the world there are over 1.2 million Rotary members in 34,000 Rotary clubs in 200 countries. Rotary International forms a global network of men and women who volunteer their time and talents to serve communities locally and around the world - and form strong, lasting friendships in the process.
Rotary International in Great Britain and Ireland (Rotary GB&I), as the name suggests, is the association of Rotary Clubs in England, Ireland, Scotland and Wales. There are 1,850 clubs in Rotary GB&I with 53,000 members - men and women of all ages and backgrounds. This is broken down into regional districts and we live in District 1030.
There are 68 Rotary Clubs in District 1030 from Berwick in the North to Redcar in the South. They meet regularly to enjoy friendship while working together to benefit others. Clubs operate individually but some of our activities are shared across the District. Administration is through a District Council overseen by a District Governor who takes office for one year.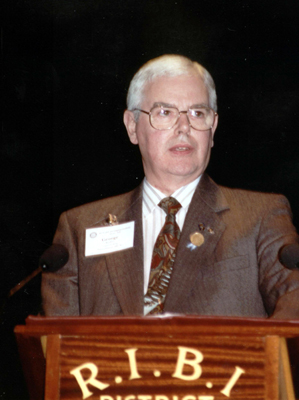 The Rotary Club of Houghton-le-Spring is particularly proud that one of our members, George Bennison, was District Governor in 1993.
For direct links to the websites of Rotary International, Rotary GB&I and District 1030 click the links below or use the named tabs in the other links section on the bottom left of the home page.
Recently modern technology led to the Regional magazine "Rotary North East" being published on the internet rather than being printed. It provides interesting reading for members of the public as well as Rotarians themselves. A selection of "Rotary North East" magazines in pdf form can be found by following the link to District 1030 or the related tab to Rotary North East Magazine.