Paul Harris Sapphire Award
Mon 29th July 2013 at 19.30 - 19.30
Past President Malcolm Acors was awarded his Paul Harris Sapphire in recognition of his outstanding contributions to Rotary in general and the Rotary Club of Billericay in Particular.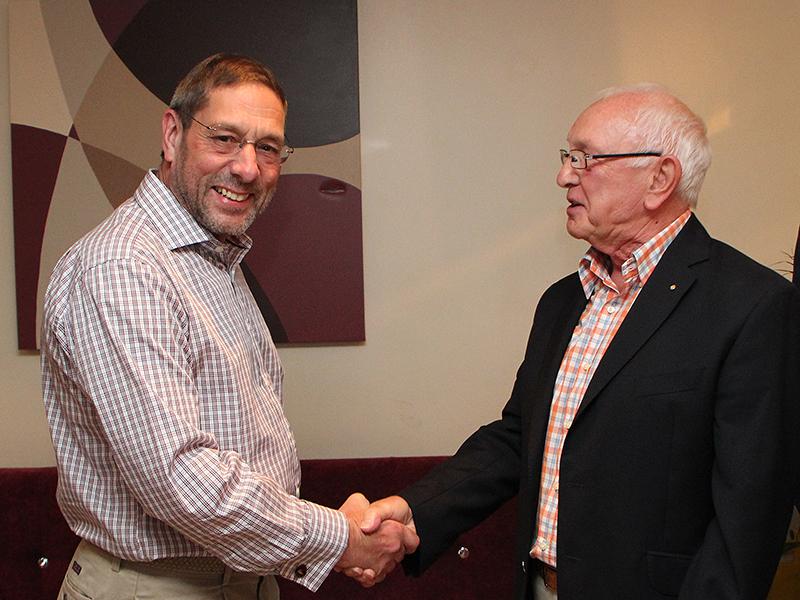 Show related pages
Presentation of Paul Harris Sapphire Award to
P/P Rotarian Malcolm Acors PHF
Nearly forty members of the Rotary Club of Billericay, with their partners and families, met for a social evening at a local Chinese restaurant, the Plum Valley in Billericay High Street. It was a great social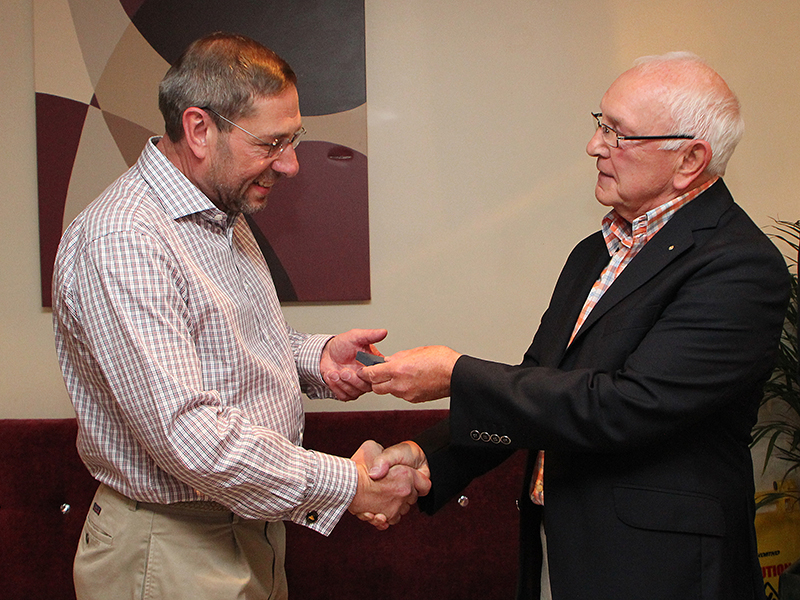 evening but greatly enhanced by the award of a Paul Harris Sapphire to Past President Malcolm Acors in the presence of his Rotary colleagues and, most importantly, his wife Sue.
"I am absolutely delighted to be club President when Malcolm is given this award" said President Keith Wood. "The Sapphire award recognises Malcolm's long and devoted service to the Rotary movement both locally and internationally." He paid tribute to Malcolm's continuing work in the club, both for serving as President on two previous occasions, and as a normal member of the club. His work has been unceasing in support of both Rotary in general and the club in particular.
Keith then turned to club Secretary Edwin Harrison to read the citation.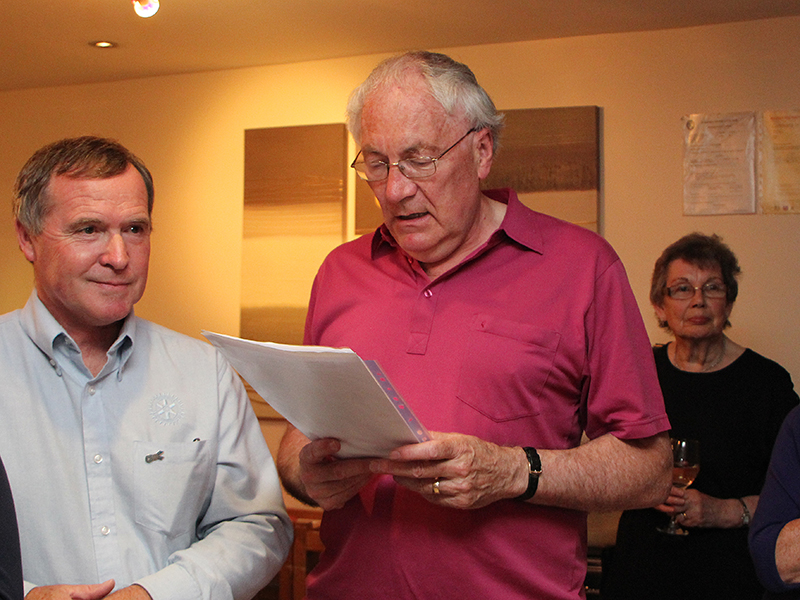 "Malcolm served as President for the second time in 2011/12 and, under his dynamic leadership, the Club enjoyed one of the most successful years in its history." said Ed, and read out the details of Malcolm's contribution as follows:
1) For many years Malcolm has produced all the Club's printing free of charge.
2) Malcolm and Rotarian Sue Hammond were chiefly responsible for the establishment of the Interact Club at The Billericay School.
3) Malcolm and his wife Sue have "home hosted" many visiting GSE Team Members and Rotarians.
4) Malcolm has been a strong supporter of Rotary events, e.g. attending District and Rotary GB&I Conferences, and visiting Alba and Beausoleil Clubs on our twinning visits. In 2012, Malcolm was the only Club Member to visit Alba Club and, in the previous year, was the only Club Member to visit Beausoleil Club. He has worked hard to maintain our links with both Clubs and has been heavily involved in arranging the twinning visit here in September.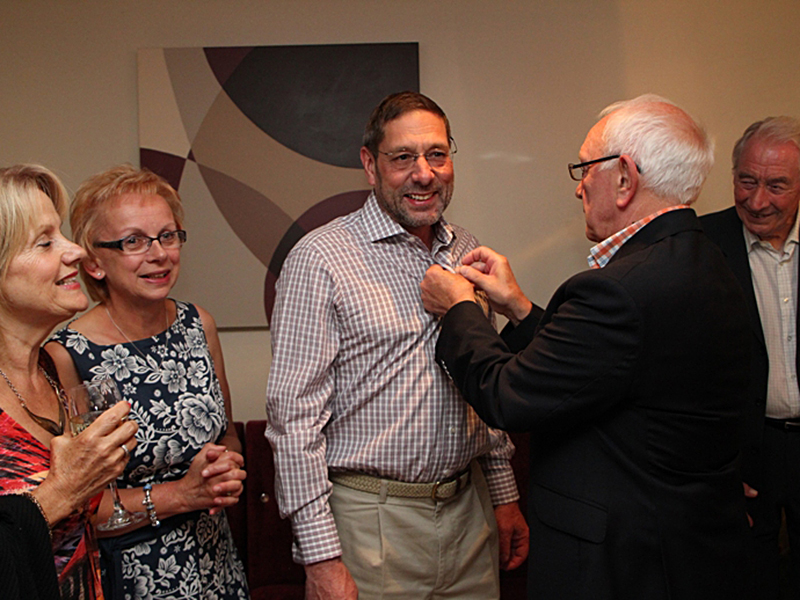 Malcolm becomes the third current Member to be awarded a Paul Harris Sapphire. In his speech of acceptance, Malcolm was almost at a loss for words but said how important Rotary was in his life, how much he enjoyed his work within the Rotary fellowship, and how much he appreciated the honour given to him by this award.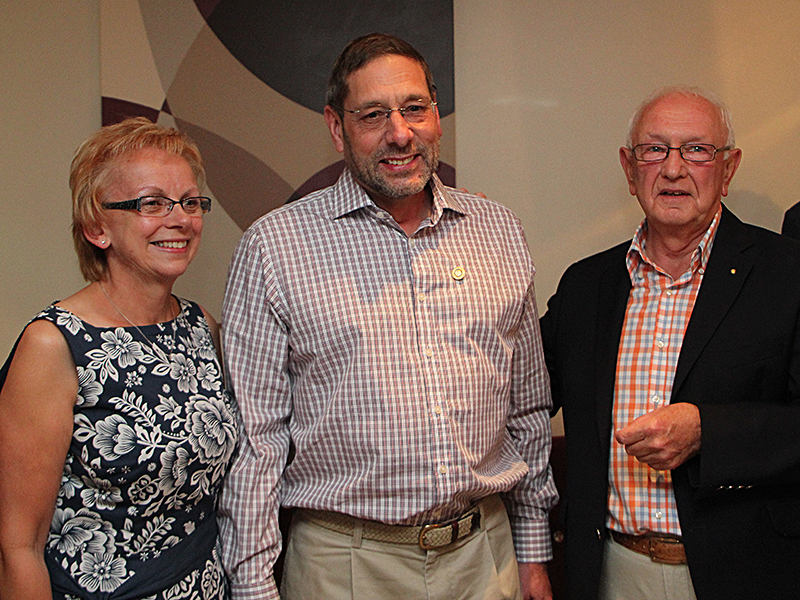 In appreciation for the award, Malcolm paid for all the wine for all present!