Youth Leadership Award
Rotary Youth Leadership Award
RYLA candidate 2017 James Currie receives his certificate from President Joan Symons
RYLA stands for Rotary Youth Leadership Awards, which are gained by candidates who complete a one-week residential course held every July at Brimpts Farm, Dartmeet.
St. Ives Rotary Club are looking for business and organizations to nominate young adults aged 18 to 28 who have the ability and strength of purpose to become leaders in their community but who for various reasons may not have had the opportunity to develop their full potential.
Applications to join the course should be made to your local Rotary Club, preferably by the end of October.
The course comprises an intensive programme of outdoor activities and tasks aimed at team building skills, along with a series of projects and lectures from eminent, high achieving members of the South West community. The objective is to inspire and develop the confidence and ability of our candidates, to teach them to become leaders in their communities and to plan for themselves interesting and useful lives.
The learning experience of how to run a meeting, save a life or organise their thoughts before speaking in public can be a life changing experience for many. The 44 candidates for the course held at Brimpts Farm are selected from young adults between the ages of 18 and 28.
They are selected by members of their local Rotary Clubs, who look for people who are intelligent and keen enough to take advantage of a very intensive and challenging programme and who are deserving of help in enhancing their personal development and leadership potential. Candidates need to be reasonably articulate but do not need to be extrovert.
The local course is for candidates from Cornwall, The Isles of Scilly, Plymouth and South West Devon. It is regarded within Rotary as probably the most progressive course for the development of leadership potential.
The course is held every July, beginning and ending on a Saturday. Accommodation at Brimpts is excellent and consists mainly of en-suite rooms for 4 people.
The Chief Instructor is Jack Russell. His company, Personal Development Coaching, runs the course for Rotary. His personnel are well qualified and there is great emphasis on safety.
Rotary, Personal Development Coaching (www.pdcinspiration.com) and Brimpts Farm (www.brimptsfarm.co.uk) all carry large third party insurance cover.
After selection, candidates must agree to visit their sponsoring or parenting Rotary club as a guest before the course begins and to return afterwards to give a short talk about their experiences. They will then be presented with their RYLA certificate.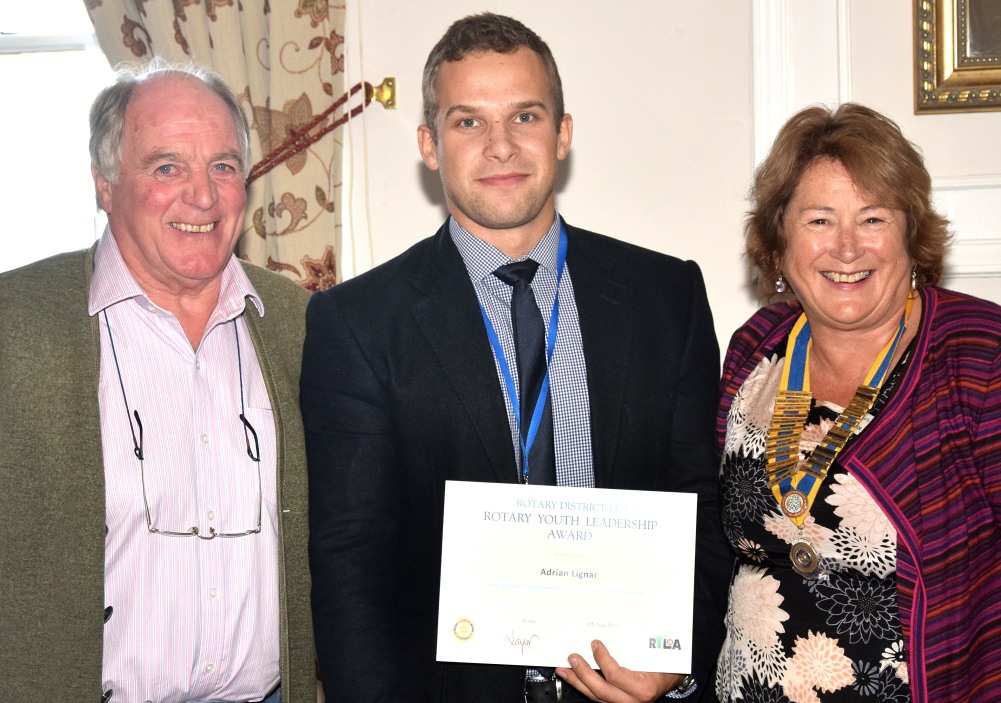 Above is the successful 2017 RYLA Graduate, Adrian Litner, joinly sponsored by The Rotary Club of St. Ives and his employer Geofrey Knights
The cost of the course will probably be a little over £600 per candidate. Sponsoring Clubs and companies are requested to pay a deposit for each candidate.
After an interview, successful candidates will be sponsored, either by their local Rotary Club, their employer or, in some cases, by a combination of both. Occasionally a candidate will sponsor him/her self. The reputation of RYLA has spread in our community, and wider, and many of the more enlightened employers in the area recognize the excellent value of the course and the improved performance of the participants when they return to their companies.
On completion of the course, candidates will return inspired with a degree of confidence and organizational ability that should change their lives.
Completion of a RYLA course is impressive on a CV and at job interviews but the self confidence and team leadership skills acquired on the course should speak for themselves.