Visit to RC Kingswood - East Bristol Foodbank
by Mike Gay
East Bristol Foodbank manager Andy Irwin delivered a talk, about operational parameters and issues at East Bristol Foodbank, to RC Kingswood at their meeting on Tuesday 20th August. President Ron Stagg and Martina Peattie of RC Bristol plus our own Mike Gay went along, to listen and learn, and sends this report.
"Andy spoke well and engagingly about his work. I found the talk most rewarding; learning new facts which helped me better understand the operational problems faced in providing this vital service. In fact far more useful information, about the day-to-day operation of a Foodbank, became apparent than our Club gleaned from the talk made to us by James Milton, of The Trussell Trust, back in May this year. No criticism of James is meant; it was just the Andy's talk was biased more on operations than strategy.
"Firstly, I think most people would assume that food stock shortages at Foodbanks would mostly occur in the winter, and especially during the festive season. This is not the case as donations from the public, supermarkets and corporate donors are higher in the lead up to Christmas and thus a surplus usually occurs. Often such is the size of the surplus that stocks are usually healthy well into the spring of the following year. It should be observed that this is no bad thing and certainly it is important that donations should be maintained at a high level in the winter as inclement weather can increase demand. The food stocks are not perishable so there is no problem in maintaining a healthy stock over several months.
"Stock shortages are, in fact, most likely to occur in the summer months from June through to September. This is due to the effect of a lot of donors being caught up in holidays. Then, of course, extra demand is created because schools close for the summer break, and children no longer have access to school meals.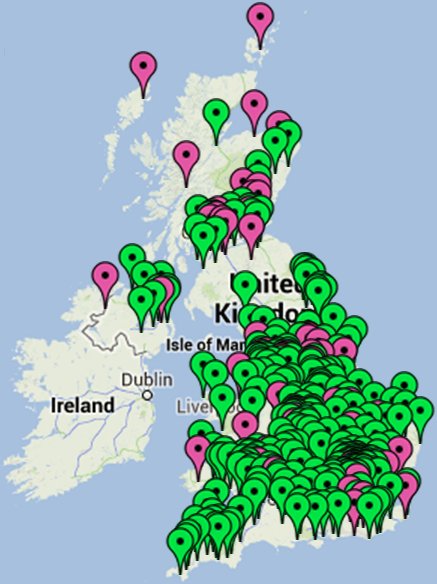 This map shows operational Foodbanks (green)
and those planned and/or not yet active (pink)