GALLOWAY MOUTAIN RESCUE TEAM: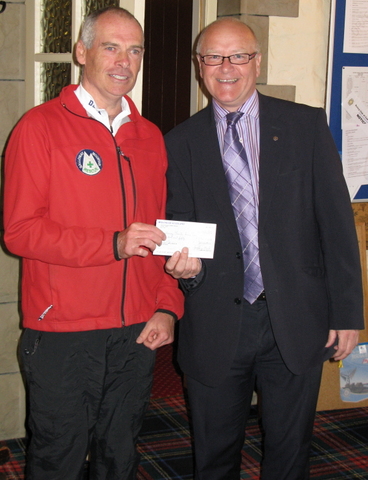 Castle Douglas Rotary Club has supported the Galloway Mountain Rescue Team's fundraising with a cheque for £250. Rotary Club President Derek Crichton presented the cheque to David Tyson, Secretary of the GMRT, at a recent meeting. Derek commented that the Club was delighted to support GMRT which is run entirely by volunteers and provides a vital rescue service in the Galloway region. In receiving the cheque, David Tyson explained about the fund raising necessary to support the annual running costs of GMRT. He, Derek Hamilton and Ken MacKenzie cycled over 1000 miles during eleven days of July and raised at least £10,000 with the final amount still to be confirmed. They visited the most northerly, easterly, southerly and westerly extremities of Scotland. While the presentation was taking place, GMRT were actually on a rescue mission near Newton Stewart recovering an injured mountain biker who could not be reached by ambulance.
SOUTH WEST SCOTLAND RnR: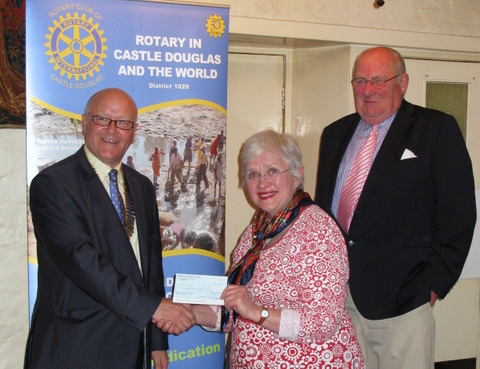 Southwest Scotland Rest and Recreation (RnR) is a charity operating in the Southwest of Scotland which provides much needed and appreciated holidays in Dumfries & Galloway for soldiers injured while on active service in Afghanistan or elsewhere.
The picture shows Castle Douglas Rotary Club President Derek Crichton presenting Jennifer Tobin, who founded Southwest Scotland RnR, with a cheque for £500. On the right is the Community Services Convener, Andrew Dunlop, who organised the fundraising.