Jersey Rotary is celebrating the success of the Polio-Plus Campaign that has reduced cases of this dreadful disease from 350,000 in 1986 to just 21 cases this year. In spite of the recent setback of 2 cases in Nigeria, the World Health Organisation is confident of the total global eradication of Polio within 12 months, one of the greatest achievements of humanitarian endeavour.
Rotary is organising a special dinner on Wednesday 21st. September in recognition of the generous support of the people and institutions of Jersey in raising over £150,000 for Polio-Plus since campaigning started in 1987. Guest speaker Judith Diment is a dynamic advocate of polio eradication with regular contact with heads of state and leaders of global organisations.
Purple4Polio is the new campaign theme, as purple is the colour used to identify children that have been treated in mass immunisation programmes across the world. So schools and parishes will be encouraged to plant crocus corms to create a sea of purple each springtime across the island as a reminder that a disease once prevalent and feared in Jersey has finally been eradicated.
For more information about the Purple4Polio Dinner, to which you are warmly invited, click here.
You can download an information leaflet by clicking on the photo below.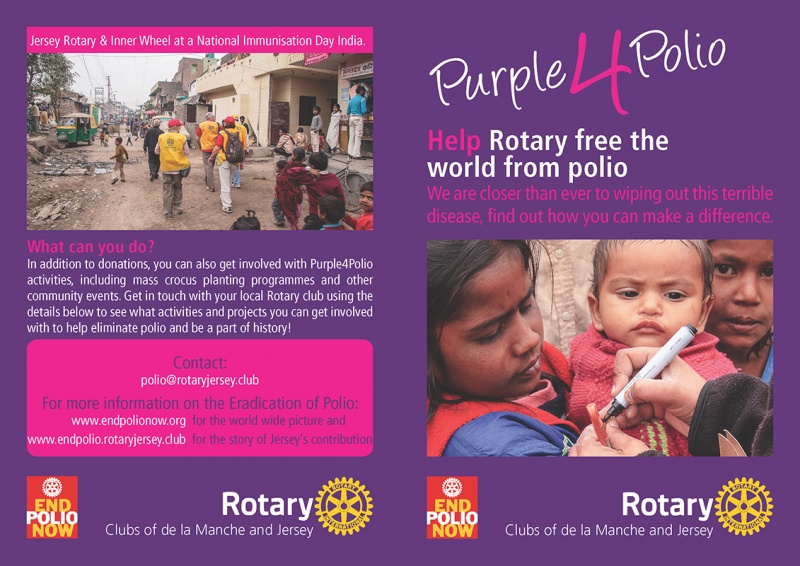 Rotary has been fighting to eradicate Polio for the last 30 years. See the story so far, and Jersey's contribution, its effect on peoples' lives and the End Game.
Earlier news in this campaign:
11th August 2015 Africa has been free of polio cases for 12 months. In 2 more polio free years the whole continent can be declared Polio Free! Read more about this important milestone here.
Digging

for Victory over Polio, the Jersey Family of Rotary at Work.

World Polio Day

24th October 2013
The outbreak in

Syria

, an interesting article from Aljazeera, "Putting children above Politics".
Our partners in this battle are the World Health Organisation, UNICEF and the Bill and Melinda Gates Foundation together with the generosity of the public at large, you!