Sporting Events/ Glasgow v Edinburgh Curling -:Harry Jack Trophy
Thu 13th February 2014 at 12.00 am - 12.00 am
Glasgow v Edinburgh :Harry Jack Trophy 13 February 2014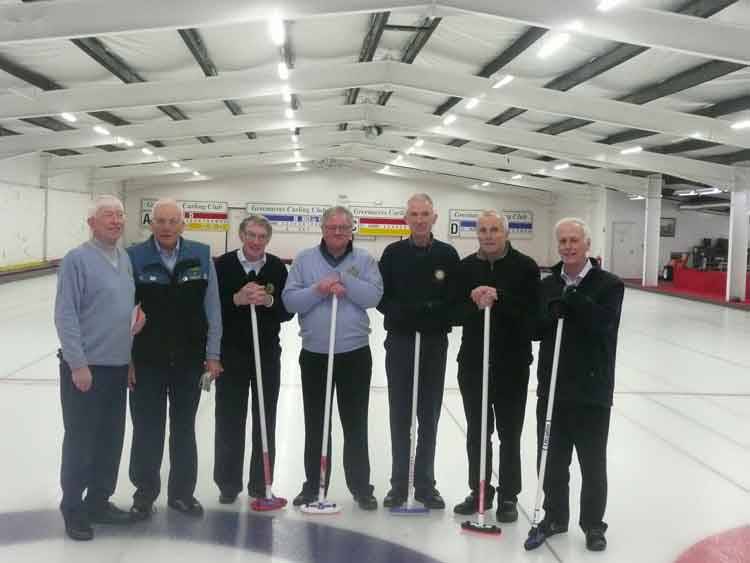 A Moral Victory but not the winners.
You may say that Glasgow were "Harry Jacked" at Greenacres on Thursday 13 February when we played The Edinburgh Rotary for the Harry Jack Trophy.
Unfortunately Glasgow had two "very late call-offs" resulting in both of our teams being one player short which entailed a three shot penalty in each of the two games.
It was however a "moral victory" in as much that Glasgow 2, Skipped by Craig Thomson with Douglas Locke and Harry Henderson WON 11-4 (reduced to 11-7) 4 shots up.
Glasgow 1 skipped by Donald MacDougal, with Graham Steele and Brian Evans, lost 7-10 ( increased to 7-13) 6 shots down : So Edinburgh won by 2 shots.
Glasgow 1 was a very close match and had Donald not had the misfortune to "fall on the ice" ( no damage done, so thankfully he was able to go on Holiday the following day) but he was undoubtedly shaken and the "guard" he played did not quite work and Edinburgh were able to play through the gap
and claim 3 shots. A definite "game changer"
President of The Edinburgh Club, Alistair Beattie brought greetings of his Club and whilst The Curling Club President, Fergus Gillies was unable to stay for the meal, Bill Christie presented the Trophy to the Edinburgh Match Secretary, Brian Smillie, who commented on that fact that had circumstances "been different" it would no doubt have been a victory to Glasgow.
The Glasgow Curling Fellowship was pleased to have PP Eric Dryburgh in attendance.
Edinburgh now lead 21 Glasgow 16.
Murrayfield in 2015.
Bill Christie