UPDATE at 04 DEC 2014.
Through careful management of our funds from this event we have now enhanced the £1000 of the money raised through match funding including from the Big Give Campaign and have sent £2250 to help STREET CHILD EBOLA.
You can see more about the cause at www.street-child.co.uk.
The original story follows:-
More than 100 people recently enjoyed a Family Fun Day under sunny skies in the grounds of Friars Carse Hotel. The event was the brainchild of Thornhill and District Rotary Club who joined forces with the Dumfries Branch of the MS Society and Cumberland Street Day Care Centre to raise funds at a Duck Race on the River Nith.
Over £3,500 was raised on the day.
As well as numerous side shows, live entertainment was provided by local musicians Edith and the two Ians, the Thornhill Singers, The Upper Nithsdale Youth Pipe Band and voices of the Recycled Teenagers.
Three people who owned the winning duck received a prize of £100 from ducks sold by each organisation.
Iain Baker who led the Rotary team who organised the event said What a great day we had - and in warm sunshine! I am most grateful to all those who helped us make it an event to remember. In particular I would like to thank our entertainers, the management and staff of the Friars Carse Hotel and Jim Henderson and the staff of the Nith District Salmon Fishery Board who ensured all ducks were safely retrieved from the river.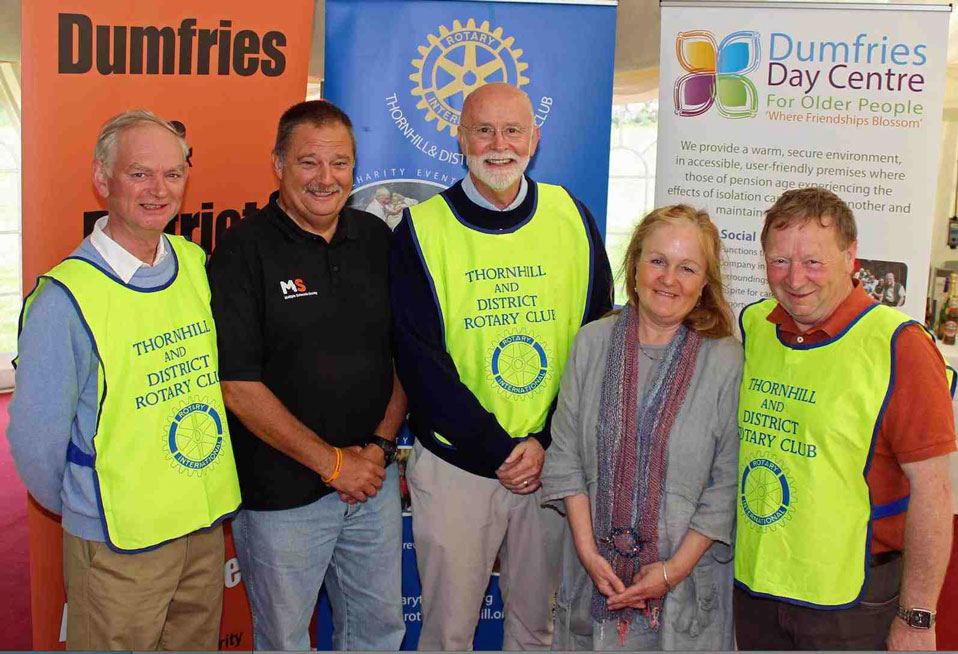 This Picture shows Thornhill Rotary President Graeme Geddes, Rotarians Iain Baker and Gordon Steel with MS Societys Les Bostock and Caroline Steele of Cumberland Street Day Centre.
Main Picture shows Daffy Duck - alias Thornhill Rotarian Kirsty Bowie - and Rotarian Mike Keene, sending the ducks on their journey down the River Nith. Helping to ensure Kirsty doesnt join the ducks in the river are Caroline Steele, Ian Bostock and Graeme Geddes.
Gordon Neilson