Website Award
At the District Assermbly in Writtle on Saturday May 17th, President-Elect Stan Keller announced the winners of this year's District Awards. The Geoff Player Trophy for the best Bulletin went to Stort Valley Club, and the Graham Savage Trophy for the Best International Project was won by our daughter club Billericay Mayflower. To our delight, we won the Stan Keller Trophy for the best club website in the District.
Vice President and president Elect, Michael Ginn was there in the absence of President Keith Wood to receive the award and bring it back to the club. On Monday May 19th, Michael presented the Trophy to our club Webmaster, Peter Greene.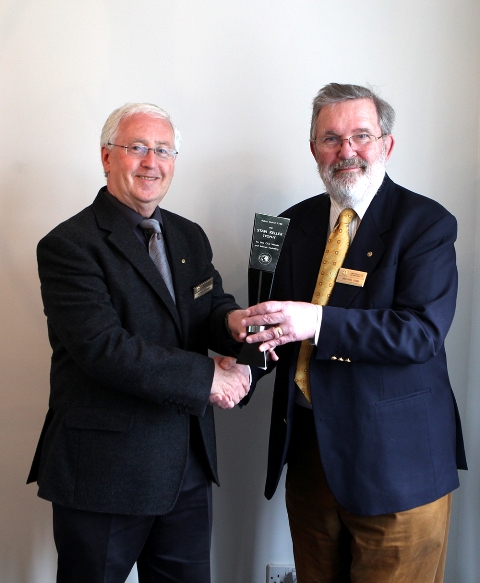 In this age of major website competition, and with 60 clubs in the District, we have to be thrilled that our Rotary Club website has been recognised for its excellence in this way. In the last two years, great effort has gone into improving its content and making it much more relevant to club activities and as a tool for publicisizing what we do. It has gone from strength to strength and is now the envy of other District clubs.
Credit should also go to Chris Sweeney of the Rotary Club of Conwy, in Wales, who is responsible for the design and maintenance of the website Template on which our Club website, and that of the majority of Clubs in the country, are based.
Peter wants to thank all our members for their support in providing the flow of information on which the site depends. Do continue to keep him informed.