Archives/ 2013-2014 Archive - President Eric Bridgewater
Archive for Eric Bridgewater's Year as President. See too Completed Programme for 2013-14 and The Club Team for 2013-14.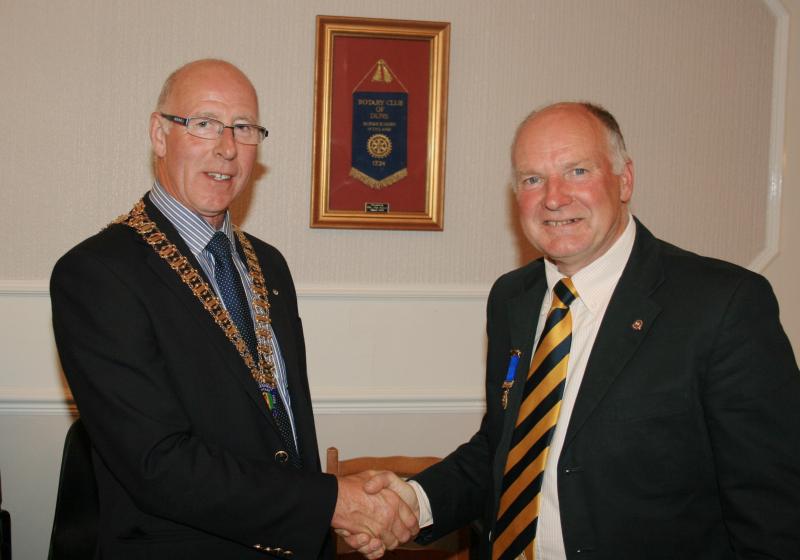 A Warm Welcome to the
Duns Club
from our 2013-14 Team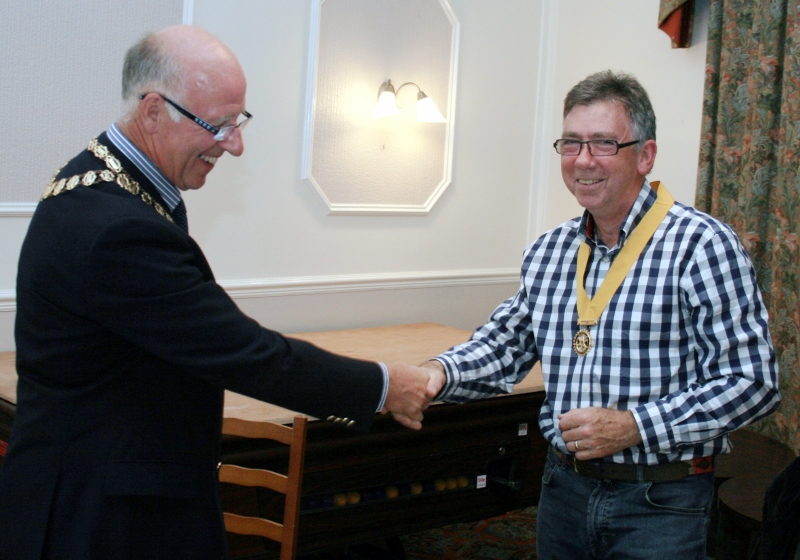 David McLuckie, Senior Vice President enjoys a joke with his new President on receiving his badge of office
Jim McDevitt,
Secretary

Harry Mark,
Treasurer

Ian Gaston,
Junior Vice President
Club Chairmen

Andrew Lester

Community

William Allison

Foundation

Nigel Warren

International

Grant Stephen

Youth Services

Words of wisdom from a cheerful outgoing President to an attentive incoming one, perhaps discussing the following:
President Eric's welcome:
"It is an honour and a privilege to have been elected President of the Rotary Club of Duns for the current Rotary year. Having been a member since 2000 I felt it was time to put something back into a club that has given me so much.
Even when first invited to the weekly meetings, I was immediately made to feel at home and was struck by the good-humoured way the club played a worthwhile role in the community as well as supporting good causes locally and in the wider world, values that have been constant in its 39 years of existence. The guest speakers are always interesting and informative whether promoting a charity or sharing with us their experiences (see current and previous programmes here).
We are fortunate to have a strong membership in the Rotary Club of Duns, the biggest club in the Borders but, of course, new members will be made to feel as welcome as I was thirteen years ago.
Come on in, the water is lovely and there is plenty of room for more!"
To get an idea of what we get involved in have a look at the Projects (i.e. services and people we have supported) and Fundraising Activities. If you'd like to know more have a look at the About Us pages, and why not send us a message or just click on the various buttons and links on this website.
President Eric's Plans for 2013-14:
"I confess I have no grand plan for the Club in the current year other than to go on doing what we do best, offering the joy of fellowship to the members, playing a worthwhile role in the community and contributing where our input has value and is needed.
But the Club has some big local events to its name. In 2012 we organised the very successful street party to celebrate the Queens Diamond Jubilee attended by a thousand