The fourth Welshpool Rotary Club Race The Train fund-raising event takes place on Sunday September 14th 2014.
Each year cyclists race the steam train from Welshpool to Llanfair Caereinion, the train travelling eight miles to the cyclists' ten. The train takes between forty five and fifty minutes to complete the journey, the record for an individual cyclist currently stands at thirty four minutes and forty five seconds!
To beat the train at least fifty per cent of the cyclists must reach Llanfair first.
This is a fun event, and riders of all ages (over 14) and abilities are welcome to take part. The route is hilly in places, so a reasonable level of fitness is required. As a guide, the final finishers last year completed the course in ninety minutes, taking almost three times longer than the fastest riders.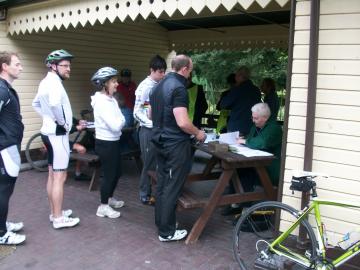 Each entrant will receive a certificate, and the route is fully marshalled with check points en route. The only rules are that each entrant must have a roadworthy bicycle and wear a helmet. A sweeper vehicle and trailer will bring up the rear to rescue those with mechanical problems, or who simply feel unable to finish the course.
The race begins at 11.15am, flagged away by the Mayor of Welshpool. The Chair of Llanfair Caereinion Council waves the chequred flag at the end.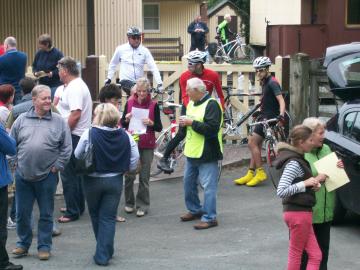 Simply book in at Raven Square station between 10am and 10.45am on the day. At the time of writing the entry fee had not been decided.