Press Releases
A history of press releases issued by Sunrise.
From Southport Visiter - July 2015
The Rotary Club of Southport Sunrise welcomed their new President at a party held at the Southport and Birkdale Cricket Club. Outgoing President, Rotarian Dave Blundell,handed over the badge of office and club charter to incoming President,Rotarian Hilary Dalton. Rotarian Patricia Saunders was welcomed as Presdident Elect. She will become President at a similar event next year.
In her acceptance speech,Hilary reflected on the Rotary theme for her presidential year which is "using our talents, expertise and leadership, Rotary members worldwide are asked to be gifts to the world". She said "all of us have been given so many gifts. And we have now beenb urged,or this year, to take our talents, all our gifts, everything that we are and can become and be a gift to the world. We have one yearto take that potential and turn it into reality. One year to lead our club and transform the lives of others".
This followed Dave's valedictory speech in which he highlighted the achievements during the past year under his presidency. These included the support given to Rotary charities,especially the eradication of polio in collaboration with the Bill Gates Foundation. Also money raised and help given to many local charities and good causes. This included the first annual Coastal Walk which raised around £10,000.
Hilary was supported by Rotarians from Southport Sunrise and other Rotary Clubs and many friends and family members.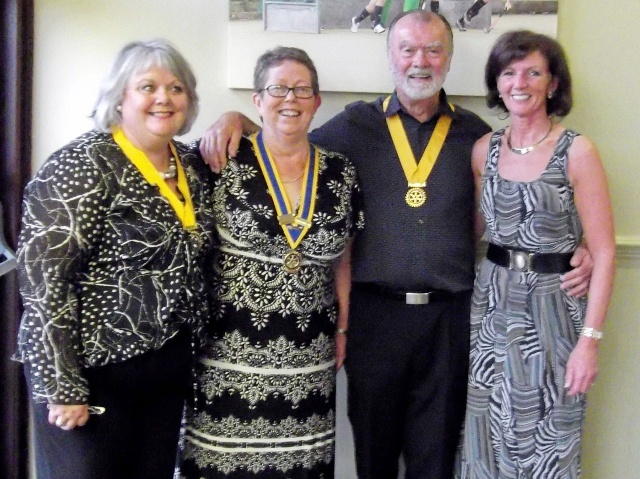 From Southport Visiter - May 2015
Six teams from the Rotary Club of Southport Sunrise took part in a social evening and croquet match at the Southport and Birkdale Croquet Club in Rotten Row. This was expertly supervised by club representatives,Pauline,aureen and Tony who ensured fair play and exxpert tuition. Despite lack of experience,the standard of play from Sunrise Rotarians could best be described as open and honest. Overall winners were Stuart Wharton and Tony Dalton who,unlike their opponents, had picked up mallets for the first time that evening.
An evening' entertainment that is very much recommended and once the results were annpounced the teams adjourned for refreshments to the Fisherman's Rest Pub where they lost spectaculalrly to the gathered audience of locals in the pub's general knowledge quiz.
For more information about the Rotary Club of Southport Sunrise,log on to the club website.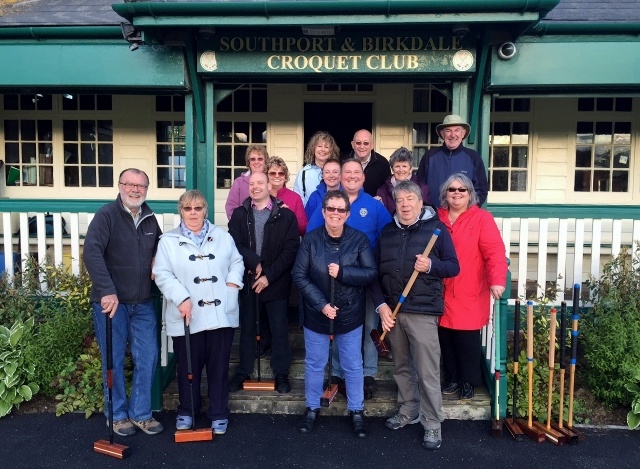 From Southport Visiter - April 2015
The Rotary Club of Southport Sunrise responded quickly to appeals ion behalf of earthquake victimes in Nepal at a fundraising social event.
The event took place in Clouds Restaurant at Southport College. The college supplied a six course gourmet meal which was followed by a charity auction of items donated by Rotarians and friends. Among these were paintings donated by local artist Brian Mitchell,ho gave a detailed description of each art work before they were auctioned. The evening ended with dancing to the music of John Brindle. Almost £1,000 was raised, half of which will help buy shelter equipment supplied by Rotary International, with the remainder going to other charities. President Dave Blundell opened the evening by thanking Rotarians John and Ann Warren for arranging and promoting it. He praised them for arranging other events throughout the year,ich had raised over £6,000 for Rotary charities. Supporting local and international charities and socialising were centrato the life of Southport Sunrise.
Many social activities are open to non-Rotarians. If you would like more information please Google "Rotary Club of Southport Sunrise" which will direct you to our website.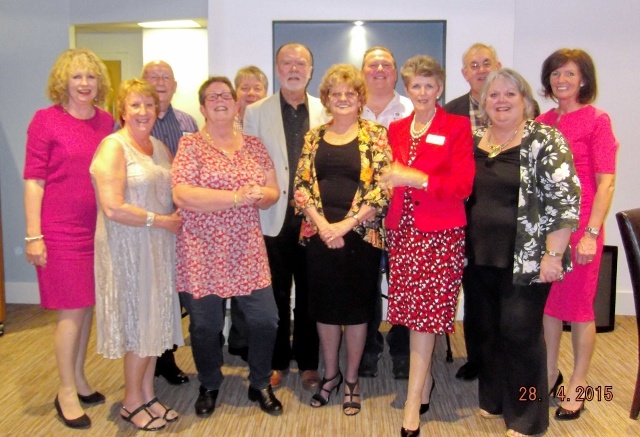 From Southport Visiter - March 2015
The Rotary Club of Southport Sunrise have given their support to Spartac Gymnastic Club based at the old gymnasium in Edge Hill University.During the past year they raised sufficient funds to send local special gymnast Garrick Ralph to perform at the Gymnaestrada in Helsinki later this year.Spartac will be "Team GB" at this event.
To help with team training, Sunrise have raised money for gymnastic landing mats, which they presented to Spartac at one of their training sessions.Despite the high quality training, which has seen their team perform in international competitions and events such as the Queen's golden jubilee celebrations, they receive no official funding.They must raise funds for equipment and events entirely through their own efforts.
Presenting the mats, Club President Dave Blundell said how impressed he was by the standard of their gymnastic skills and their performance in displays.He was delighted at the opportunity for the Rotary Club of Southport Sunrise to provide tangible encouragement through the provision of equipment
it was a close run thing, and like all quizzes there were many questions where the audience seemed to have better knowledge than the teams!, but what really mattered was the fun that was had by both teams and their supporters."
Any person reading this who wishes to learn more about Rotary and the good that we achieve in our locality whilst having enormous amounts of fun, may get more details by calling Southport 01704 578775.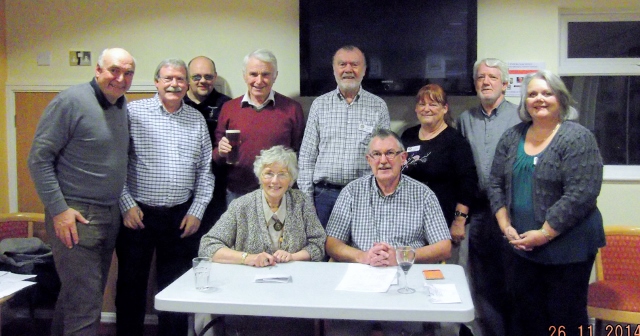 From Southport Visiter - October 2014
The Rotary Club of Southport Sunrise congratulated local special athlete Garrick Ralph on his success at the National Disabilities Games in Poole. Garrick, an accomplished gymnast, gained gold in floor and trampoline routines. In 1995 Garrick gained two silver and 2 bronze medals at the Special Olympics in Connecticut. He has been chosen to represent Great Britain in the International Gymnaestrada to be held in Helsinki. Unlike competitors in mainstream and para athletic games, special athletes have to fund their own training and attendance at international events. To represent his country Garrick must raise £3,000. Members of Southport Sunrise have so far raised £2,748 towards that goal.Garrick attended a breakfast meeting to thank rotarians personally for their efforts on behalf of his bid to represent Great Britain. Among their good wishes members told him to "come back with gold!".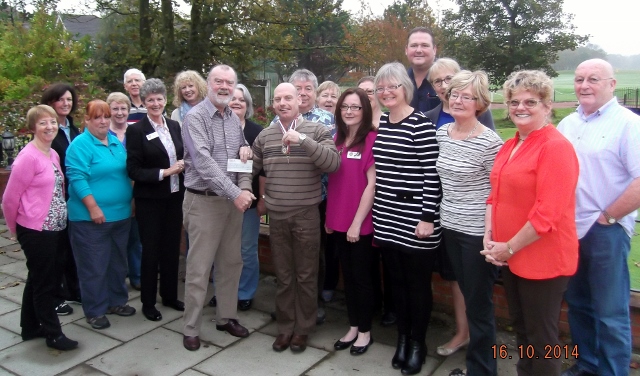 From Southport Visiter - October 2014
Rotarians Hilary and Tony Dalton MBE from the Rotary Club of Southport Sunrise met members of the Rotary Club of Citadel Brasov Romania at a special breakfast meeting that had been convened in their honour at a city centre hotel.
Hilary and Tony are half way through a railway journey, which is taking them across Europe They are spending a week in Brasov right in the heart of Transylvania. Hilary said " a visit to Transylvania would not be complete without a visit to Dracula's castle, which is no more than our 8 year old grandson expects, but one of the highspots was meeting with fellow rotarians, to compare notes."
Like Southport Sunrise, Citadel Brasov is a new club having been formed in 2007. There is a second older club, which was formed after the First World War, but activities had to cease during the communist regime. The way was clear for Rotary to recommence once a democratic society was re-established. Like Southport Sunrise, Citadel Brasov was established as a breakfast club with membership open equally to men and women. Their activities are also similar with a lack of formality and emphasis on friendship and social events, whilst supporting good causes. They said they would like to arrange a joint event in collaboration with their Southport counterparts.
If you have any ideas about closer working between the Southport Sunrise and Citadel Brasov clubs then by all means contact 01704 578775.
From Southport Visiter September 2014
Dozens of walkers took part in the recent Rotary Coast Walk and as you can see from the photo, had a great time and raised over £10,000 for a range of Local and National charities. One of the beneficiaries was local gymnast Garrick Ralph who has to raise his own travel and accommodation costs to represent Great Britain at the 15th Gymnaestrada Games in Helsinki 2015. Garrick will be taking part as a member of the Spartac Gymnastics team based at Edge Hill.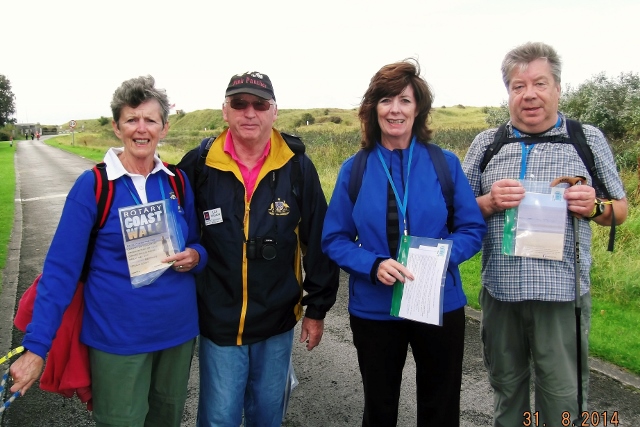 Southport Sunrise has a record of having fun whilst raising money for worthwhile causes. One example is the Blind Wine Tasting arranged to support local charity Homestart. This is taking place at 7.30pm on Saturday November 8th at Sacred Heart Church on Liverpool Road, Ainsdale, with tickets priced at £20.00 each. You are all invited to test your knowledge of fine wines of the world, which will be complemented with platters of pate and cheese. So come along to a fun night which also includes music and quiz. Tickets may be obtained by contacting Dave Blundell, on 01704 220712, or e-mail at davejam64@talktalk.net.
From Southport Visiter July 2014
Members of Southport Sunrise said farewell to two founder members at a party held at West Lancashire Yacht Club.Prof Michael Hoey and Sue Hoey are moving to Faversham following their recent retirement.Sue has led the Club's International Group since their inauguration three years ago.During this time the Club has raised significant sums of money to provide educational materials for schools in Zambia through the Rotary Literacy Box scheme as well as other Rotary schemes abroad.
Many of Michael and Sue's friends, neighbours and former colleagues helped to celebrate their time in Southport with a sixties evening led by the local group Locomotion. In excess of £460 was raised on the night which will fund further Literacy Box materials.
Information about joining Southport Sunrise can be obtained from southportsunrise@yahoo.co.uk.
From Southport Visiter July 2014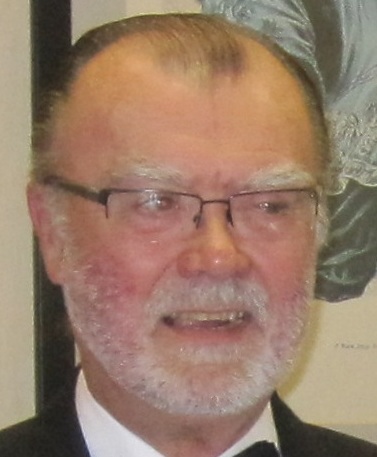 On 26th June, Dave Blundell became the third President of the Rotary Club of Southport Sunrise.He received the club's charter from outgoing President, Bernie Coates, at a themed Indian evening at Saahil Restaurant. Southport Sunrise is the youngest of Southport's four rotary clubs, and was formed as a breakfast club.It now meets alternate weeks at 7.30 in the morning or evening for business and social meetings.
From clay pigeon shooting to fine dining and theatre outings, members of Southport Sunrise place heavy emphasis on fellowship and fun.Equally, they are committed to service to the community, international projects and to youth.As well as raising money for specific local charities, they have helped to provide educational materials for schools in Zambia and supported "Youth Speaks", and inter-school public speaking competition.
Information about activities and membership can be obtained from southportsunrise@yahoo.co.uk